Both born and raised in southern California, Wes and Janeé started as best friends before falling in love, and taking a leap of faith to follow their dreams to Washington. Here, in the hometown they made together, the couple held an intimate ceremony at a lush Mount Vernon schoolhouse, the night's every detail curated with complete intention. Read on to discover the story of Janeé's dreamy wedding day now.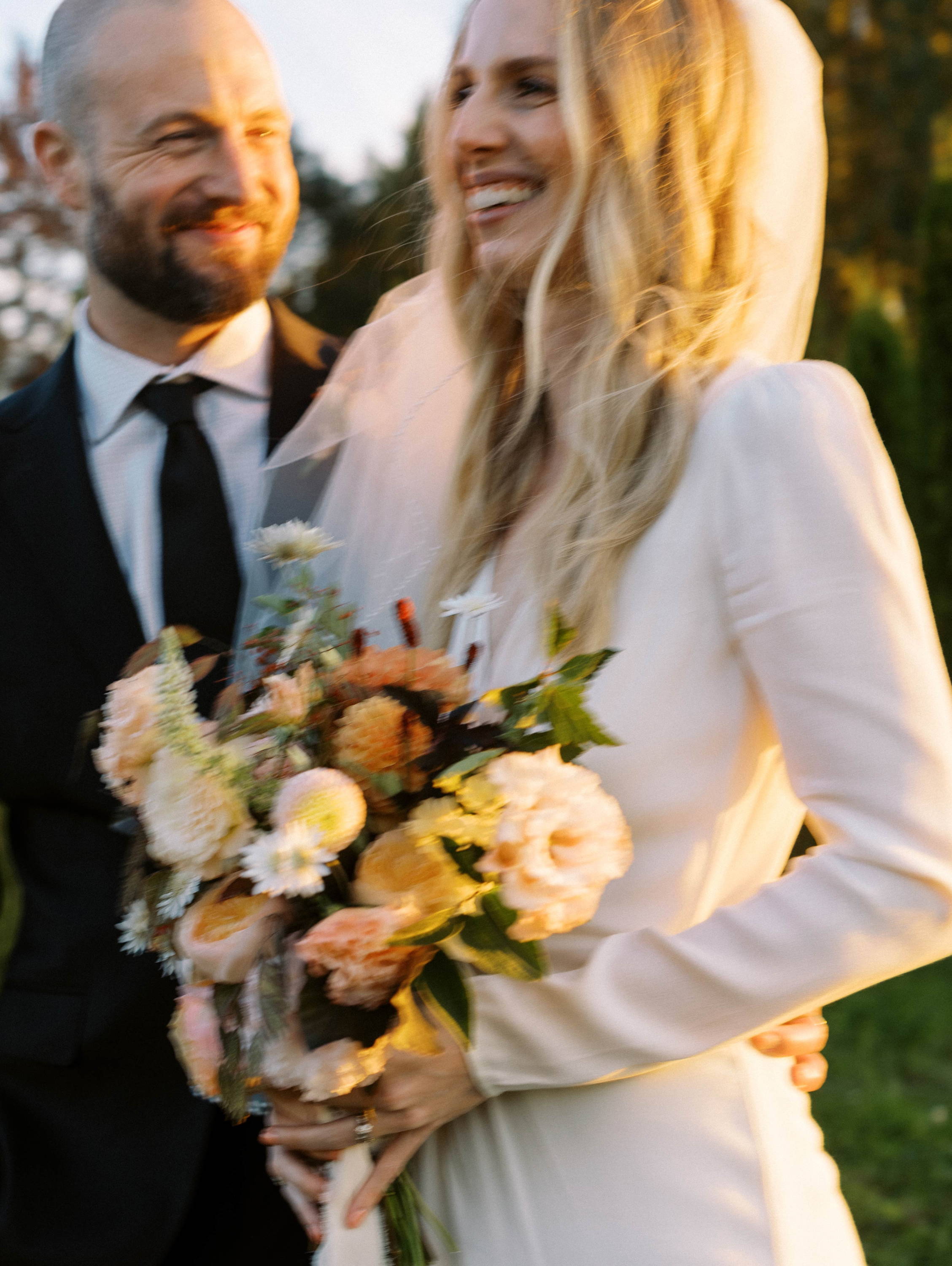 "To tell you the truth, we originally weren't planning on having a ceremony — Wes and I got engaged in the height of the pandemic, and thought we'd run to the courthouse to tie the knot — until we accidentally stumbled upon the venue of our dreams! Wes and I are both big garden lovers, so, naturally, when we heard about Christianson's Nursery, we were excited to explore, but it wasn't until a few weeks after our first visit that we found out they offered weddings! We ended up scheduling a tour of the grounds and were so charmed by the schoolhouse, their incredible greenhouses, and every beautiful vista of property that we completely changed our plan, and we knew instantly that this would be the place for us. It felt meant to be!"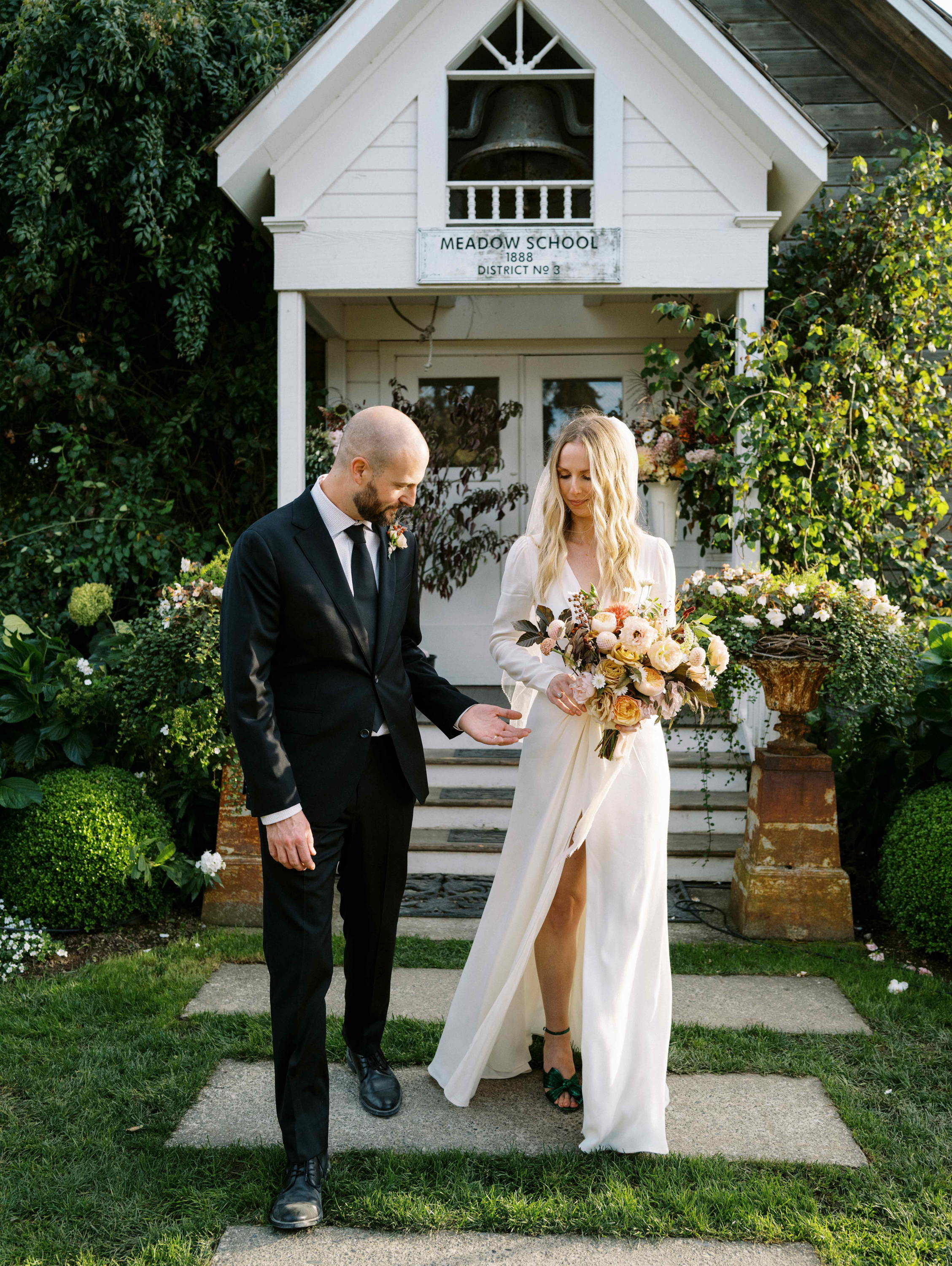 "Though I rarely wear heels, I'm always looking for an excuse for a pair from Loeffler Randall. I'd fallen in love with the Camellia in Emerald years before my engagement, and knew I had to have them for my wedding day. They were the perfect pop of color to complement my simple dress, and the ideal height and comfort level for someone who doesn't wear heels often. I got so many compliments — truthfully, I think the heels were the star of my outfit!"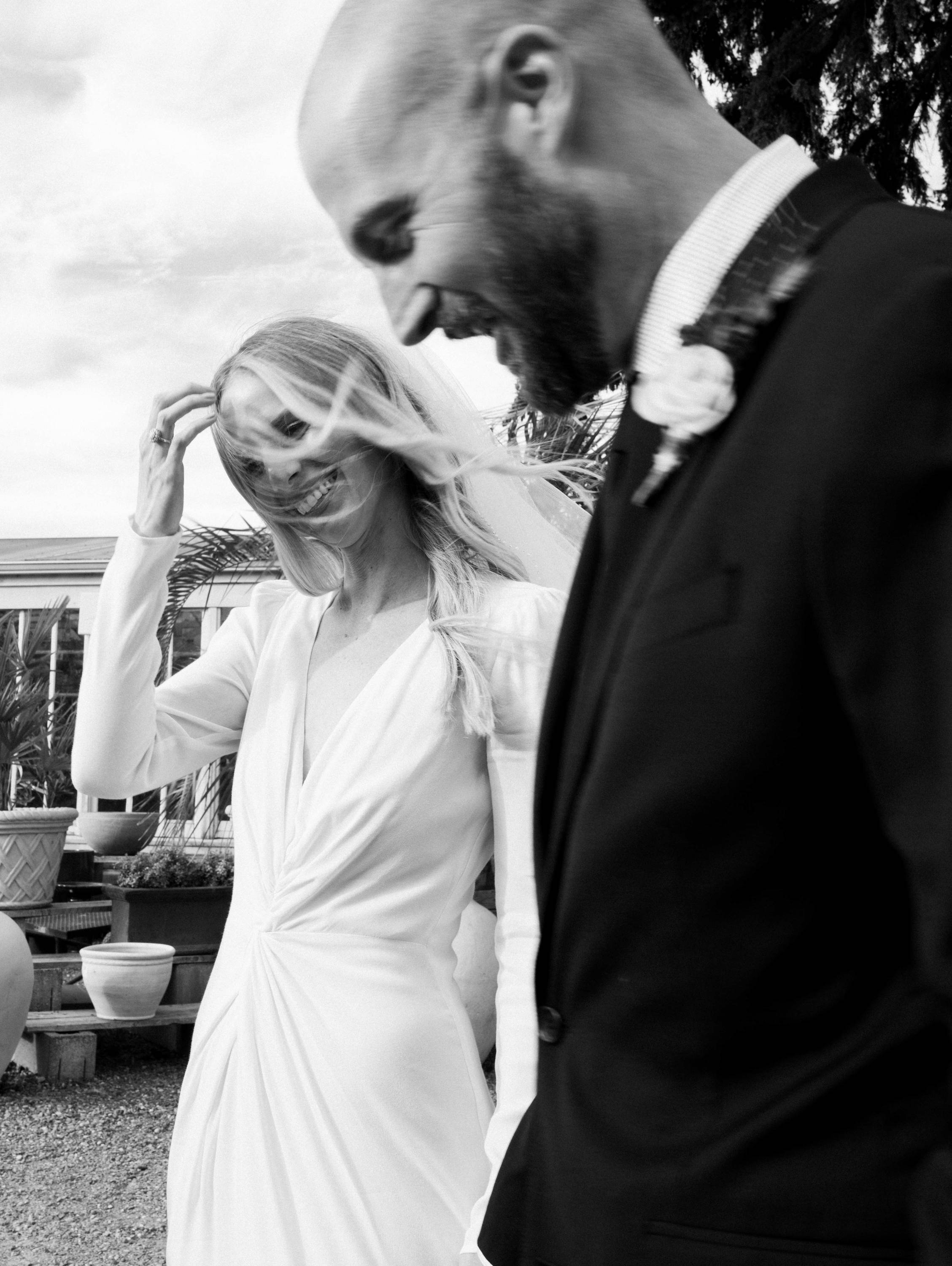 "I wanted a simple classic silhouette, and found my perfect dress just two months after we got engaged, which was such a relief. It felt timeless, but still very much like me, and paired perfectly with an elegant veil to complete the final look."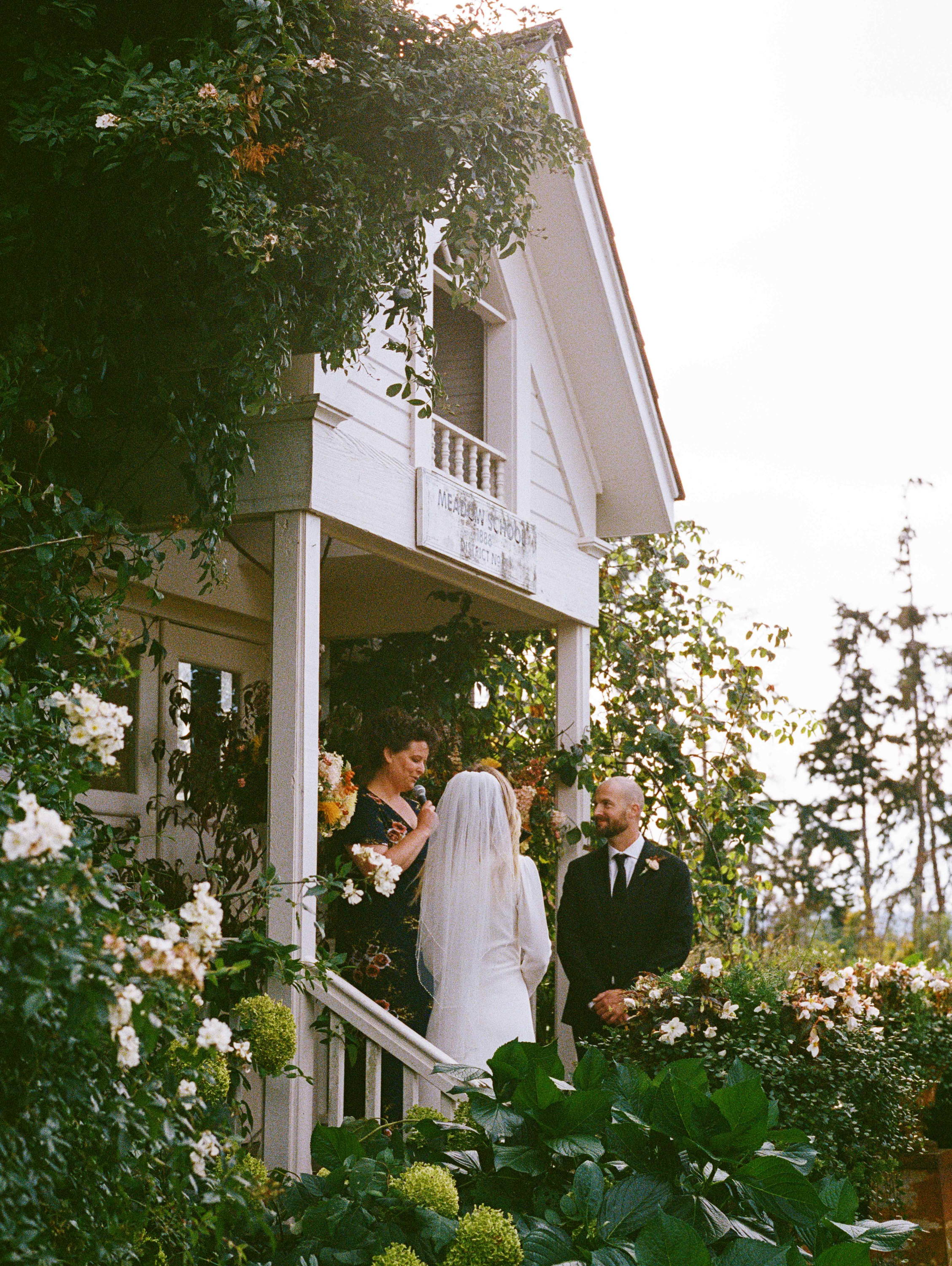 "Our favorite details were our florals. We met our florist, Nina (of Trillium Finch Flowers) by pure chance. She had a booth at a farmers' market (that was actually held at our wedding venue) one summer and we loved her flowers so much and were thrilled to hear she also did weddings. The arrangements that she put together were so incredibly beautiful; tons of muted blush tones, blossoming with a spray of natural and wild elements. The ambience they created at our ceremony was breathtaking, mixing with the candlelight to make the loveliest atmosphere."
---
"I'd been so nervous in the hours leading up to the ceremony, but as soon as I saw Wes, and his smile, and heard our song playing, it all completely melted away."
---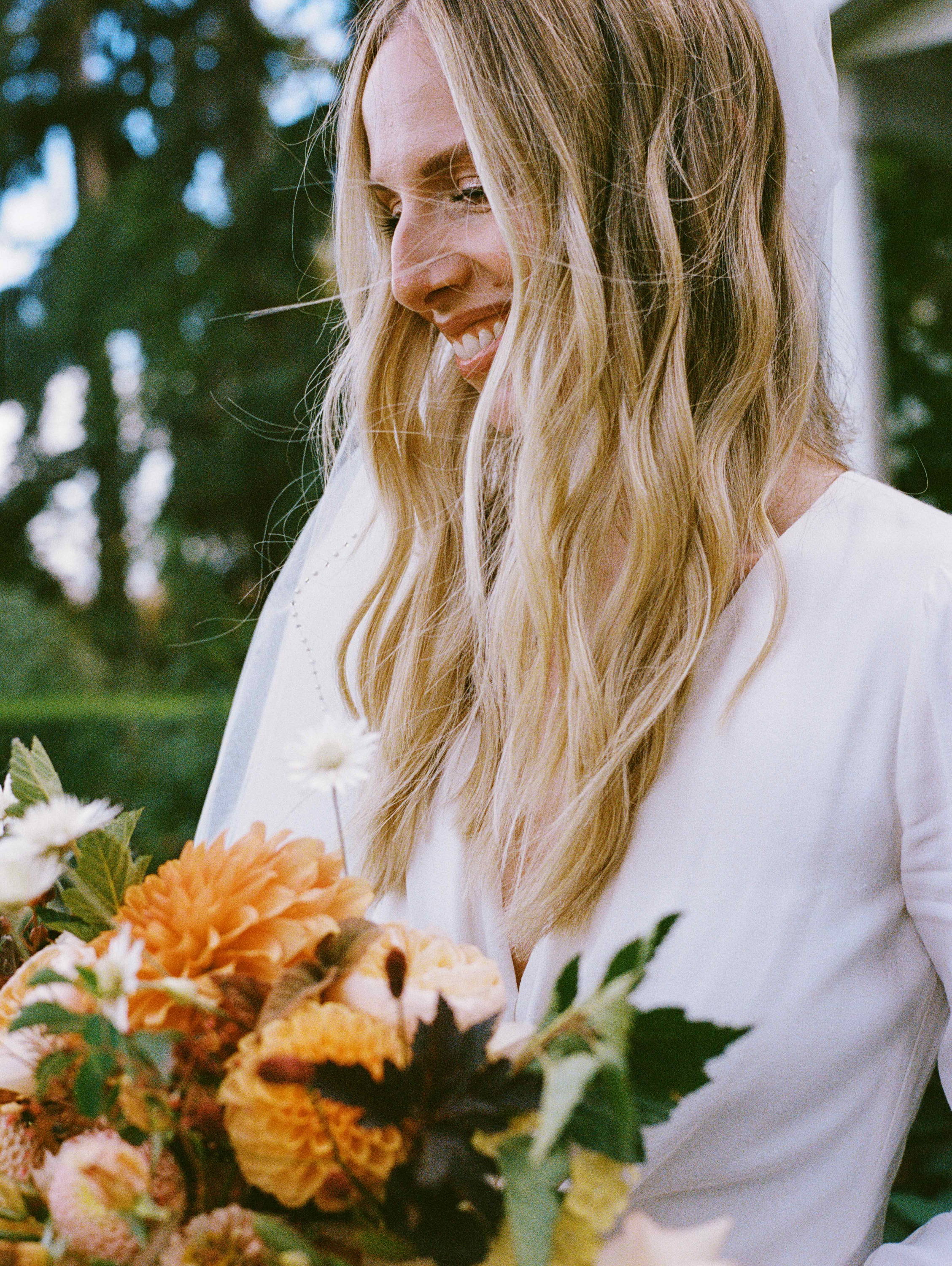 "In planning for the day, we loved putting together all of the elements that truly encapsulate who we are as a couple. For instance, we didn't have dancing at our wedding, but spent hours curating several playlists filled with all the songs that had been meaningful to us throughout our relationship. We are also big film photography enthusiasts, so made sure to capture our day on film. We wanted our wedding to be shot in a way that was candid, sweet and maybe even a little imperfect, and our photographer Allison captured it beautifully.
"During our planning process, we thought a lot about what was truly important to us and what wasn't. We opted not to do a lot of the standard wedding traditions because they didn't feel true to us, and I'll admit we were a bit nervous about how things would turn out, but it ended up being greater than we could have ever hoped for. We were completely intentional in every decision we made, and I don't think we would have done one thing differently."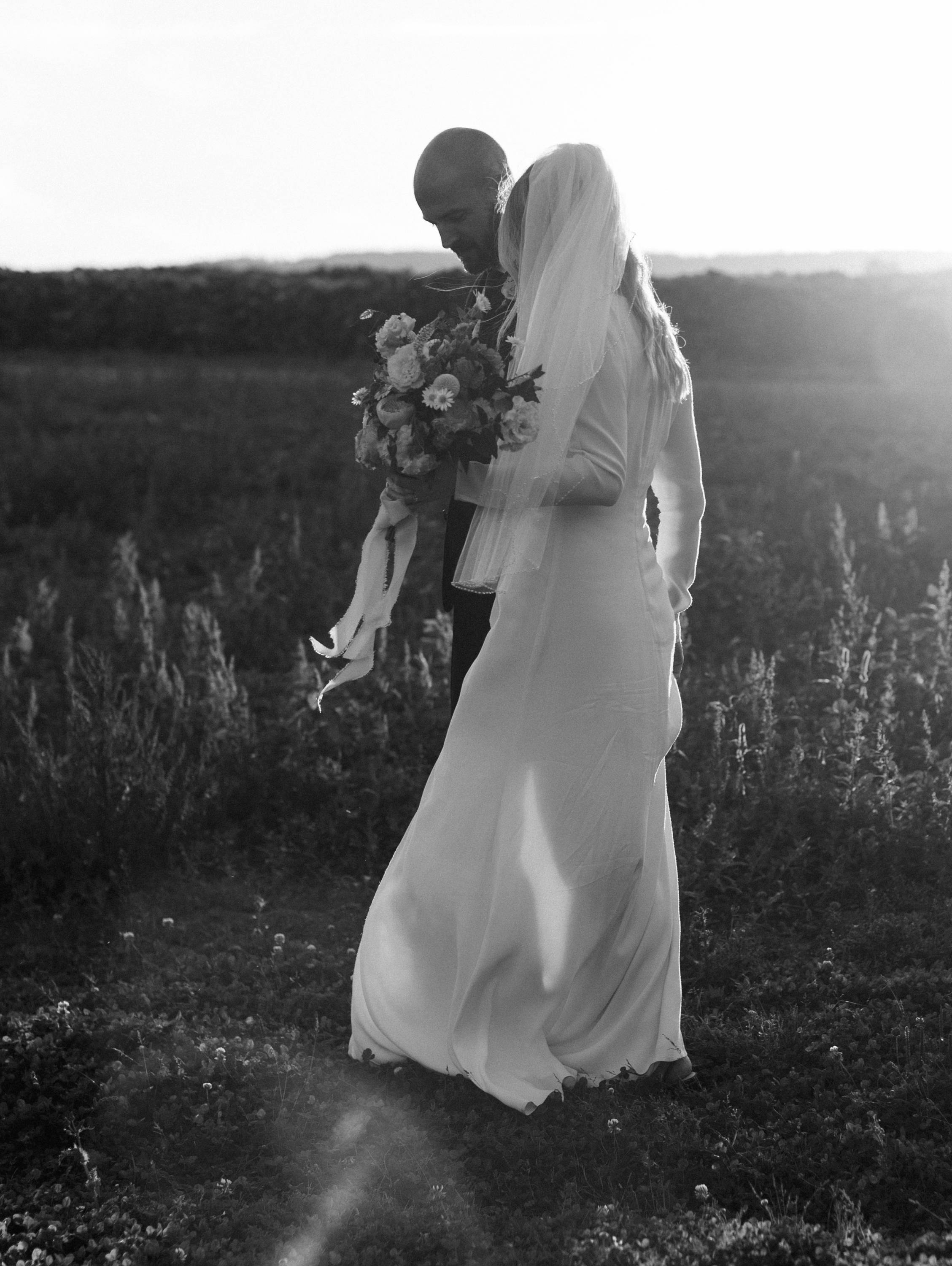 "Walking down the aisle was truly a special moment. I'd been SO nervous in the hours leading up to the ceremony, but as soon as I saw Wes, and his smile, and heard our song playing ('On the Nature of Daylight,' by Max Richter), it all completely melted away. We followed the ceremony with a beautiful, intimate reception and dinner, surrounded by our closest friends and family who'd flown from far and wide to share the day with us. Sitting at the head of the table to see all of our favorite people so happy is something we'll cherish forever."