Champagne Dahlias, Scarlet Begonias
Nestled beneath redstone cliffs, Lauren and Matt were married in a ceremony unlike any other, made bespoke by design. From the dress, crafted by Lauren's sister, to the handmade details by the bride herself, the Colorado-based couple created a day they'll never forget. Read on Lauren's story behind their celebration now.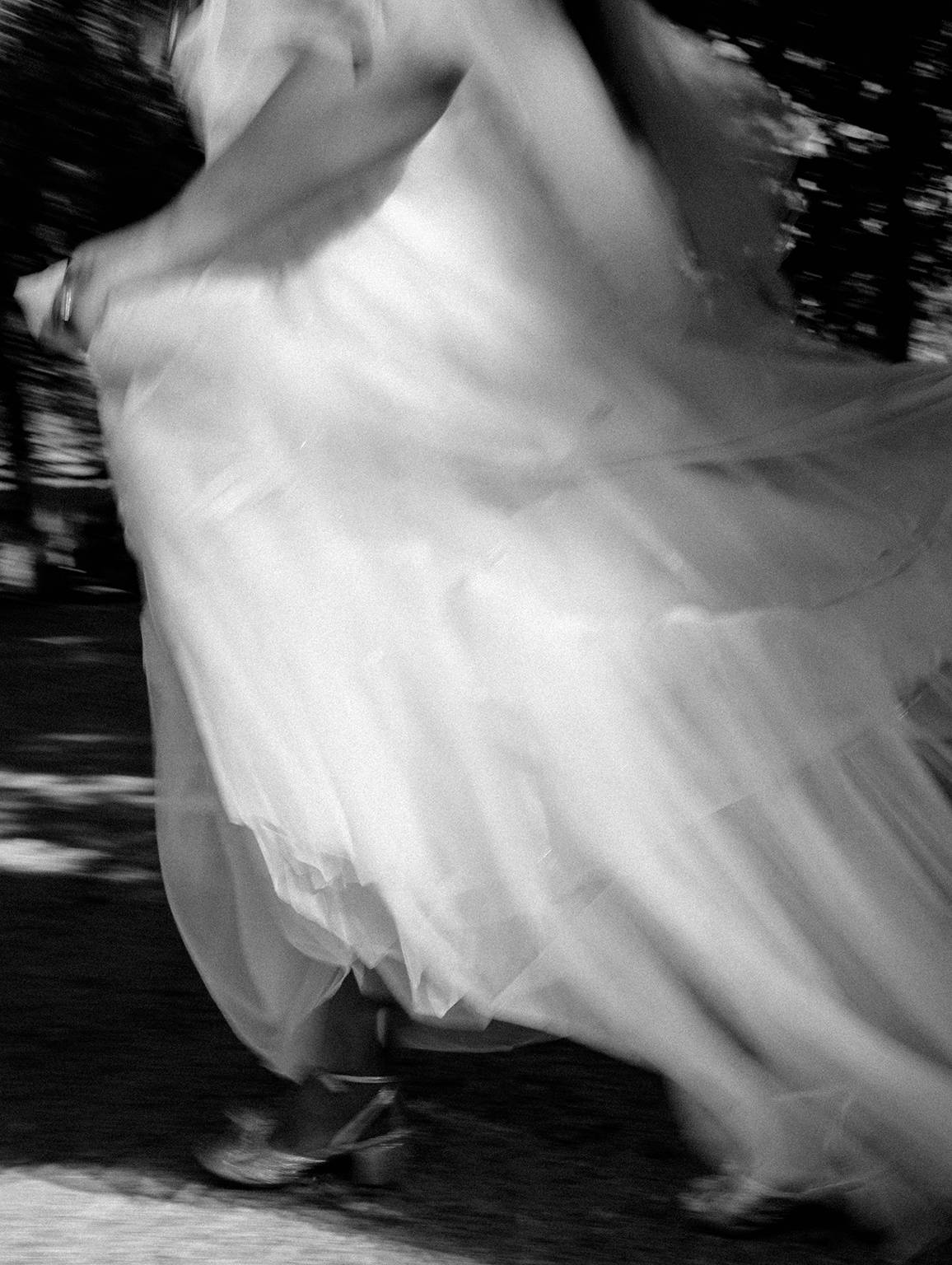 "Having my sister, Casey, create my wedding dress had been a dream long before I was even engaged to Matt. After trying some silhouettes, I did a rough sketch of what I liked best, and then my sister brought it to life. There were definitely some obstacles to overcome along the way — she lives in Copenhagen, I love in Denver, and we had the dress made at our dear friend's atelier in Houston, our hometown, but we made it work. It was more special than words can say.
"We went with a pale-pink tulle, embroidered with small, beaded flowers made by Guatemalan company, Pura Utz. Casey finished the ensemble with the phrase "Not like other girls" embroidered at the end of my train – a lyric from my favorite Grateful Dead song, "Scarlet Begonias," and an homage to my late, precious doggy, Begonia, who was the other love of my life. It was a pure honor to wear this custom Mr. Larkin dress and one of the most special parts of our wedding day."
"We are BIG fans of Loeffler Randall anything in our family, so it was a no-brainer for me. My other sister, Annie, wore the Camellia heel at her wedding in February, and I knew immediately that I wanted to dance the night away in my very own pair on my big day. They were the most stunning wedding shoes I have ever seen and they complimented my dress perfectly. They elevated the look in so many ways, and how they made me feel was unmatched! Not only are they stunners, but they were comfortable with the perfect amount of sparkle. It took my hippie heart and made me feel like a sophisticated, bohemian bride. Oh, and the block heel was exactly what I needed to keep me from sinking into the grass as I walked down the aisle!"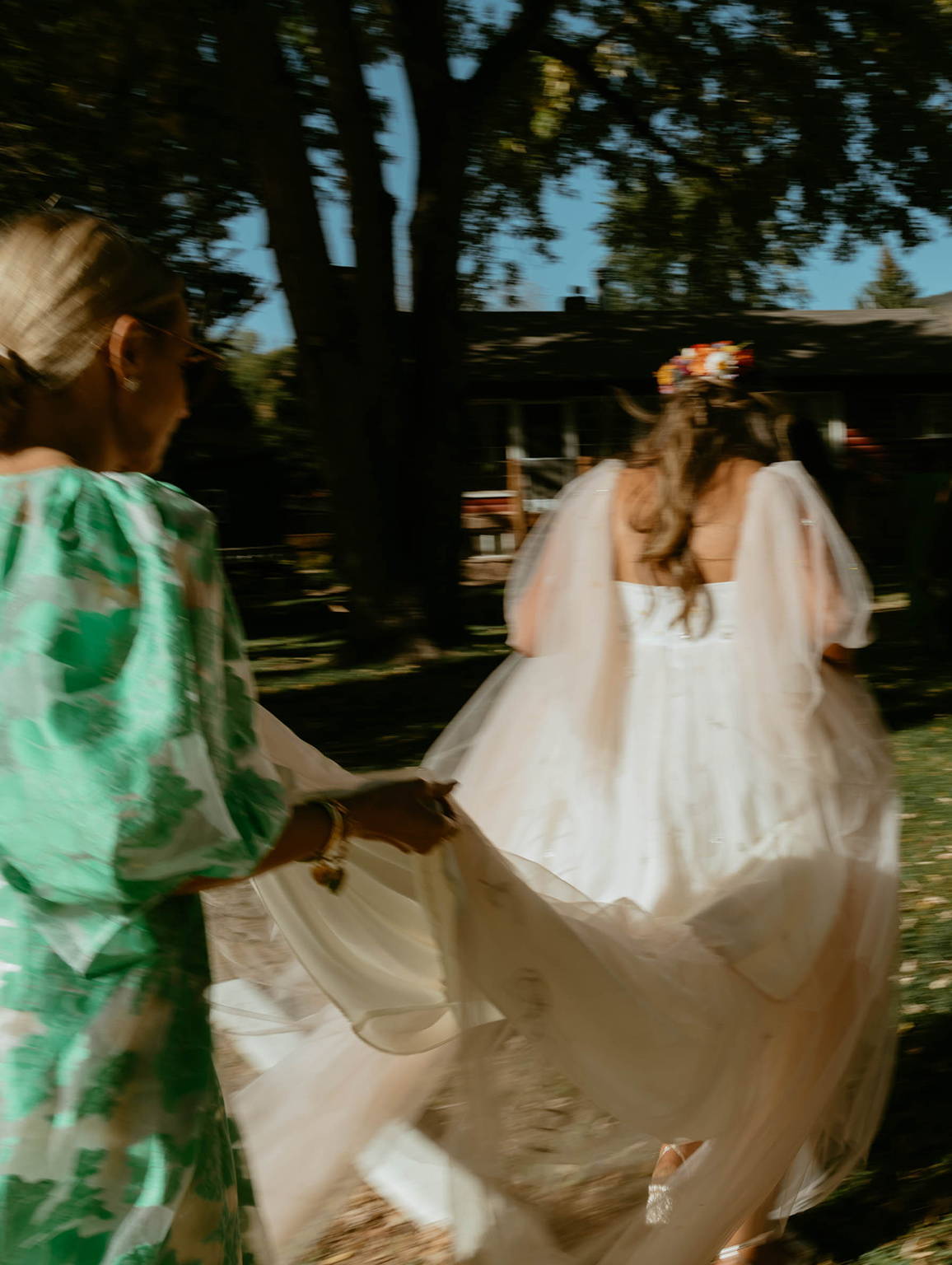 "Matt and I share a love for Bluegrass music. it's one of the many things that we connected on early in our relationship, so when we were looking at wedding venues, Planet Bluegrass was at the top of our list. Not only is it incredibly beautiful, nestled on the shores of the North St. Vrain, surrounded by old cottonwood trees, but it's a sacred place for music, dancing, and happiness. I have no doubt that hundreds of love stories have started here, and we felt lucky to get married in such a special setting."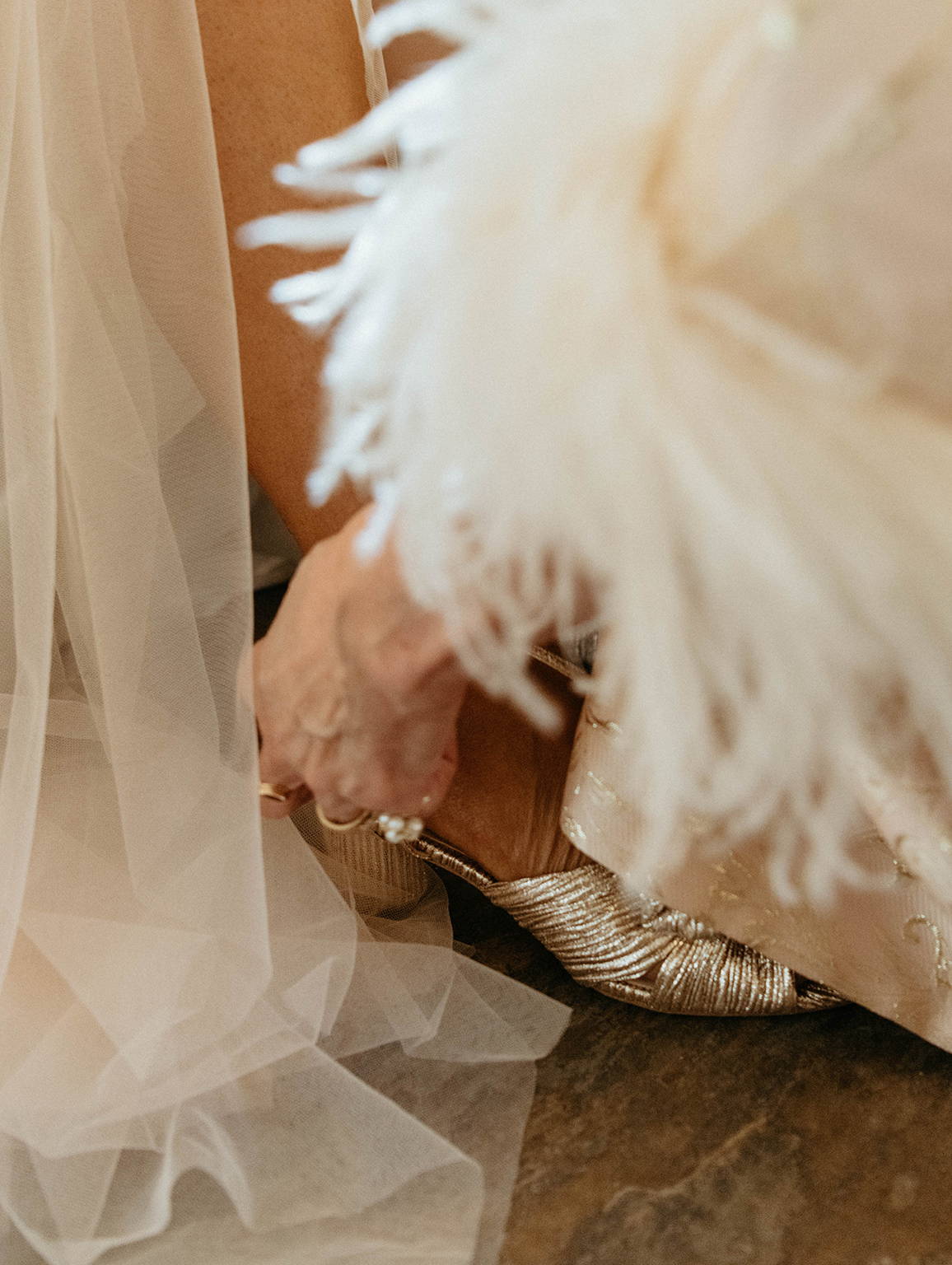 "Our reception was where our aesthetic really shined. As an artist myself, I created so many little touches. I did all of our signage — table numbers, our seating chart, bar menus — and I wood-burned the names of every guest for custom place cards. Our wine glasses were another favorite detail. My mom and I collected vintage colored wine glasses for an entire year leading up to my wedding, which was such a special process to share with her. My mom took me to countless estate sales growing up, and was incredibly fitting to add this to the planning process. We collected all different shapes, colors, and sizes, and they made the most magical touch to my tables."
"I'll cherish that time together forever."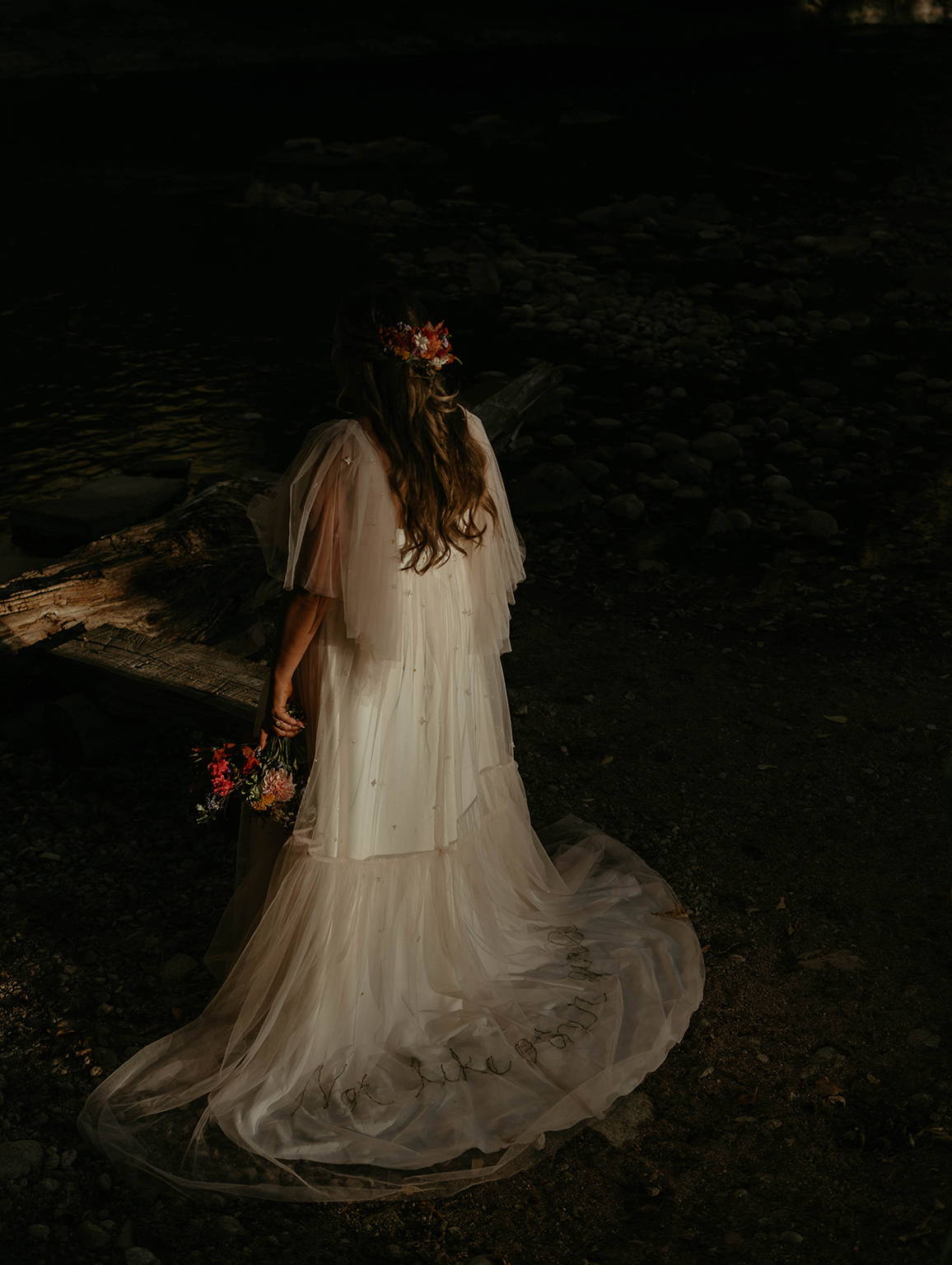 "I enjoyed creating those special touches the most. I loved planning out the aesthetics and watching them all come together. We didn't want anything too matchy-matchy — we are more eclectic and free when it comes to coordinating a party, and in the end, our day was a beautiful representation of Matt and I as a couple. This was certainly a lesson I learned along the way, to make sure that I stayed true to us. Feeling the pressures of wedding trends, external opinions, and making everything perfect just ruins the process. Have fun with it, because it will be over before you know it!"
"I was beyond lucky to have my beautiful mother walk me down the aisle. She is the heartbeat to our family, and it felt really good to honor her and how much she means to me by having her 'give me away.' I spent that morning with my mom and bridesmaids in my precious cliffside cabin, which was also unforgettable. We drank mimosas, snacked on a delicious charcuterie, got pampered, laughed, cried, and just lived in the moment. I'll cherish that time together forever.
"Another favorite detail of the day was our band, our friends Tenth Mountain Division. All we wanted was to eat, drink, and dance, and we wanted live tunes as music has always been a strong part of who we are as a couple."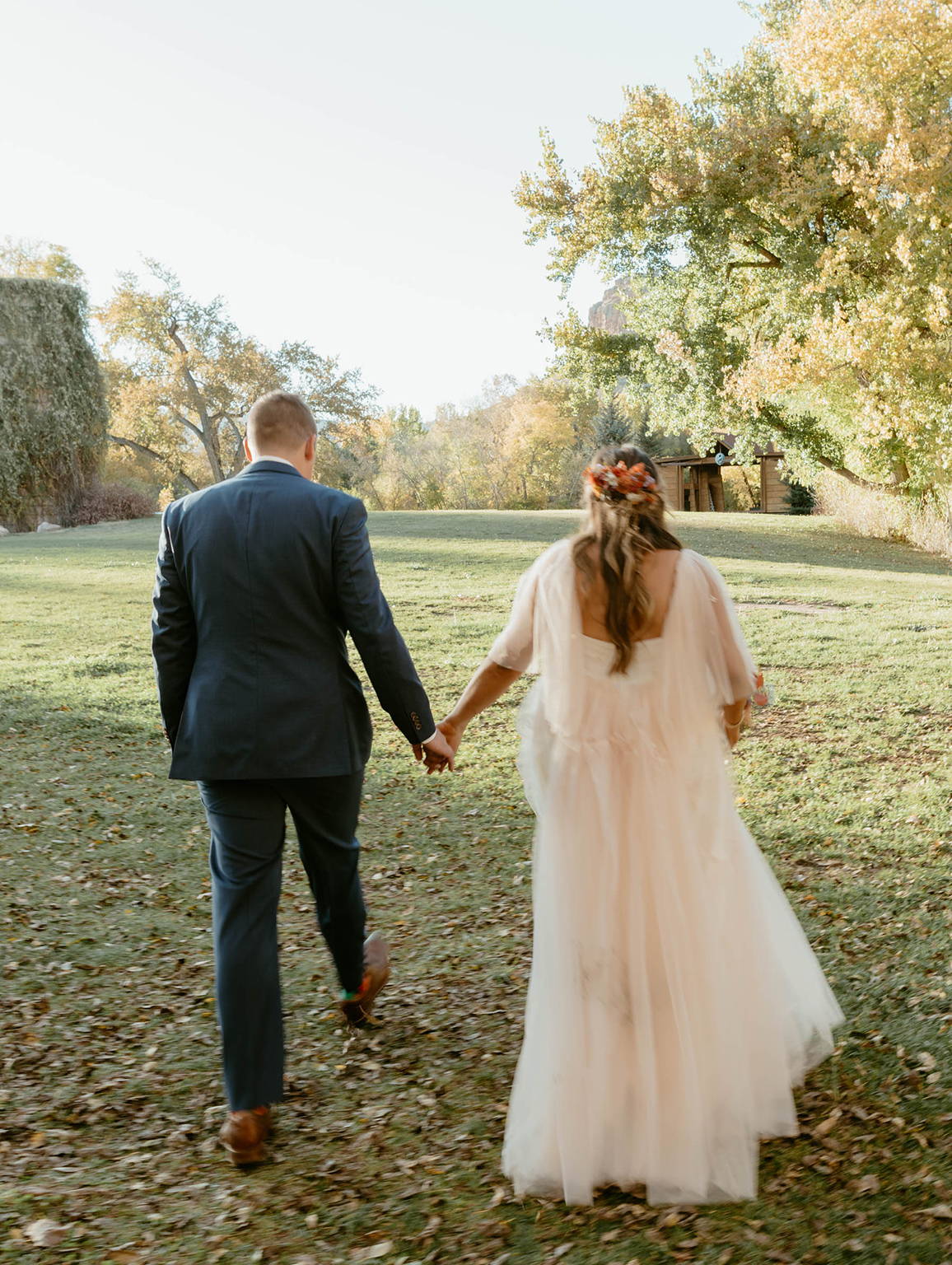 "Lastly, the most incredible thing happened towards the end of our reception. My 13-year-old niece, Penny, got on stage & performed 'Scarlet Begonias' with one of the band members. She was stunning in her pink suit and big guitar — I truly felt like I was witnessing a star being born. I cried the happiest of tears and felt so grateful for such a special gift. it was the greatest gift we received all weekend"