India's Wedding Day Wardrobe

With three outfit changes following her breathtaking ceremony ensemble, each paired with a favorite LR heel, India's wedding-day wardrobe has us endlessly inspired. Read on for the details behind every look.
This dress was a happy accident — I really never intended to change more than once! I knew that I'd love a party dress and I went to the Own Studio to try on some styles. When I zipped up the drop-waist gown, I immediately knew I was in trouble as I felt so incredible in it — I had to work it into our day somehow. I justified it by telling myself that it was so different to my first dress, and it was also much more practical for dinner without big sleeves that I'd no doubt dip in the food!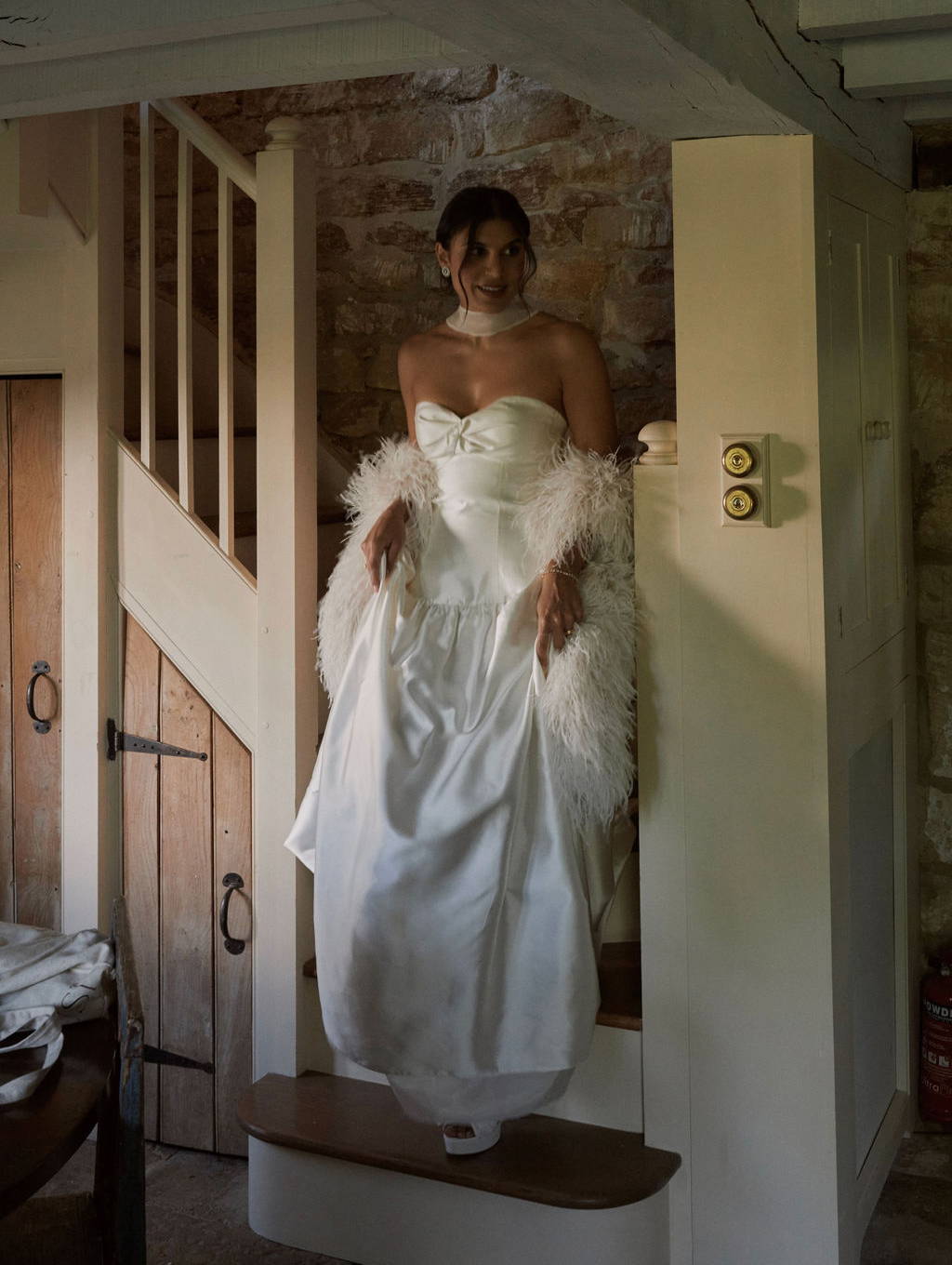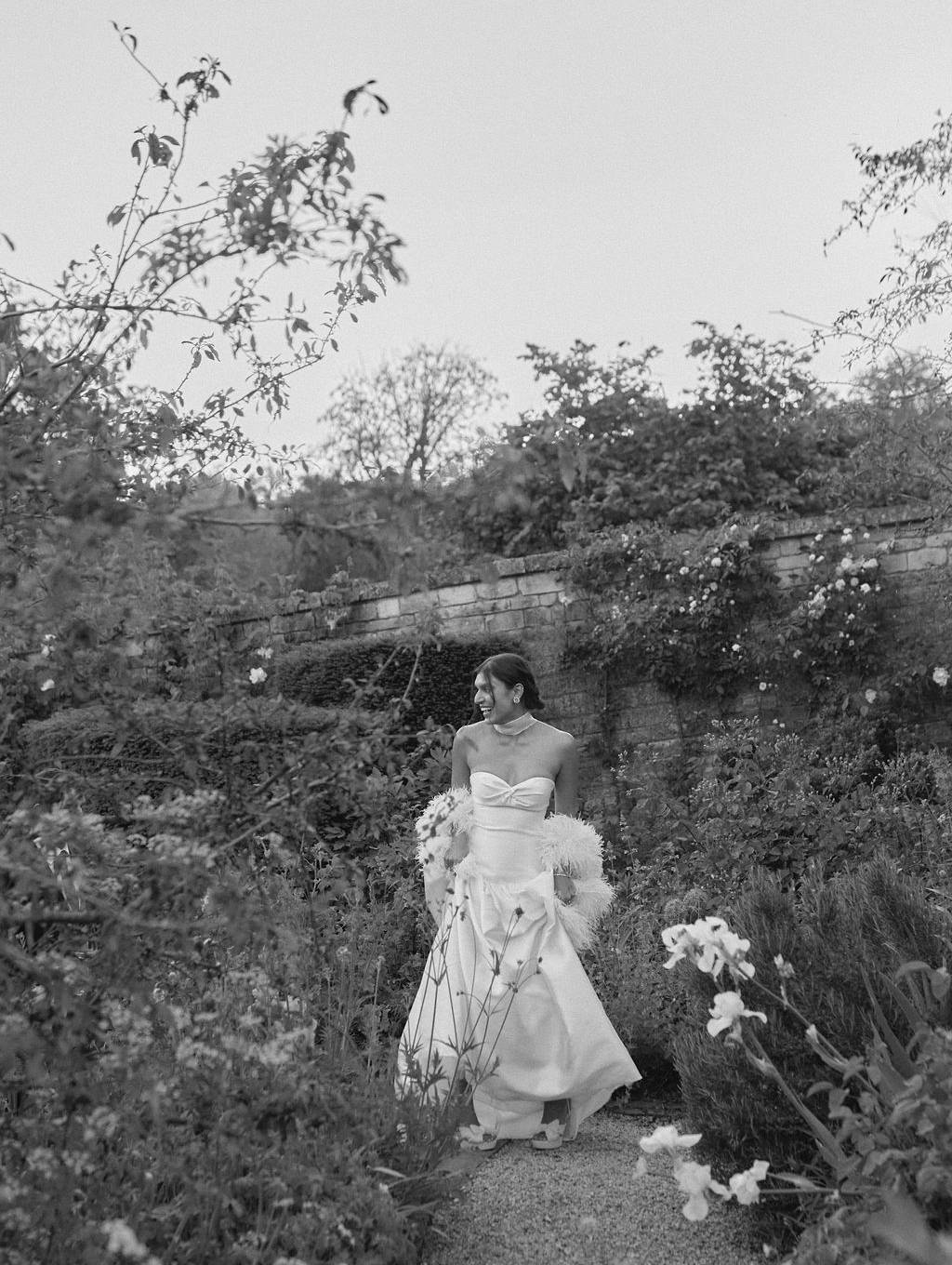 Many of my favourite parts of the day were in that dress — entering the tent with everyone dancing and waving their napkins in the air, making my speech, eating dinner (we had "naughty" Italian food), and our first dance.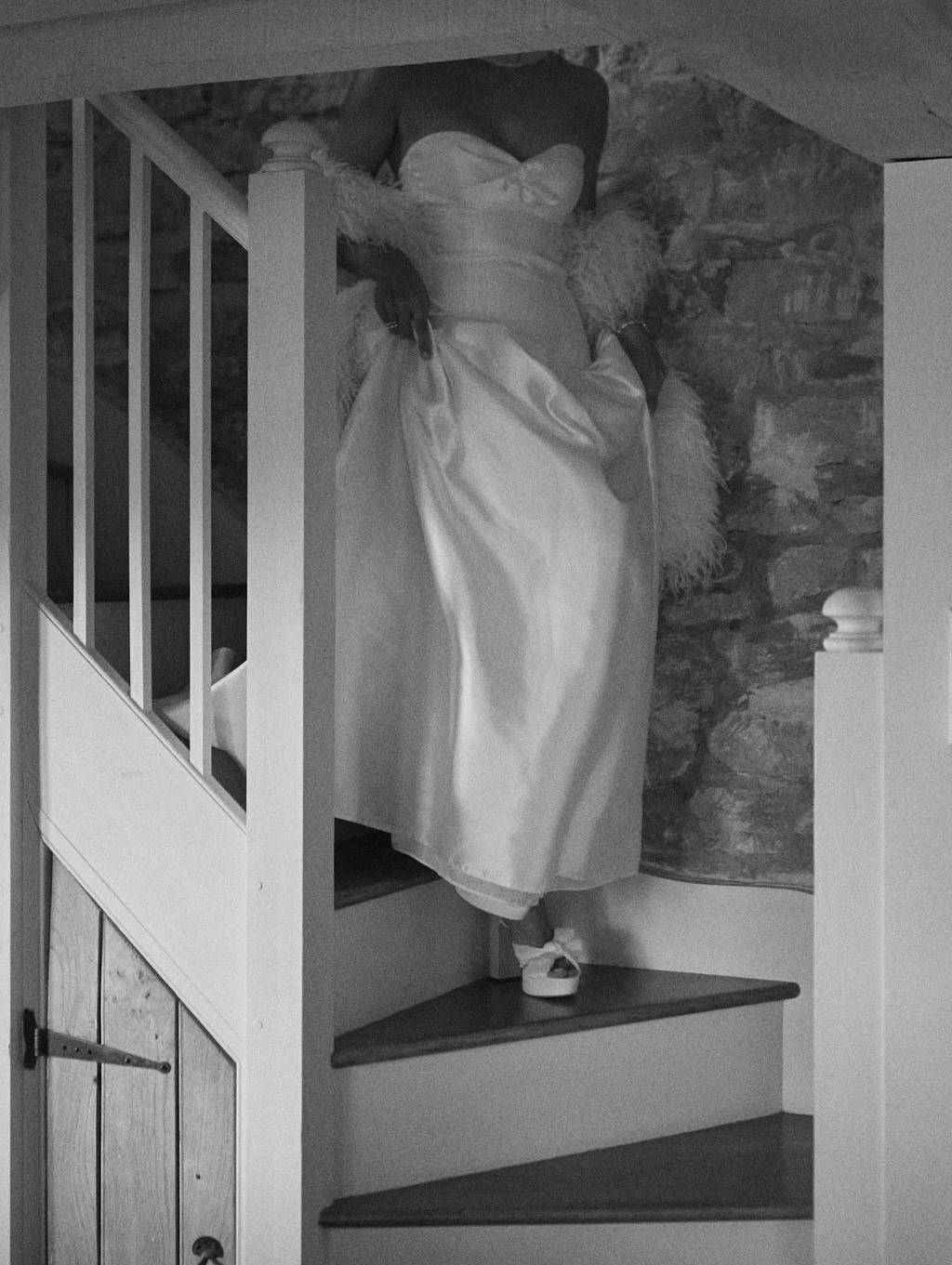 I've worn Camellia in the past and on a recent trip to New York I tried on the Natalia in Loeffler Randall's beautiful store — it was love at first try! As my second dress was quite sleek and simple I thought a bow-style would add a little bit of fun. I was also thinking practically and as our venue required lots of walking across grass — a platform would have a better chance of coming out unscathed as the foot-well is raised.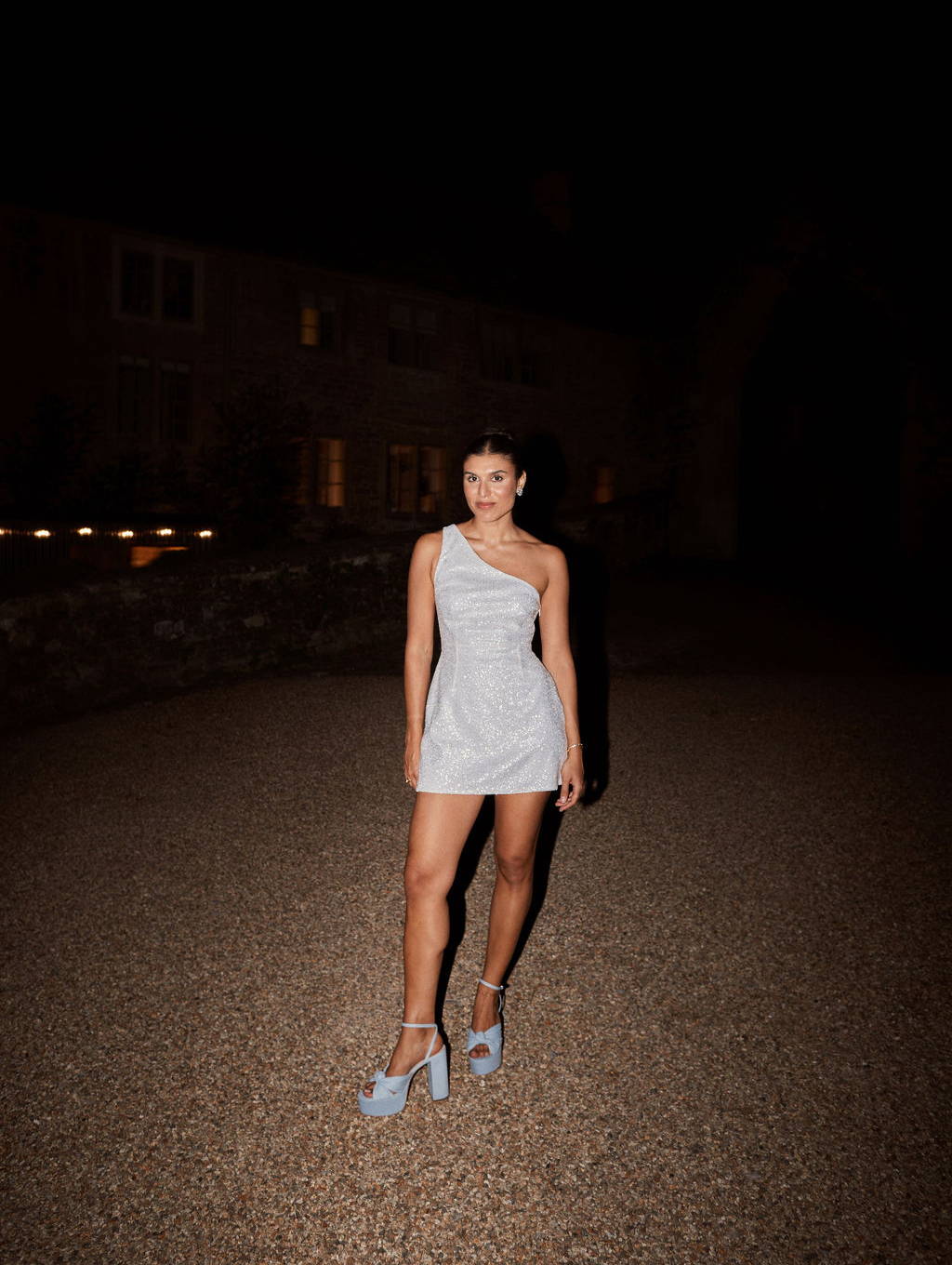 I definitely thought a sequin mini would make an appearance, but it took a few iterations for us to land on the neckline of my final dress. I wanted to design something that was fun and perfect for dancing, which it really was — particularly paired with LR's Roz platforms.
I was so excited to see the Roz style launch just before the wedding. They are truly the perfect chunky platform and I'd have them in every colour if I could! I felt like they offered some extra support, which was ideal for dancing the night away. The leg-lengthening effect was also welcomed paired with my mini dress! My mother and I are the same size and she had some ankle pain from a recent operation so I actually pinched her Denim Roz platforms as a "something blue!" I was going to wear the Cream satin, but in my joyful daze I grabbed the Denim. It's probably for the best as there were cocktails flying everywhere!
My mother is English and when she married my Indian father, she left in this pink and white sari, which she still had in the loft. We wanted to keep it a surprise from everyone, including my father.
I knew I wouldn't have much time to change, so I enlisted help from the same aunties that dressed my mother in the sari 30 years ago. Going from the euphoric dance floor to this quiet side room with just my aunties and sister was so moving. Saris take a few minutes to put on as you have to wrap and pleat the fabric in special ways.
My father was so emotional when he saw me, it moved him to tears! It was the perfect way to depart with one final surprise and I'm so glad I did it. I also wore the same earrings that my Mother-in-Law wore on her wedding day - it was so meaningful have sentimental items from both our families play a part in my outfits.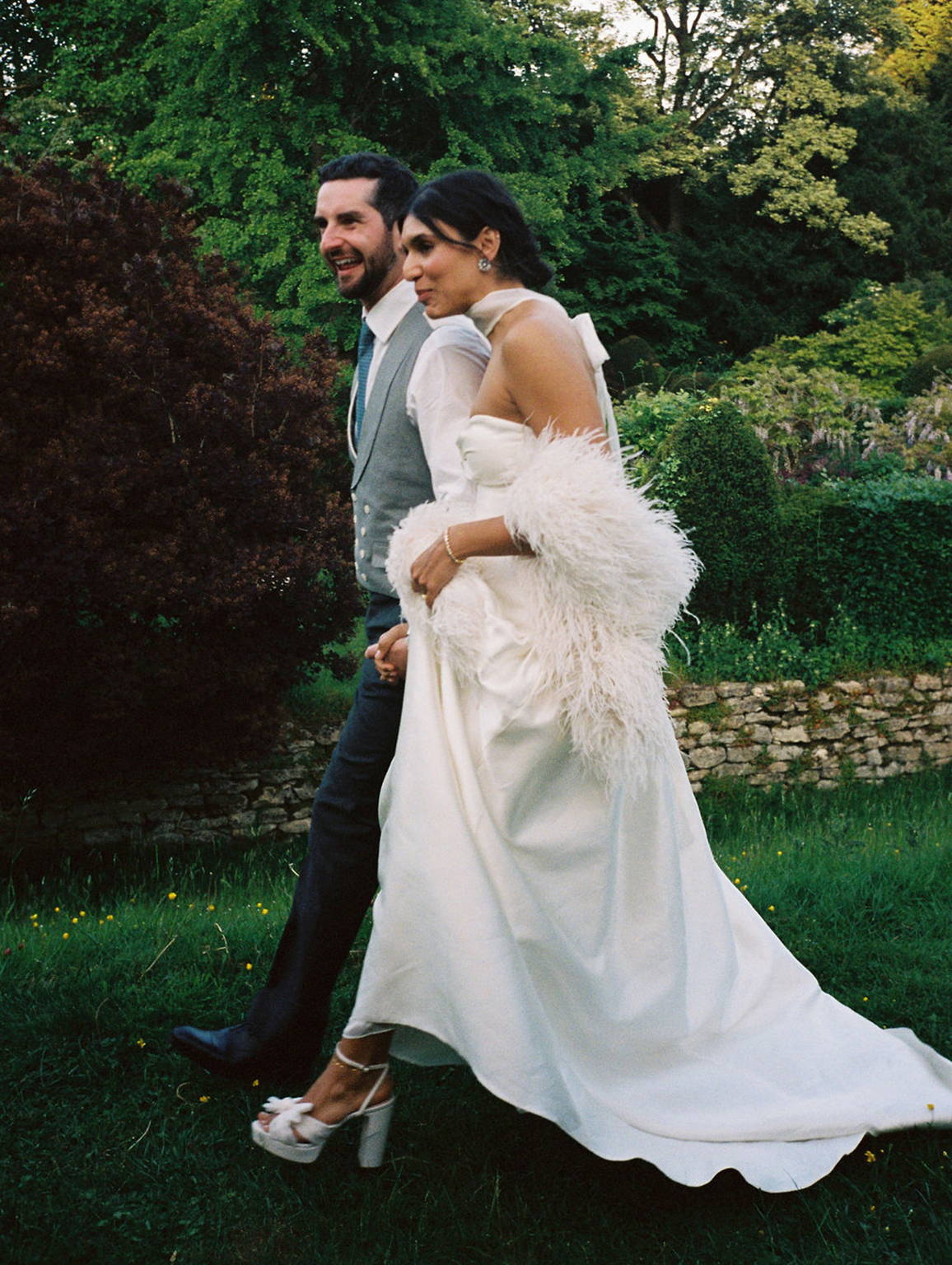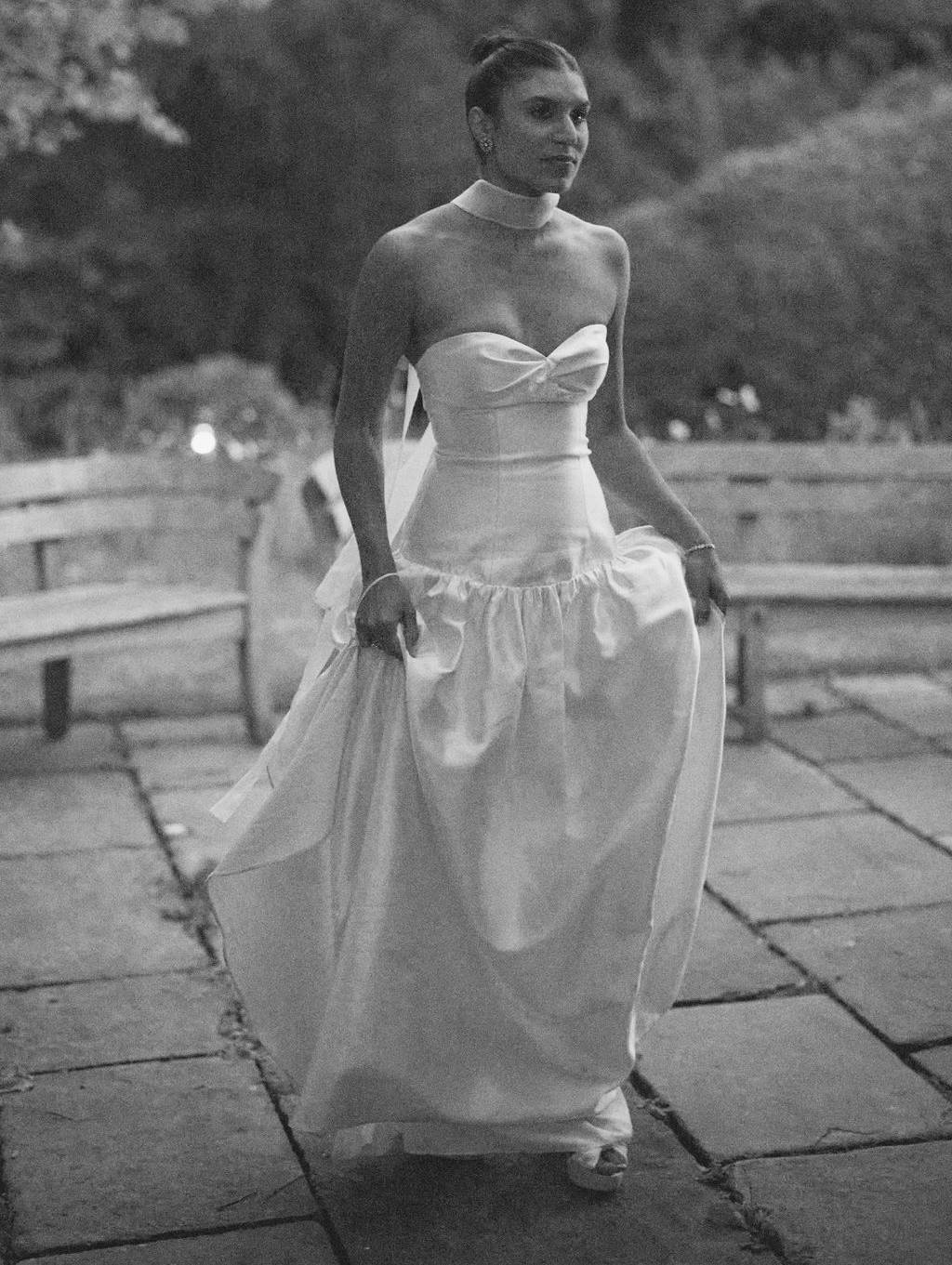 I keep changing my mind as I'm obsessed with all of them! The drop-waist dress felt like a perfect gear shift into the evening and really brought the glamour, plus I was excited to put my Natalias on! I can see myself dyeing that dress and re-wearing it one day, too.
I'm so glad I had the sparkly one as the strapless gown wasn't ideal for dancing. It got a serious reception when I reappeared on the dancefloor too! I was also relaxed by the time I put the mini on — it marked the end of all the serious parts and I could really let loose and bathe in the joy of it all! The last one, the sari, was definitely the most meaningful addition.
Since the wedding I've already been re-wearing the accessories and of course, the shoes!