Our new collab with our friends at Lewis just arrived and we couldn't be happier! Using their beautiful, hand-painted prints, we've reimagined our water-resistant nylon baby bag in two fresh hues. The perfect gift for mamas-to-be, this bag includes a removable changing pad, interior pockets to hold all the necessities, and convenient side pockets for easy access.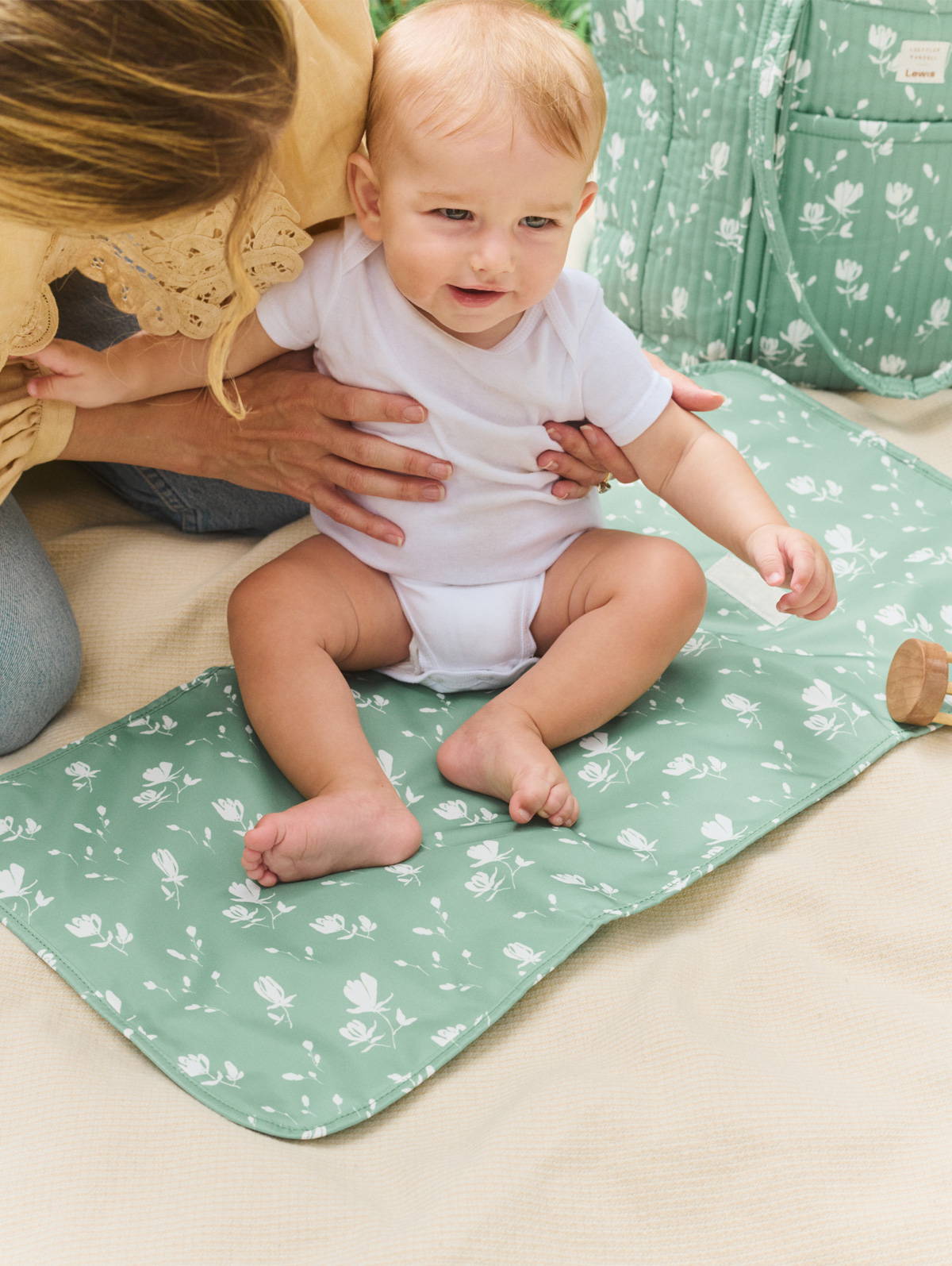 What makes our baby bag special?
Jessie: It's really hard to find a diaper bag with the functionality needed and the style that fits your own. So I feel like this bag has both of those very important things. Actually some of us in the office that don't have babies have been using it because the interior pocketing is so great!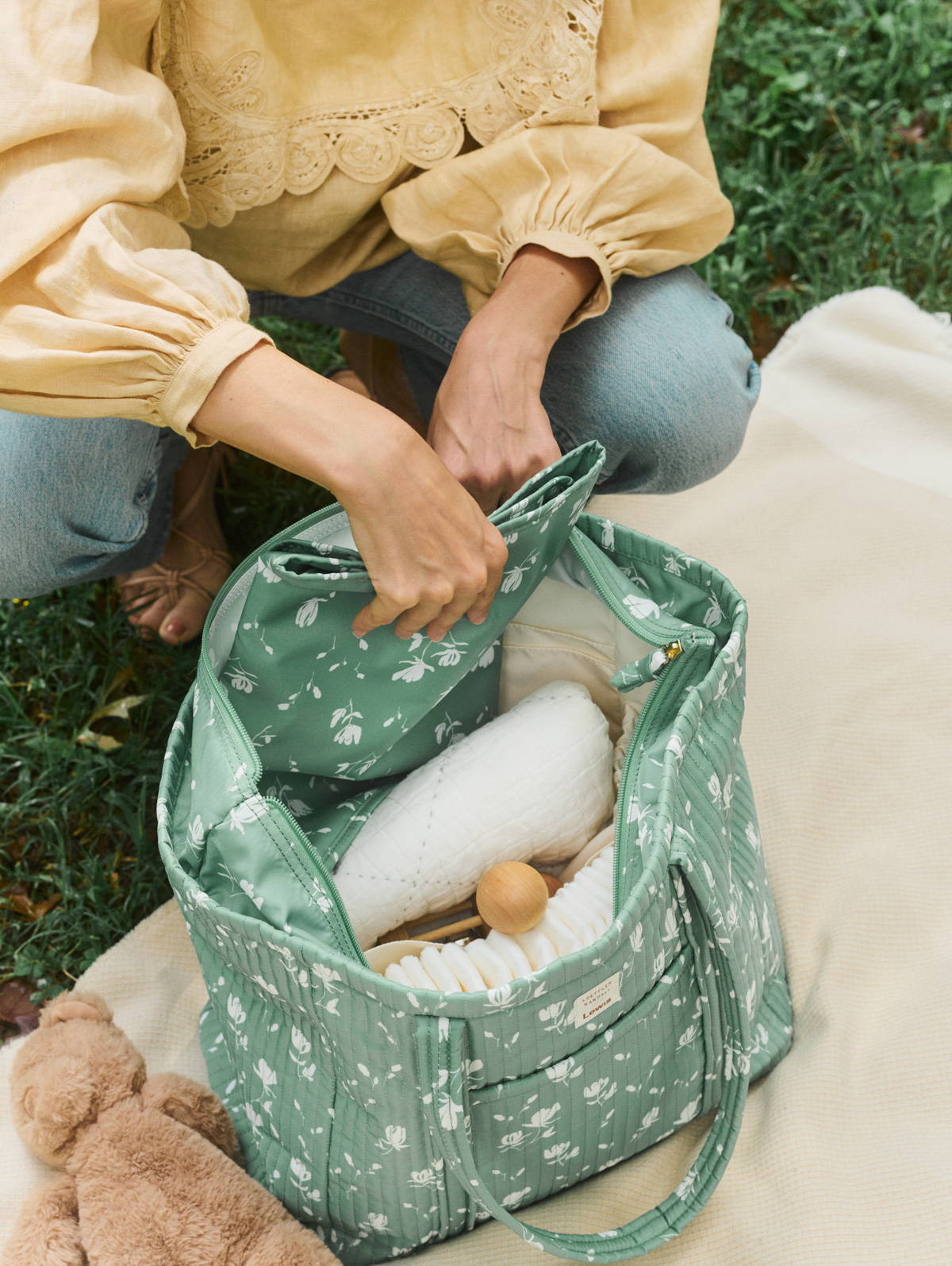 Why did you decide to introduce a baby bag to the line?
Jessie: One of my designer's sisters was having a baby and suggested adding pockets and a changing mat to our zip top tote. It's such a dream to be able to collab with Lewis on this bag with their print.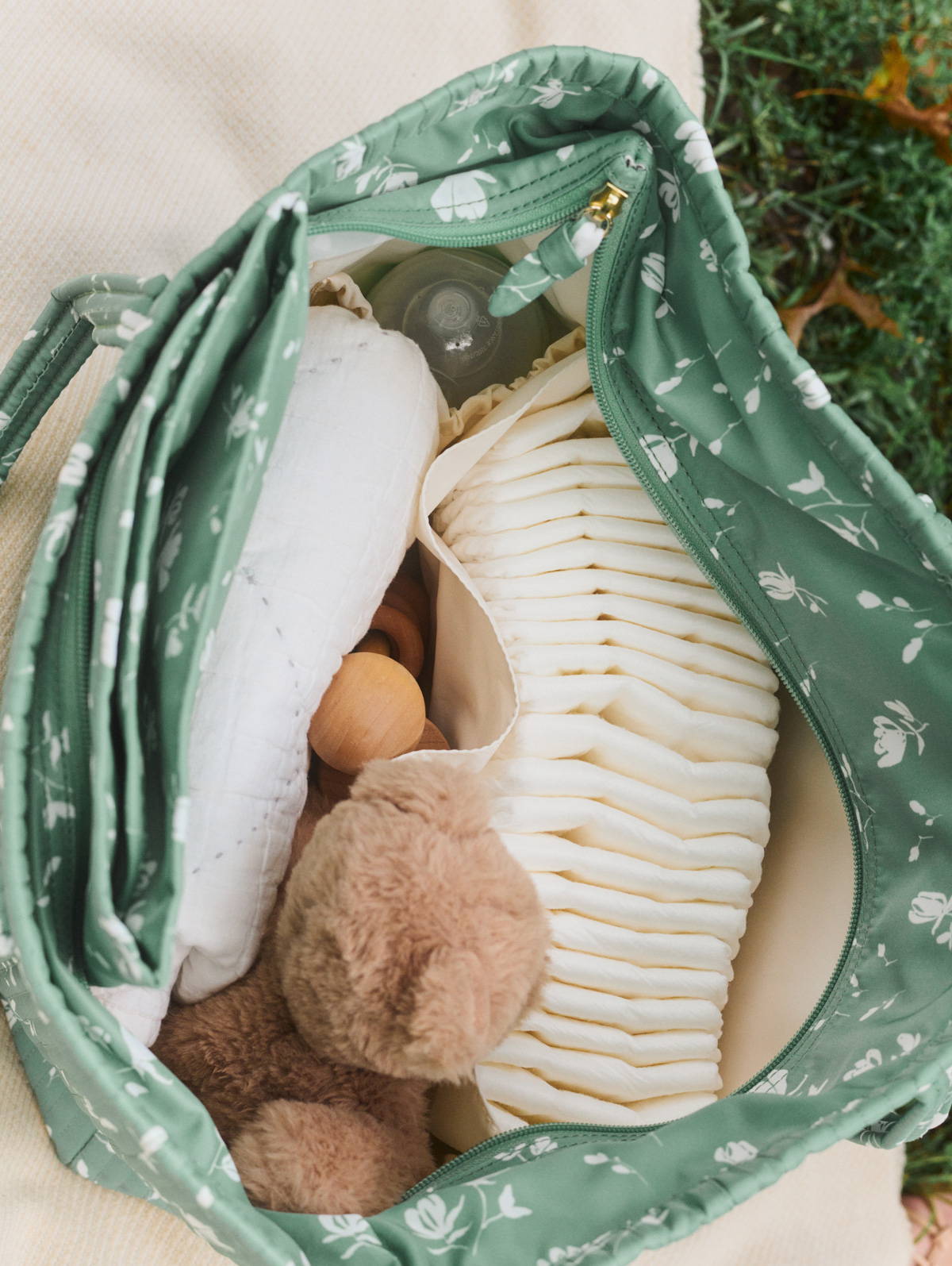 How do you know Liz and Lizzy, and how did this cute collab come to be?
Jessie: I met Liz because our boys are friends. She's become a very close friend. And I love Lizzy too. I am a HUGE fan of their line Lewis. My kids have Lewis bedding on their beds and I have so many of their amazing pouches which we sell at our LR craft fair each year.
Can you speak to the design inspiration and process that goes into your patterns?
Lewis Team: We are both constantly inspired by the natural world around us–as creatives and as humans. When it comes to print inspiration, we always turn to nature as our guide. As parents of growing kids we quickly noticed the keen observations they have for every small thing–weeds growing in the sidewalk cracks, tiny ants carrying crumbs twice their size, how fallen leaves form bouquets. Their acute focus on things we breezed by as adults expanded our view on nature and our joy. Every Lewis print celebrates these tiny natural wonders and the beautiful beings opening our eyes to them.
 
Liz creates all of our patterns, which starts with ink and brush drawings. They are worked + reworked as we discuss scale, orientation and color–all in relation to the rest of the line, making sure we're balanced in our offering of soft, graphic and fun. In addition, every print, piece and color must be something a parent will love in their home as much as it is fitting for children.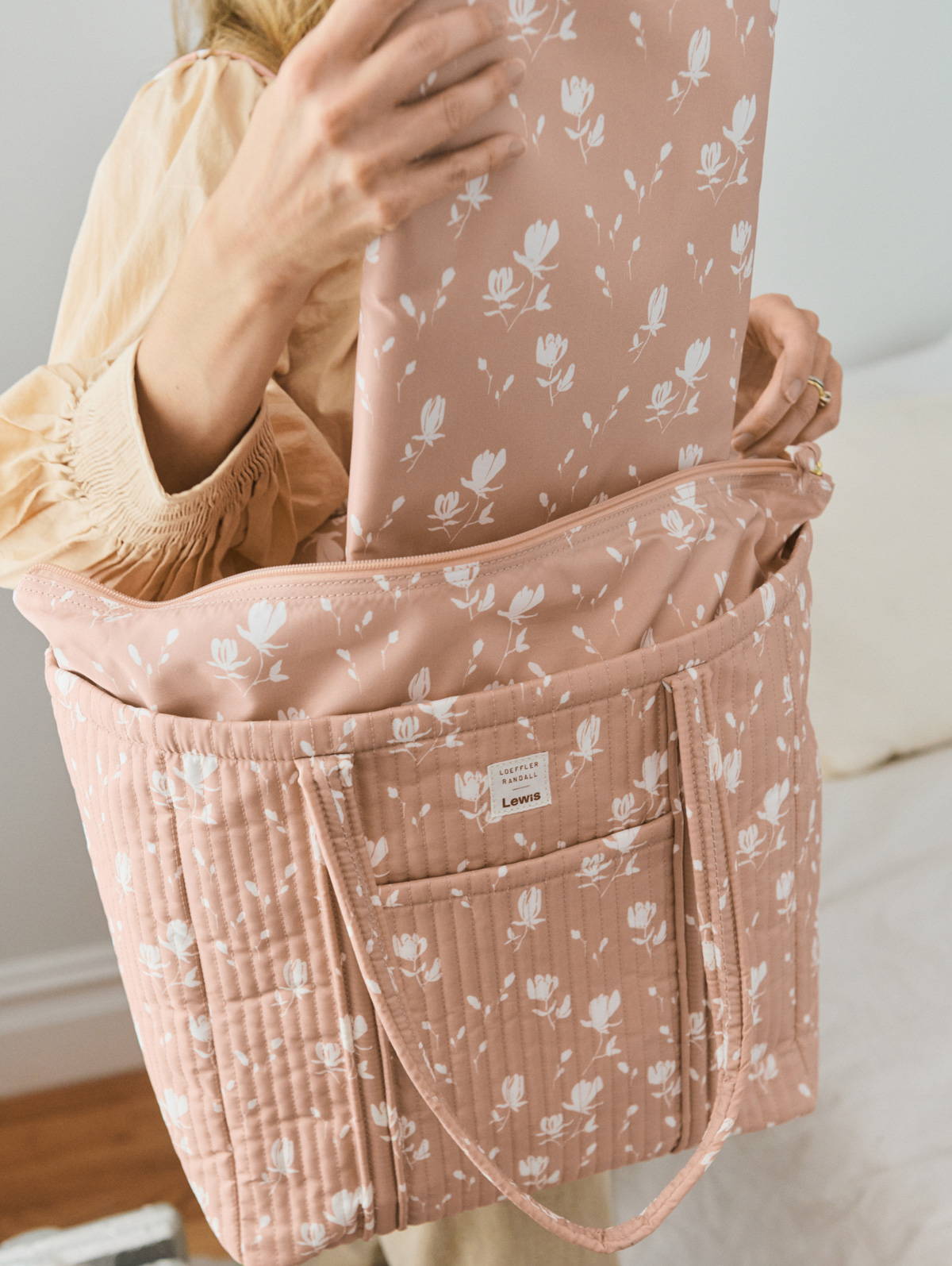 Why this particular print for our Athena baby bag?
Lewis Team: Magnolia is our print that celebrates the beginning of Spring and that magical week of blooming Magnolia trees–the telltale sign that warm light days are ahead. The early days of motherhood are so tender–so hard and so beautiful at the same time. And so fleeting! So, much the way we have to savor those short chilly days of a Magnolia's fragrant bloom, we're reminded to stay present in the newborn days a little while longer, holding on to the beauty of it however hard it is. Those warmer, lighter days are coming.
What are the baby bag must-haves you recommend for new parents?
Lewis Team: We love the compartments in this bag! We'd definitely have a set of our burp cloths in there, for the spit up, wiping down, even a little coverage for nursing. A swaddle for the 100 ways you'll use it. Our zip pouch sets keep all the little things in one place. NoseFrida helps clear those stuffy noses in a snap. We never left the house without Aquaphor for the first few years, and depending on baby's age, a bottle or a snack is always necessary. And our cute bunny — perfect for little hands to grasp!
---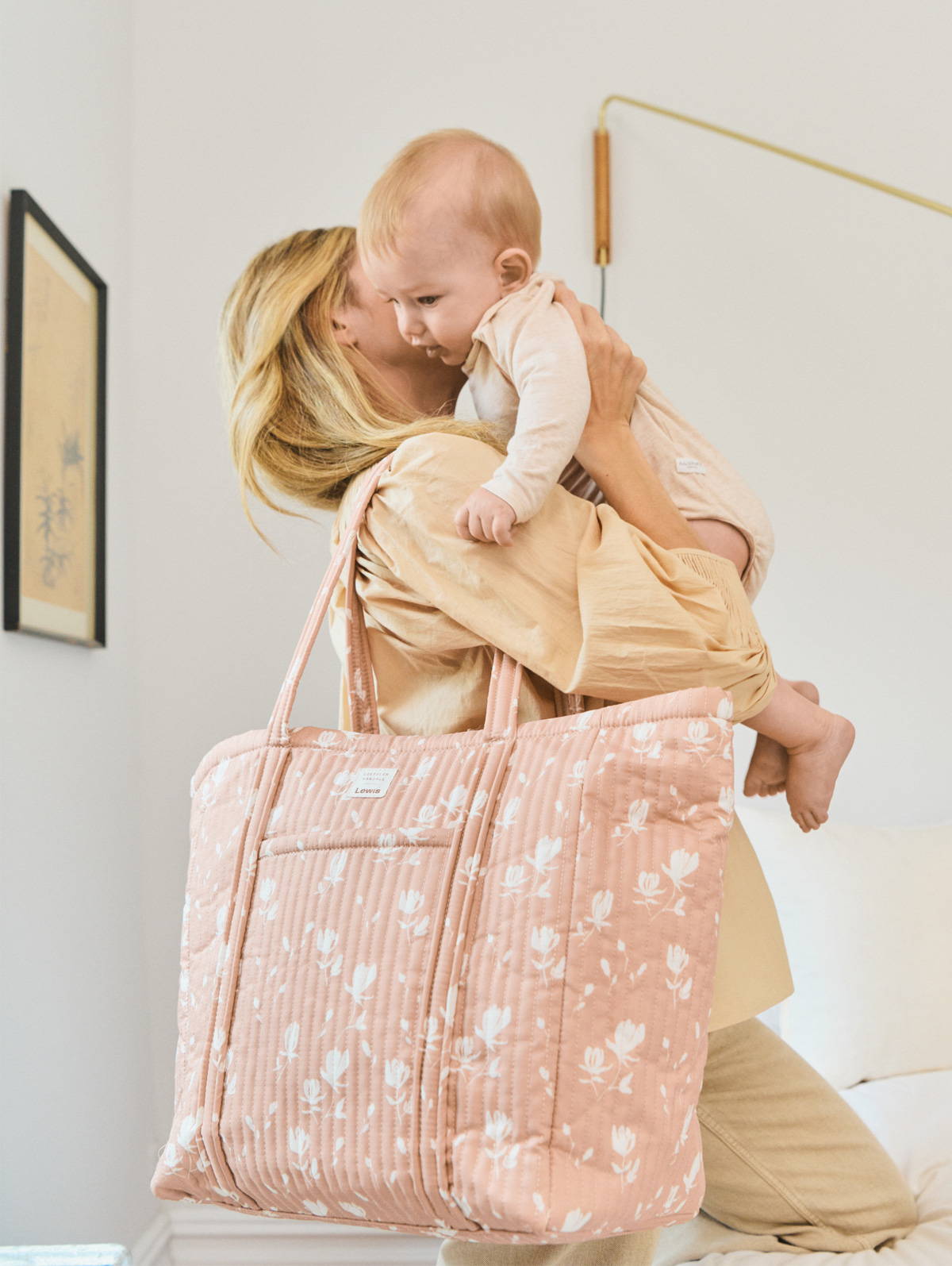 We are giving 10% of sales of each bag to Nurse-Family Partnership, a life-altering non-profit organization that provides free nurses to first-time, low-income mothers, helping to empower them and create better futures for their children. They have served over 340,000 families in 40 states in over four decades, and continue to provide an invaluable service and program resulting in improved pregnancy outcomes, improved child health and development, and improved economic self-sufficiency.