Nestled in the sun-kissed countryside of Polignano a Mare, Sophia and Philip held a breathtakingly beautiful ceremony, just days after landing in Italy for the first time. Here, Sophia shares how she crafted her perfect wedding from hundreds of miles away, with a dress and shoes she'd been saving for years.
Photography by Danilo and Sharon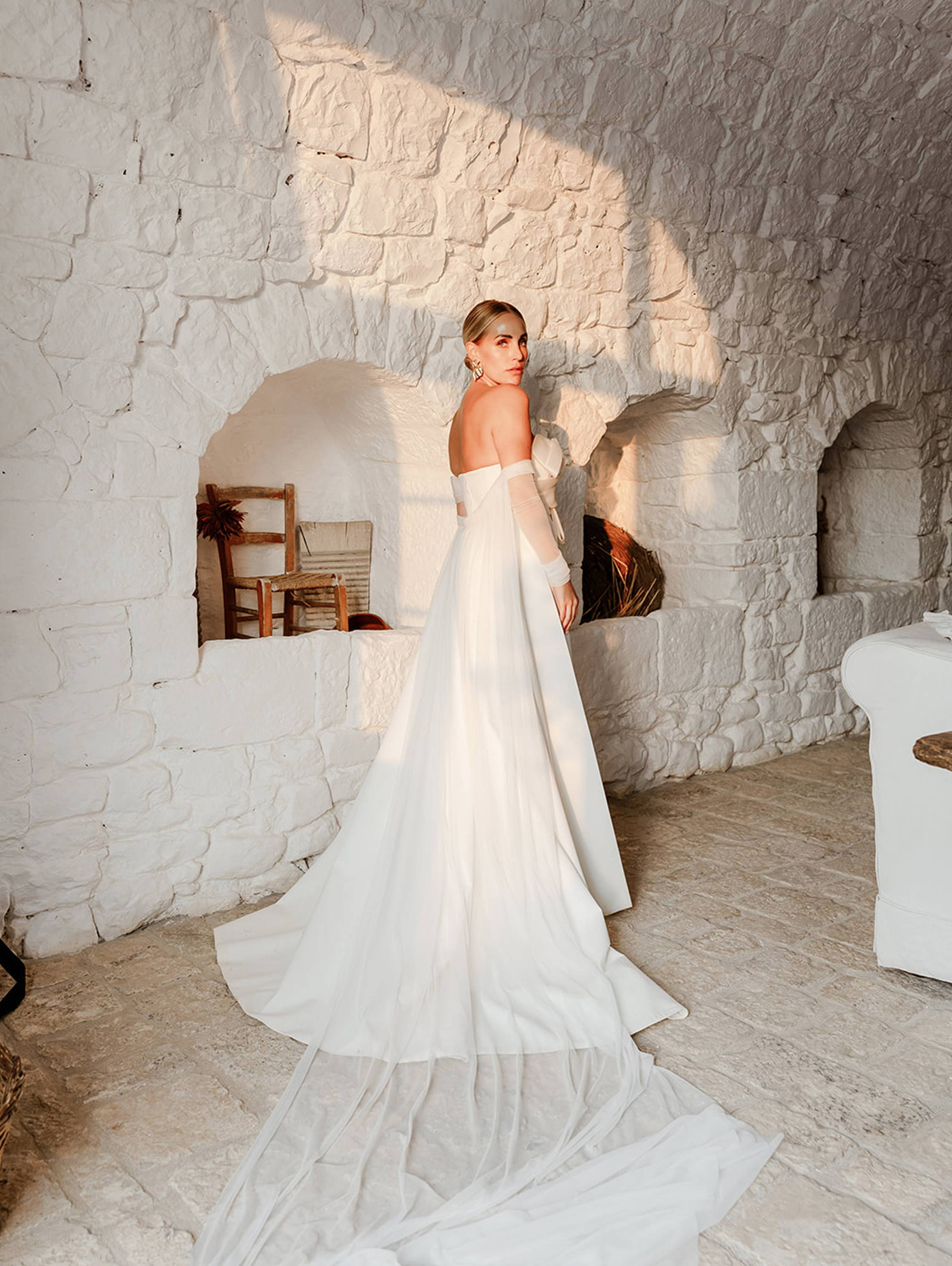 "I discovered my dress on Instagram a year before I got engaged. I knew then that it felt 100% like me, and as soon as Philly asked me if I wanted to be his wife, I had my perfect dress — I ordered it without trying it on. I wanted something classic that reflected me and my personality, but still with a special twist."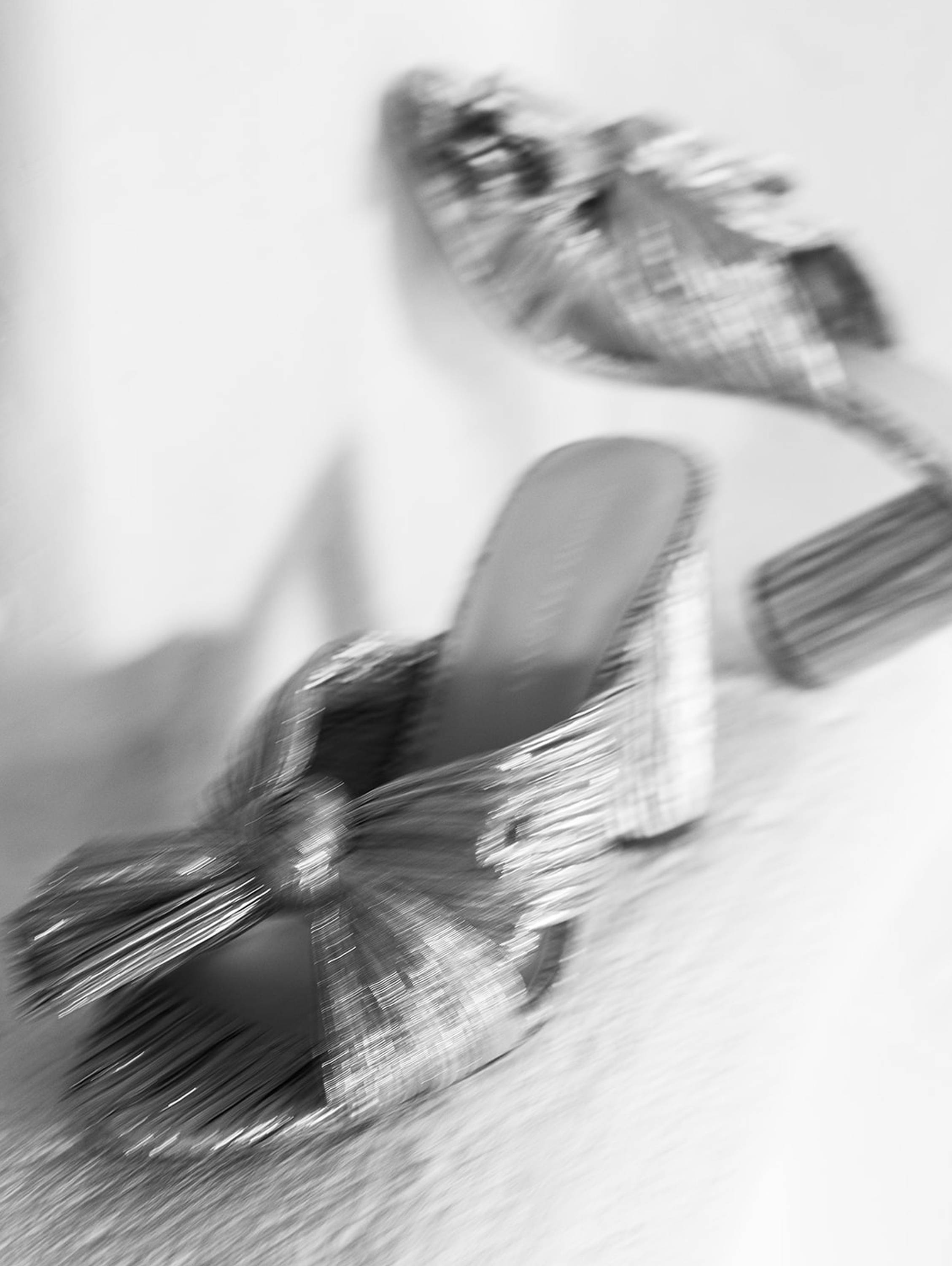 "My dress is such a minimalist silhouette, so I wanted my shoes to be eye-catching and special. I'd had the Penny Heel in Gold saved for a long time, and they looked incredible paired with the high slit of my dress. They are so beautiful, classy, timeless, and the prettiest shoes I own. They are also insanely comfortable, which is important at your wedding!"
"We love Italy – as soon as you arrive, you feel 'la dolce vita,' and that's exactly what we wanted to capture at our wedding. There is nothing like a good pasta, Italian wine, and beautiful sunshine — very different from our weather in Germany! But, and this may surprise many, we'd never been before our wedding.
"Due to the pandemic, all visits in advance were not possible, and we relied entirely on our wedding planner Alessandra. I had precise ideas about the aesthetics and the feeling I wanted to convey with the location, and Alessandra understood exactly what we were looking for. Together, we found Polignano a Mare, and Philip and I saw our venue in person for the first time just a few days before we were married there."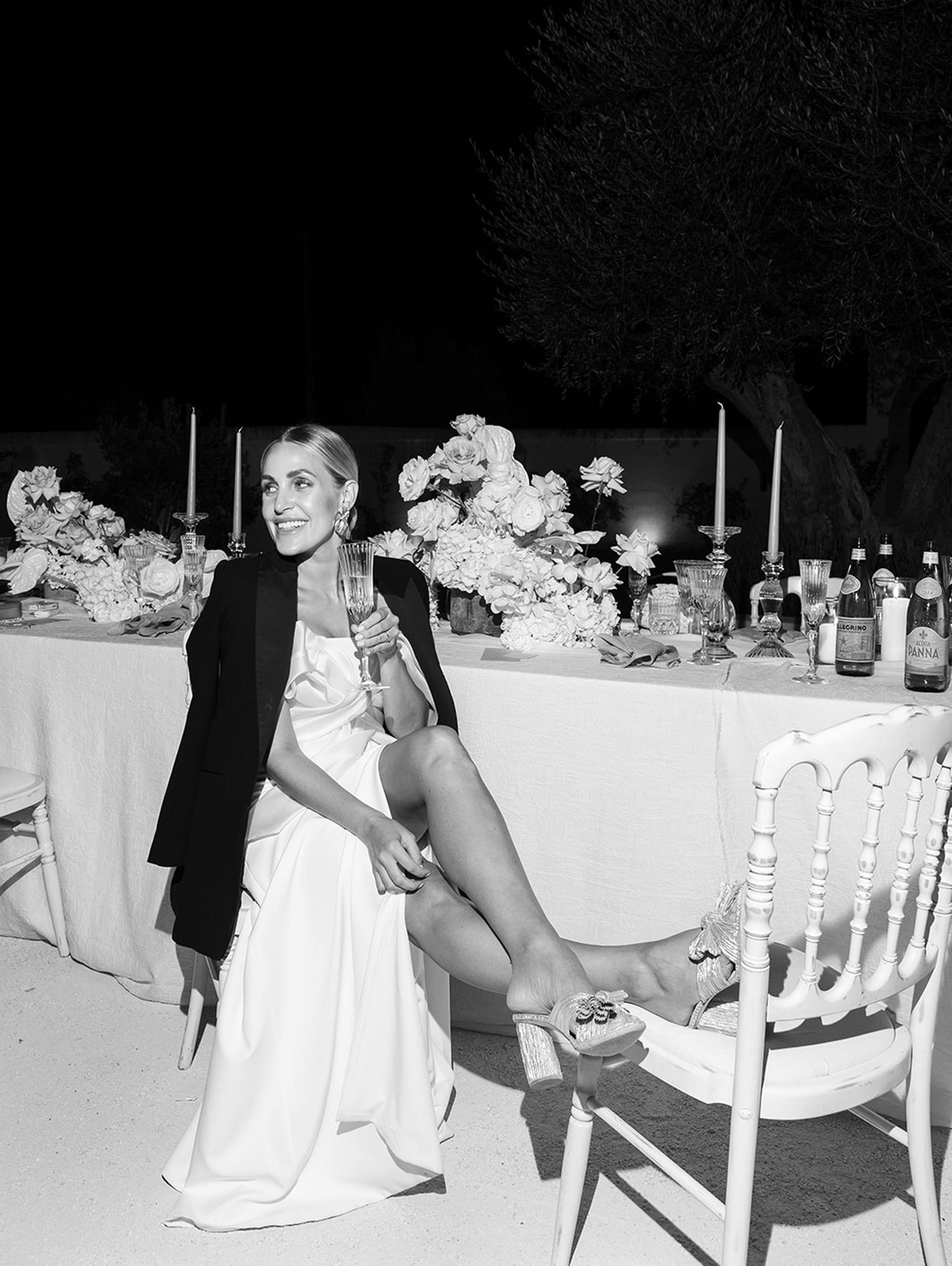 "During our vows, we performed a wine ceremony — a perfect fit for us, as we love wine and are absolute connoisseurs. The ceremony takes two carafes, one filled with red wine, representing the deep love in our hearts, and the other with white wine, aged in an oak barrel, reflecting the power of a loving marriage. We poured the two into a single glass, resulting in a new blend that symbolized our relationship. Our celebrant sealed the ceremony; 'This container is the sign of your union,' he said. 'Although you are two different people, you have decided to join your lives together and seek your happiness together. Now both of you drink from the same cup to be reminded that all that the future will bring you from now on, you will share it. Joy and sorrow, defeats and victories and all other experiences in life.'"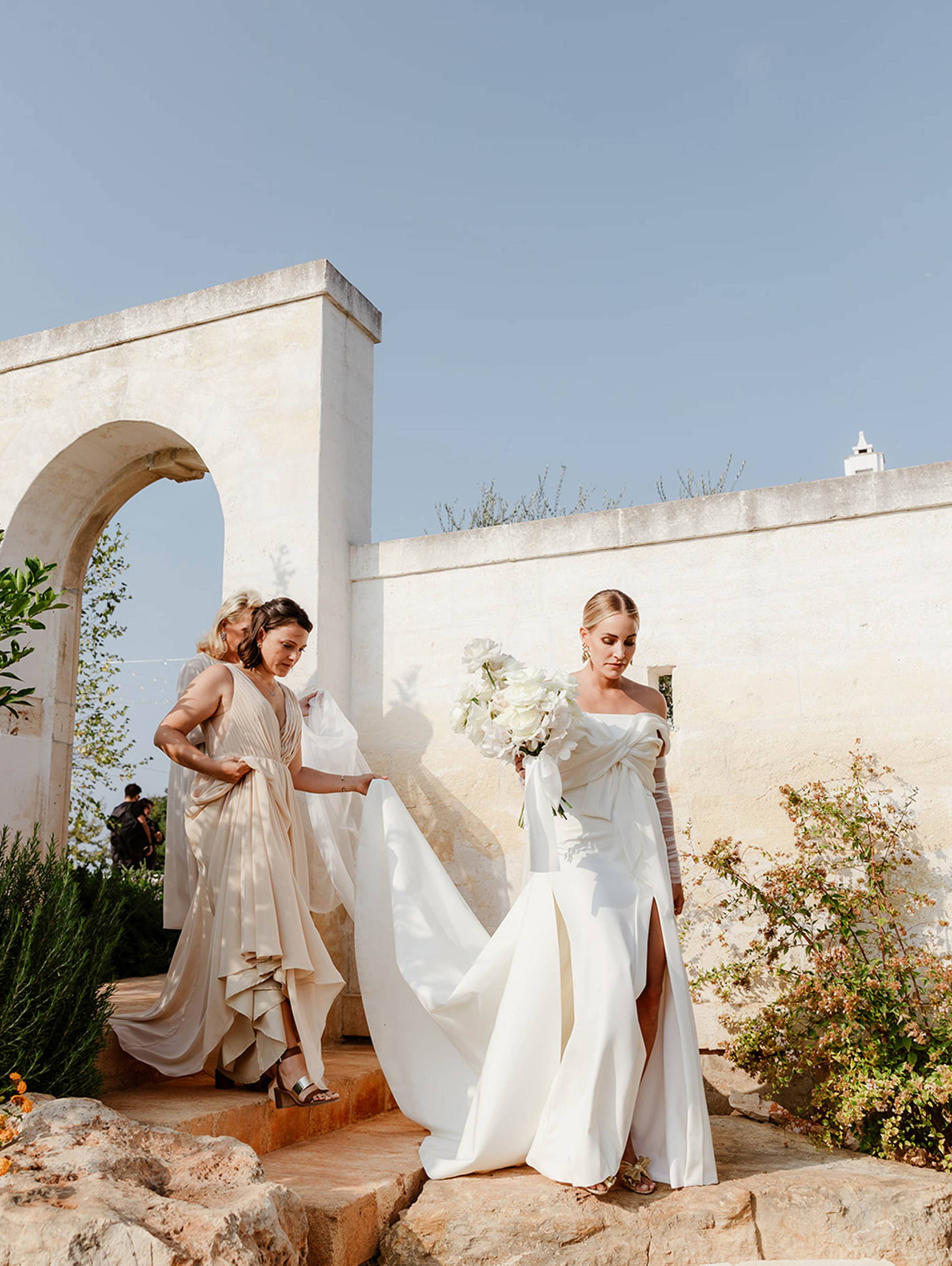 "One of my favorite details of the day was our wedding singer. He was insanely talented, and he serenaded us during the ceremony with our song, 'Unchained Melody.' It was so incredibly beautiful that I still get goosebumps thinking about it today."
---
"For us, it was all about throwing a great party — we wanted an unforgettable night with our loved ones."
---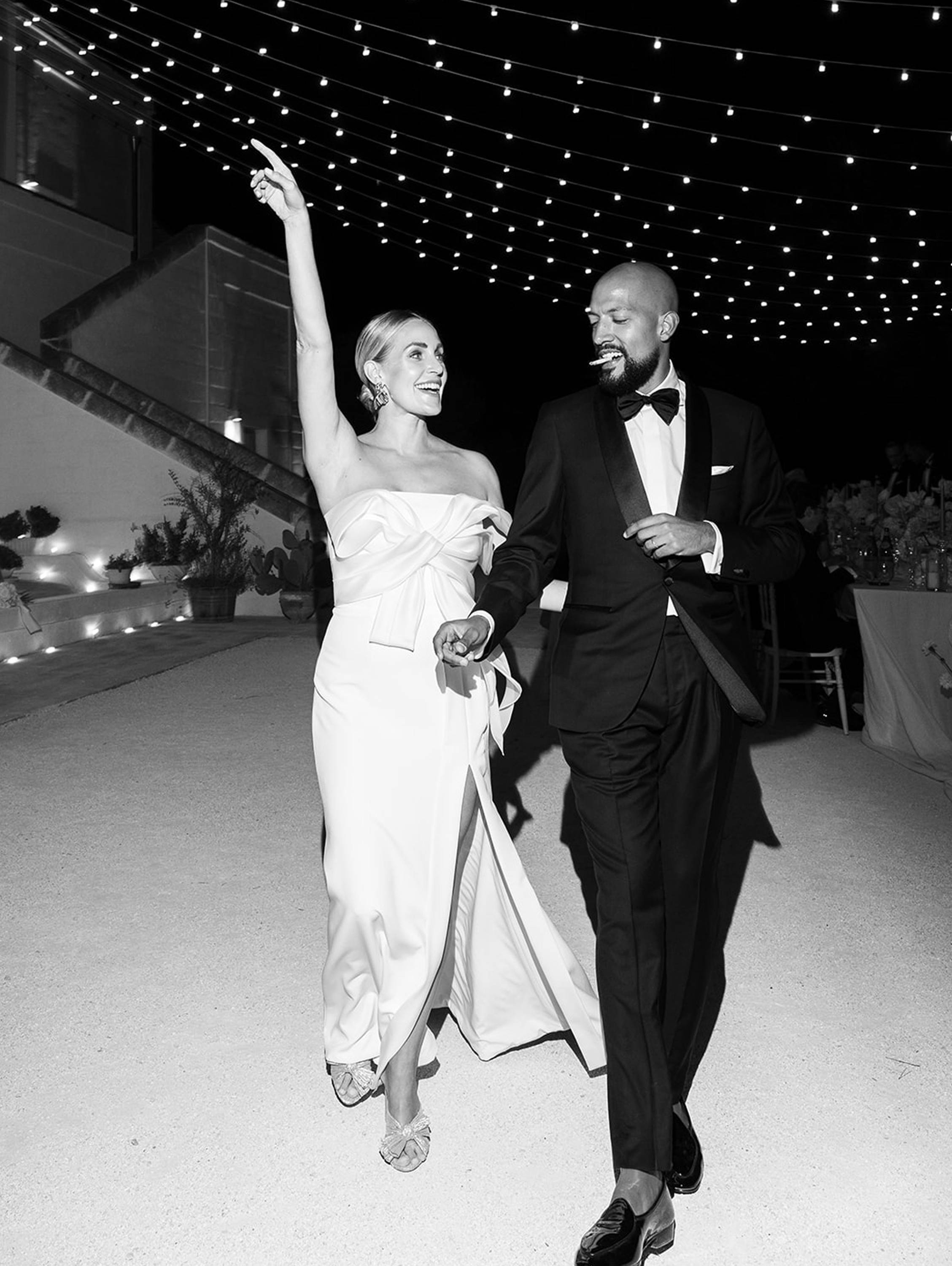 "Our wedding was truly the best day of our lives. No matter how many obstacles we faced, the planning process was completely worth the end result. We learned to limit stress by focusing our energy on the things that meant the most, and for us, it was all about throwing a great party — we wanted an unforgettable night with our loved ones. We had a live band ready to play after we finished dinner, and everyone moved to this tiny courtyard and immediately started dancing. We had never experienced so much happiness and joy."