Gillian and Evan's wedding day was defined by intimate, personal details — lyrics from the couple's favorite song hand-embroidered on the veil, a ceremony in their local parish, and a guest list of just fifteen — though that didn't stop the city of Toronto from celebrating alongside the newlyweds, too. Read on for Gillian's story of the day, spent wearing the pleated heels she'll love forever.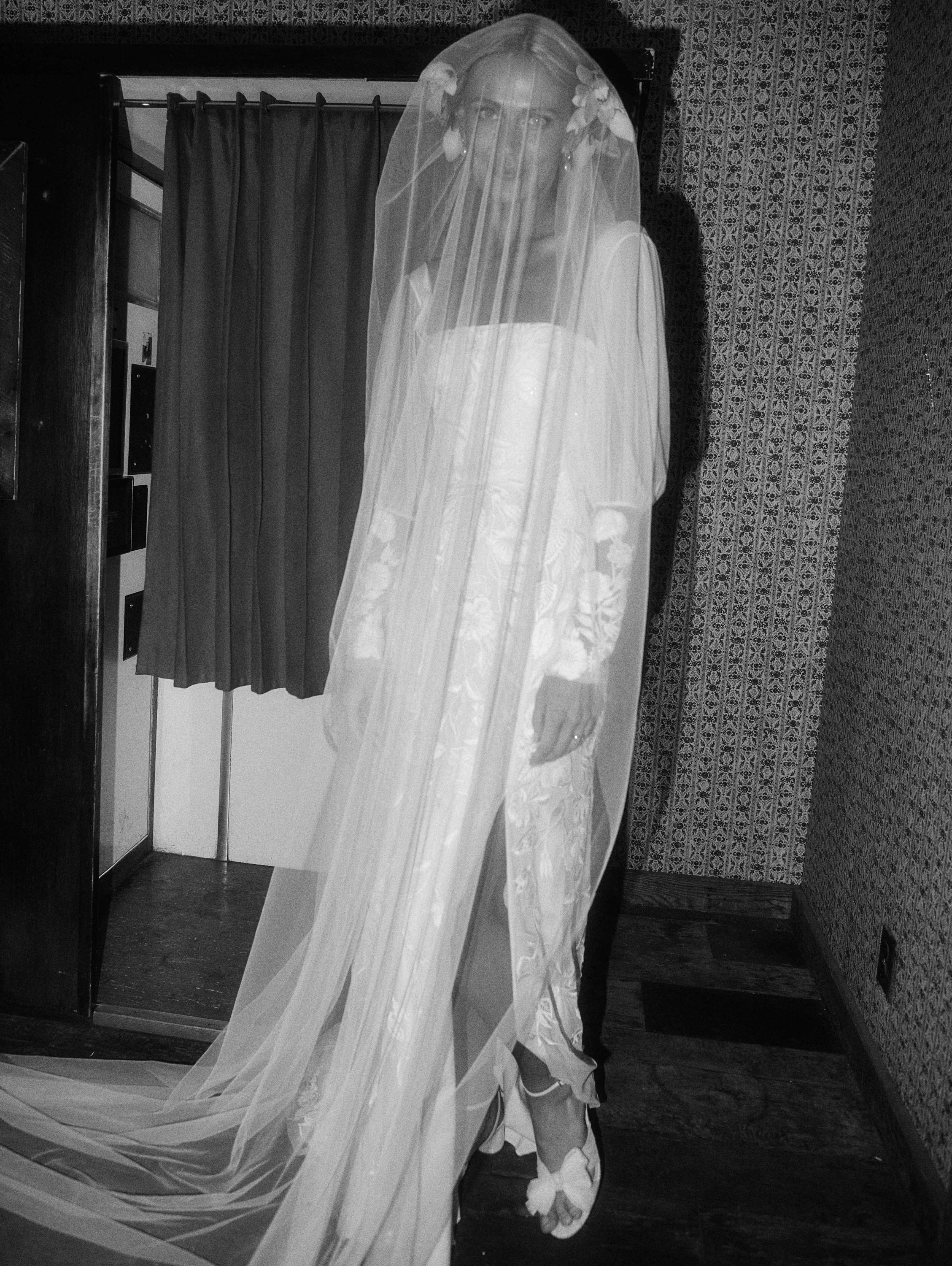 "My husband, Evan and I were married at St. Mary's Parish, a stunning Gothic-style basilica located an eight-minute walk from our home. Catholic churches are kind of like school zones — you can only get married in your local parish — and we lucked out in living closest to arguably the most beautiful one in the entire city! We had been to Mass at St Mary's, but, as we admired its immense Robin's-egg-blue dome, stunning frescos, and stained-glass windows, it had never even crossed our minds that we would one day marry there, and I feel so lucky that we did."
"Finding my dress was quite the process, and when I stumbled upon Hermione de Paula's pieces online I immediately thought, 'these are my exact style.' I visited Hermione's London studio while on holiday and fell in love with her team, working with them over the following seven months to choose the perfect silks, organzas, and beads until we had my dress. My favorite details, and Hermione's specialty, were the carefully embroidered personal messages she stitched all throughout my veil, including lyrics from our favorite song, 'When We're Older,' by James Blake — 'You're the first thing I'll be seeking with these arms of mine.' I am having the veil framed, and I plan to keep every part of my wedding gown, which is another reason Hermione was such a perfect choice for me. She prioritizes sustainability, intending for her pieces to be worn again, dyed, made new — I love the idea of having my dress turned into evening wear, cutting the train into a Christening gown, and letting it live on forever."
"Loeffler Randall is my favorite shoe designer, and I have had many conversations with friends about how well-made each pair is. I used to work in the fashion industry, so being able to run around all day in design-forward heels was a necessity. Dahlia in Pearl is the perfect bridal shoes that doesn't look like a bridal shoe — I have worn them since! I felt comfortable, elegant, and, most importantly, like myself in them. They're timeless, and their sculptural floral quality echoed the poppies and wild roses embroidered onto my gown."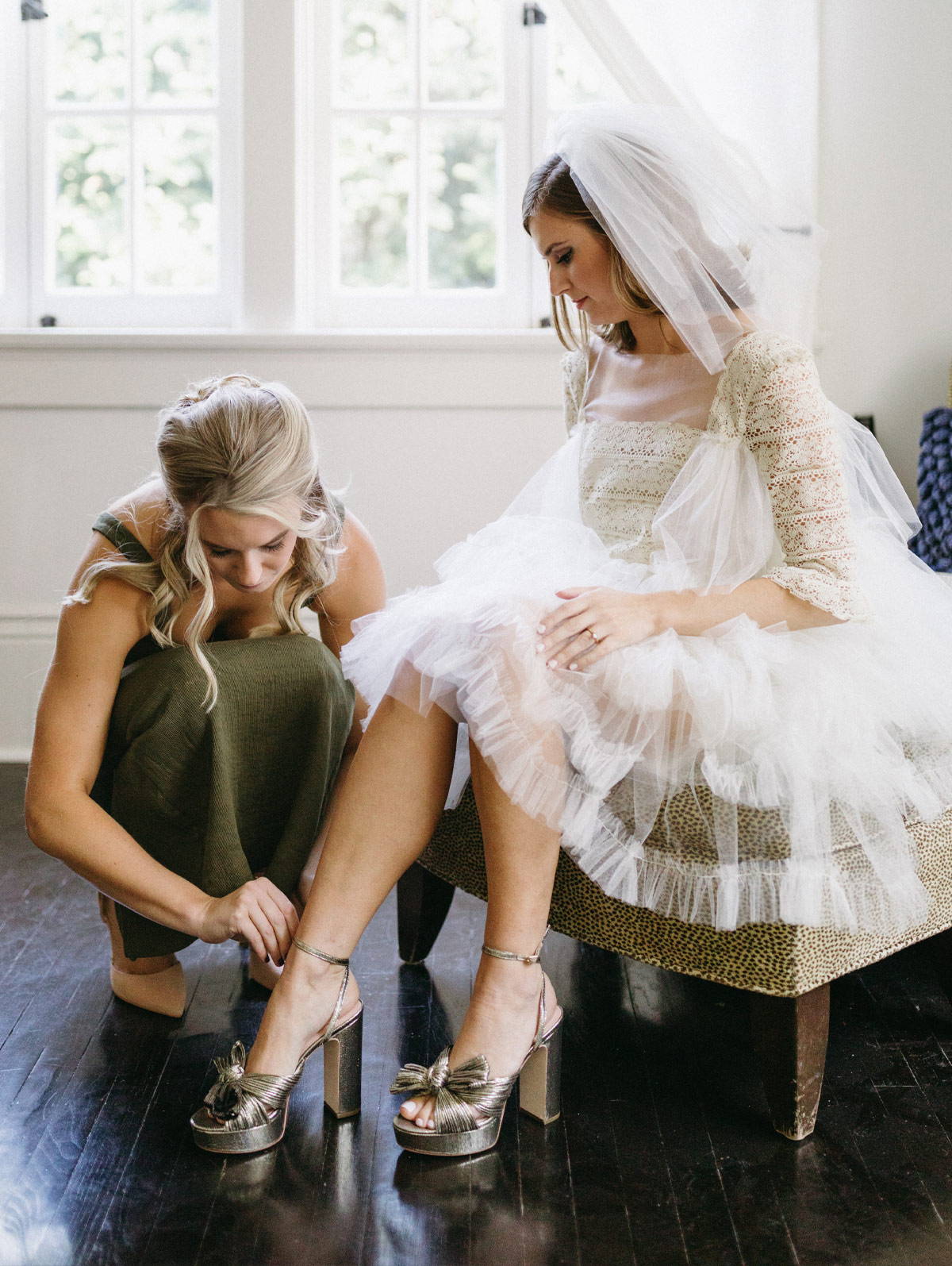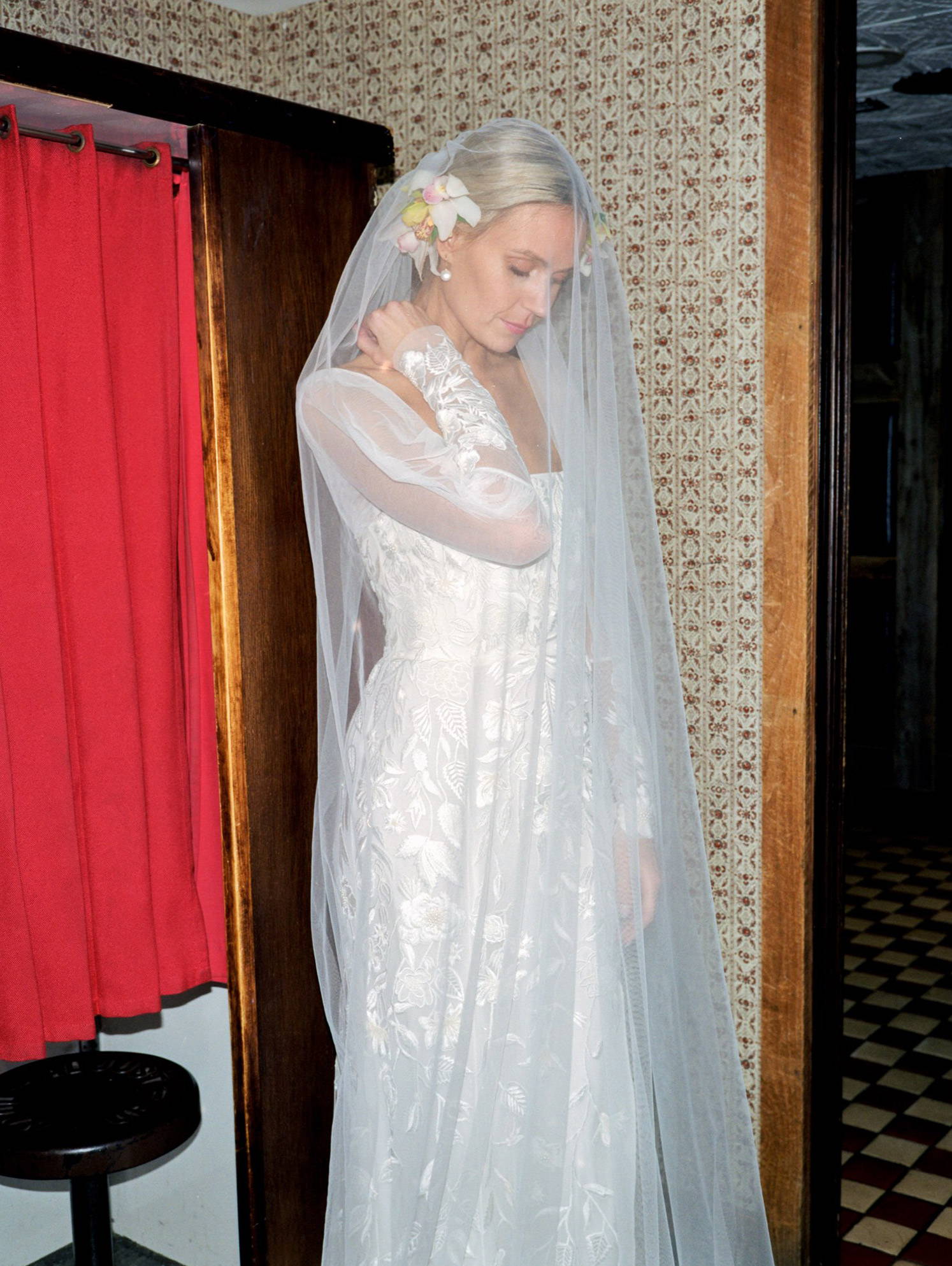 "The moments from the day that stand out the most are the ones I wasn't expecting. The first occurred in the morning, when my mother, sisters- and mother-in-law-to-be got ready at my mum's house. I had finished my hair and makeup and was about to run upstairs when I caught the four of them in my mother's front hallway, each either zipping up the other's dress, fixing another's hair, or in some way helping the other. I felt my heart in my throat, moved by my future family taking care of each other. I have been friends with my husband's sister since I was 17, and have known the family for years — I love and respect each of these women so deeply, and I was so happy in that moment seeing what lay ahead."
"Even beyond the people I love, I was floored by how warm complete strangers were to me on my wedding day. After our lunch, our photographers had us posing at major intersections in downtown Toronto. Toronto is not a city in which people honk their horns easily or drivers yell at each other frequently, so when we first heard honking and yelling, I thought we must be in the way somehow. Our photographers pointed out, after seeing the bewildered expressions on our faces, that people were congratulating us. It was then we started hearing "Congratulations!!" "You make a beautiful couple!!" and we looked to car passengers' smiling faces as they waved. And honking, honking, so much honking!!! Living in a big city, where so often, people have their eyes glued to the ground, their phones, without exchanging so much as a nod, these gestures of shared joy made me feel like we are still part of a community."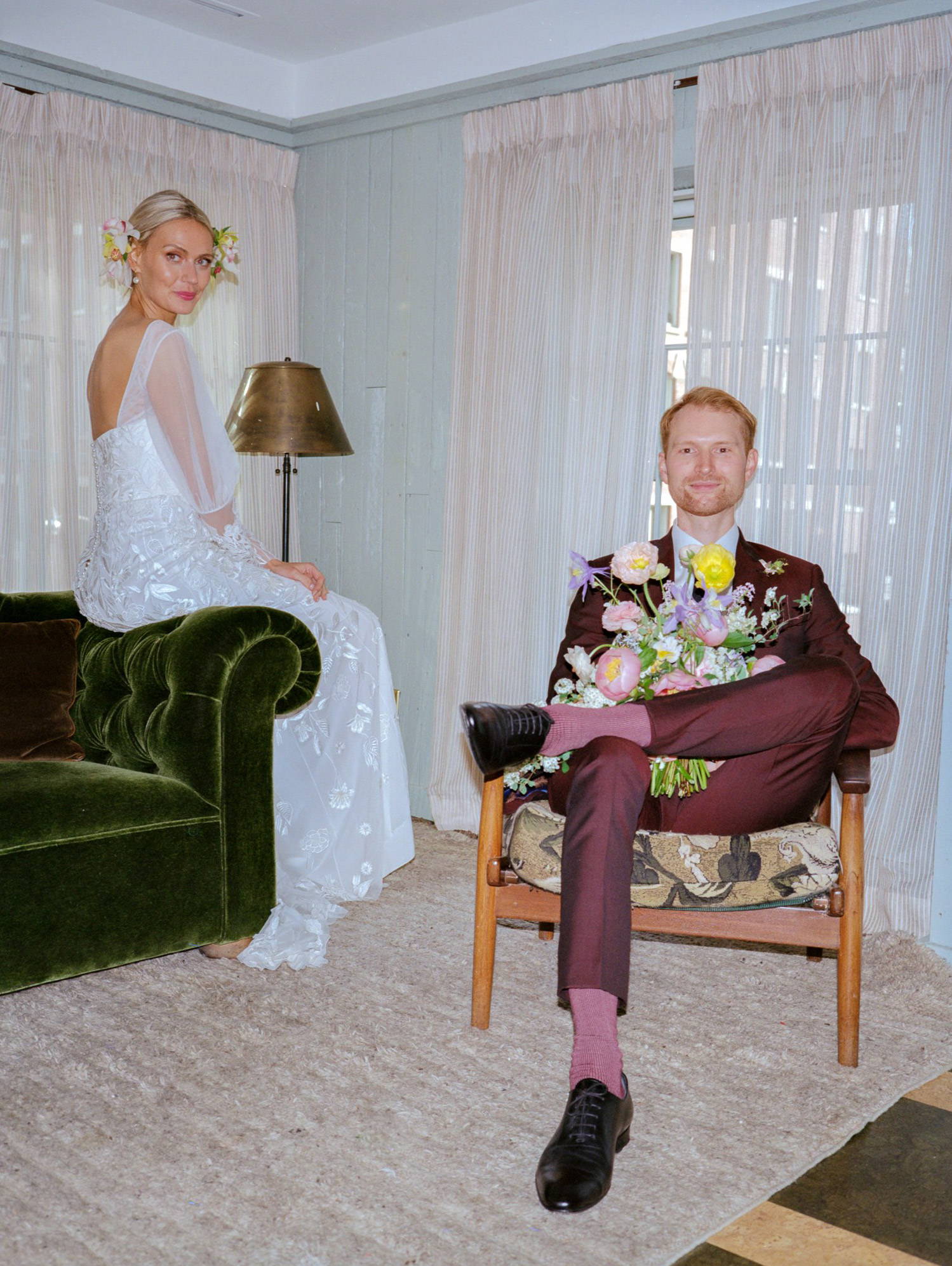 "My husband used to be in events (for black-tie galas raising millions of dollars with thousands of attendees), so he was in charge of most of the planning! We went from having a 150-person ceremony and seated dinner to a celebration with just 15 of our family members six months before the big day. I think the best secret is to choose your vendors as close to your ethos and style as possible, and then trust in them and give them the space to do what they do best! Creative people shine the most when you let them create."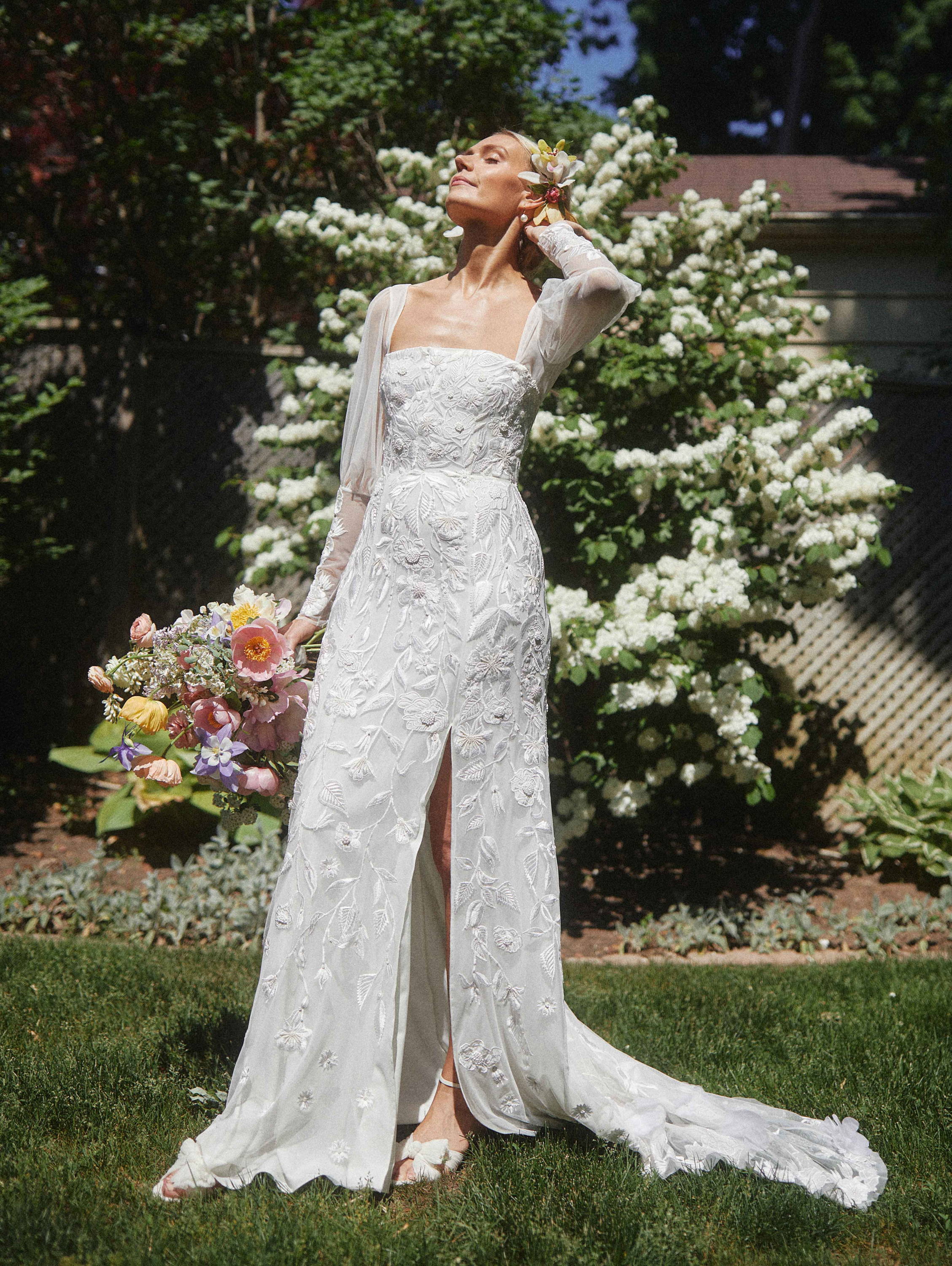 "One of my closest friends of over 20 years, Allison McAuley, is a professional opera singer and agreed to sing at our ceremony. As I mentioned earlier, 'When We're Older' by James Blake is Evan's and my favorite song — one we've listened to an infinite number of times since it was released — and I wanted to surprise Evan by having Allison sing it as we walk down the aisle for the procession. Its lyrics speak of a love that transcends this lifetime, and seemed fitting for a wedding day; its opening chords even sound like Schubert's 'Ave Maria.' Allison and I hatched a plan and had the music transcribed into sheet music for organ and voice. We found an organist and she rehearsed with him for weeks, all without Evan having a clue."
"Walking down the aisle of the church with the soaring nave, with Allison's heart-achingly beautiful voice singing our song was a moving experience for me, and I knew what was coming! I was shocked (and maybe a little annoyed, after all the trouble we'd gone to!) to see a totally dry, smiling face in my groom. 'Didn't you feel like crying, didn't you get emotional? Even just a little bit?' I asked him after. His answer? 'I was just so happy to see you.'"