Through lockdowns, postponements, and gale-force winds, Belinda and Gavin's hillside wedding was laced with silver linings, from gold pleated heels to an unforgettable helicopter ride. Here, Belinda shares the details of her breathtaking ceremony in Queenstown, New Zealand.  
Photography by Dawn Thomson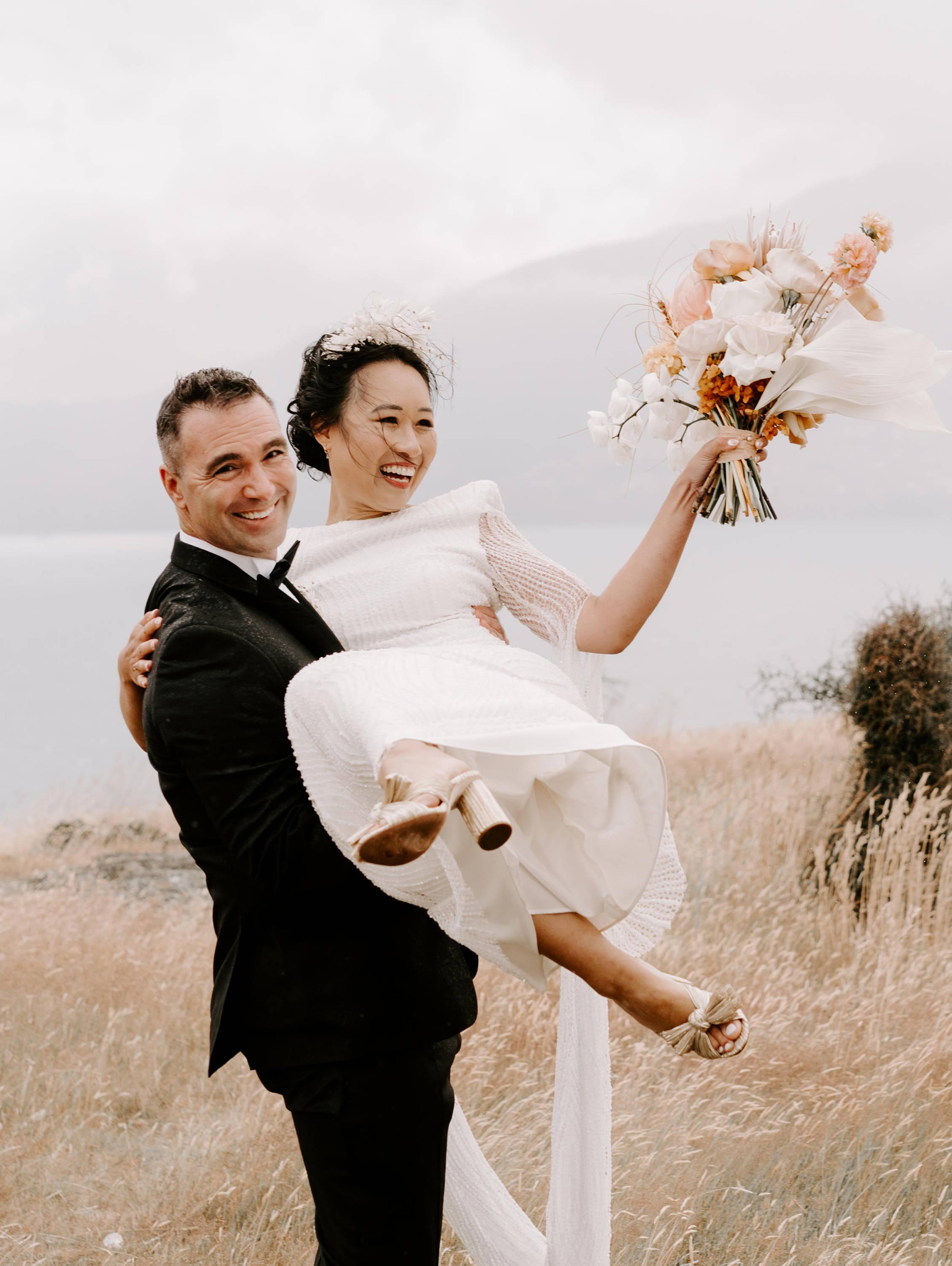 "After a snap lockdown forced us to cancel our winter wedding in Queenstown just a day before the ceremony, we decided to go back to the drawing board. We settled on a more intimate affair, shifting to a summer wedding with our immediate family. It was our photographer, Dawn, and our stylist/florist, Gypsy, who suggested Jack's Point, and we immediately fell in love. We'd always wanted somewhere off the beaten track, surrounded by the beauty of nature. It was perfect."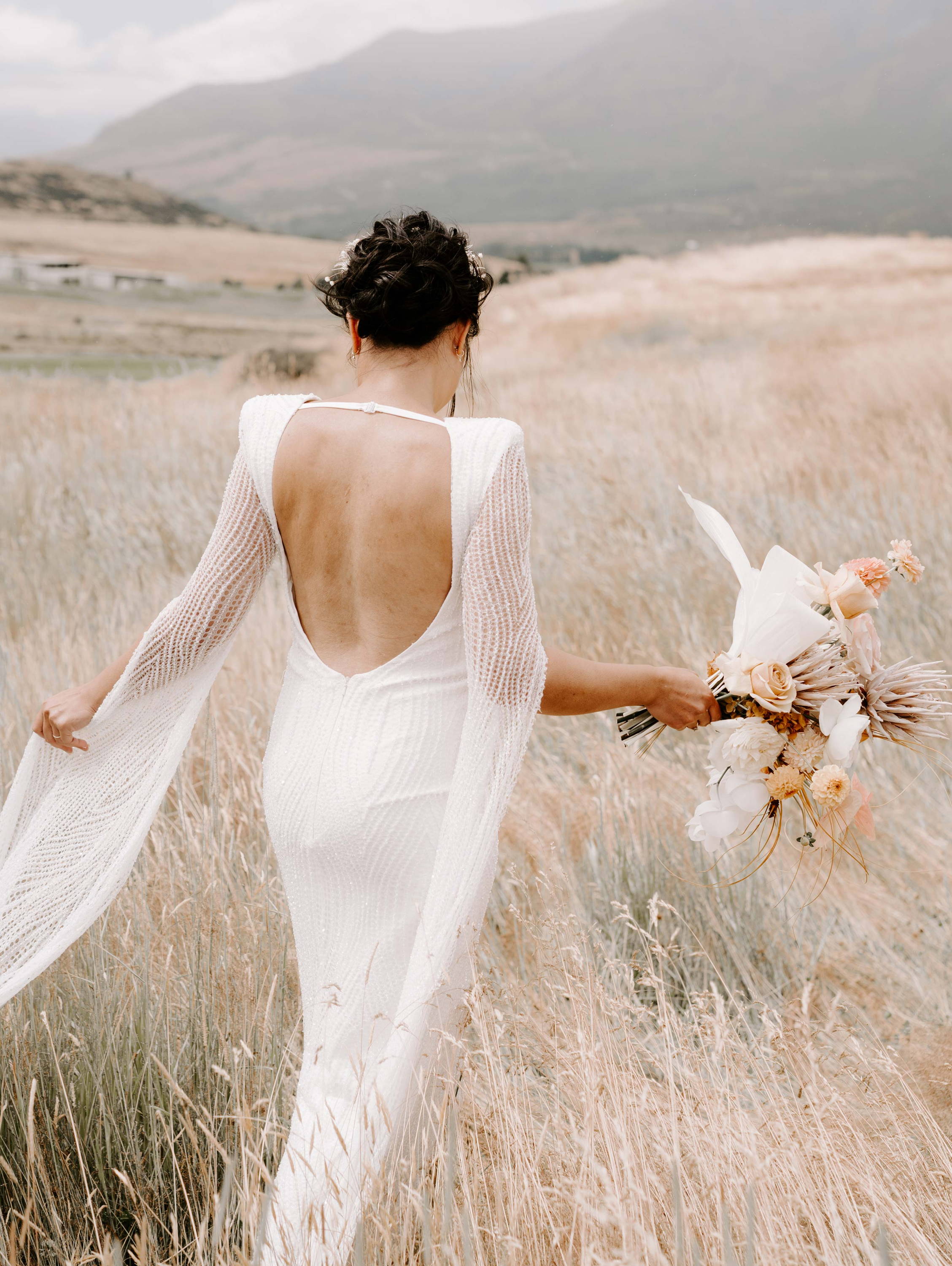 "When our winter wedding unexpectedly became a summer one, I was secretly excited about finding the perfect pair of summer heels to match the season. Initially, I was on the hunt for Camellia in Pearl, but when I came across Penny in Gold at a local boutique, I was over the moon. I'm a gold girl at heart, and the shade was also on my palette for the wedding, so the switch was a no brainer. Walking through the tall tussocks on Jack's Point, I'd never felt more fabulous. The pleated bow added the perfect touch of femininity to my ceremony look."
---
"We'd always wanted somewhere off the beaten path, surrounded by nature. It was perfect."

---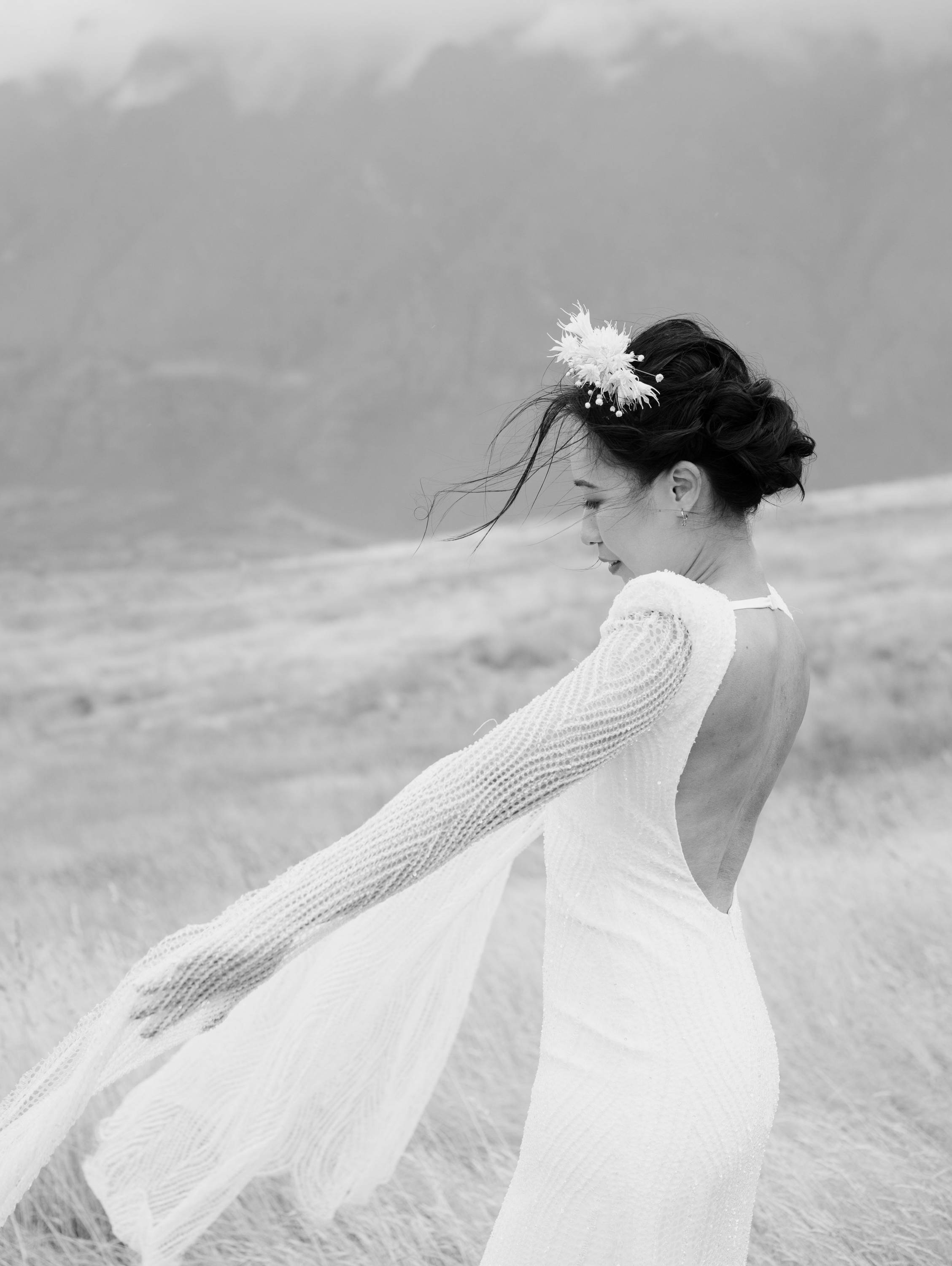 "When I told my friend Blair Wheeler, a talented designer, that I hadn't found THE dress yet, he instantly proposed that he might create a one-of-a-kind wedding dress for me. Of course I said YES!
"After working together on some initial sketches, we visited our local fabric showroom, Hawes & Freer, and found the most mesmerizing bridal fabric, embroidered with an elliptical beaded pattern. It was their only roll, which would make my dress feel even more unique and special. It was the best decision ever to have my dress made by someone I know. For me, the experience was just as important as the final dress. We had so much fun experimenting with ideas, and it was so nice to be a part of the process rather than just the client."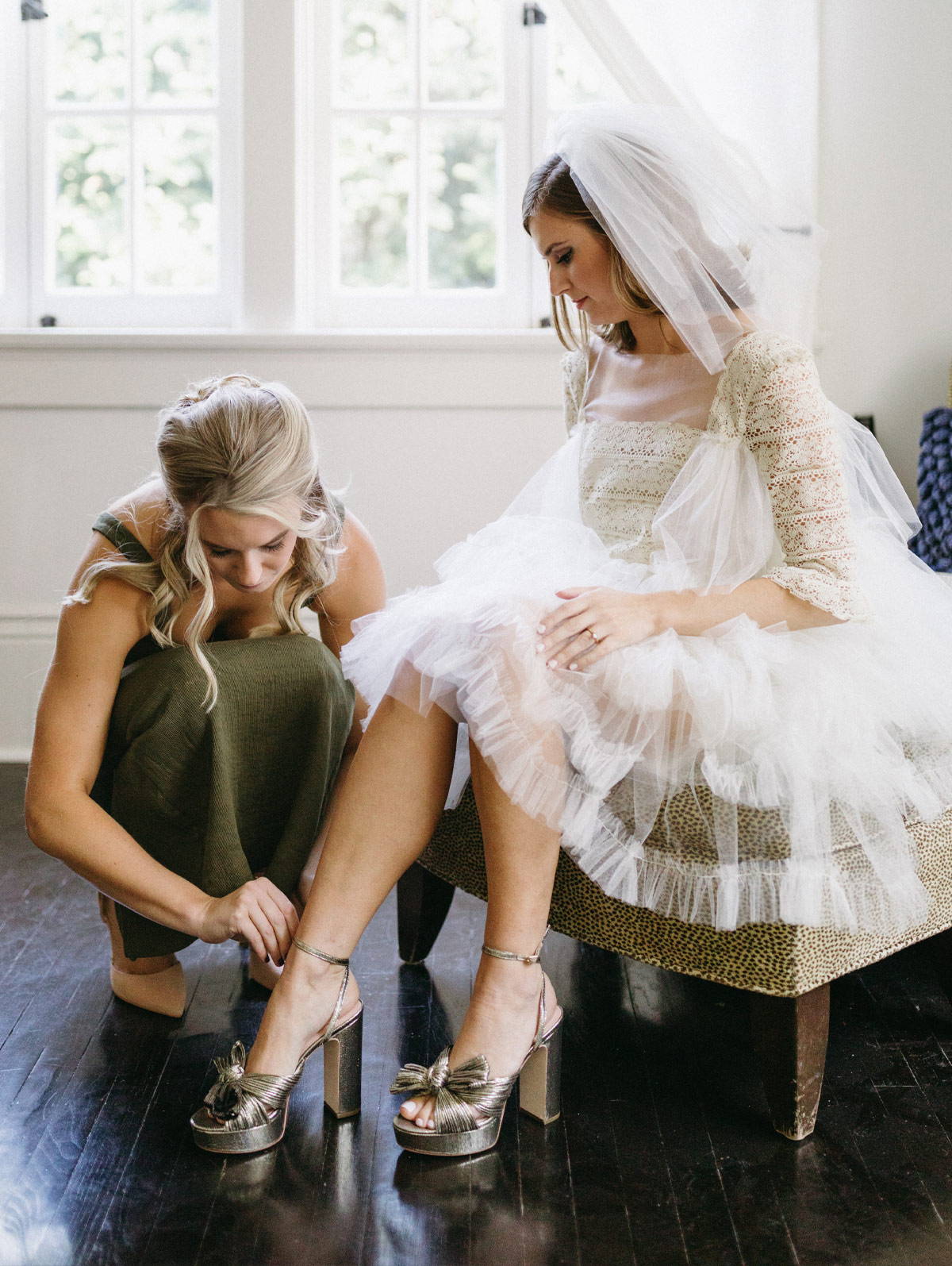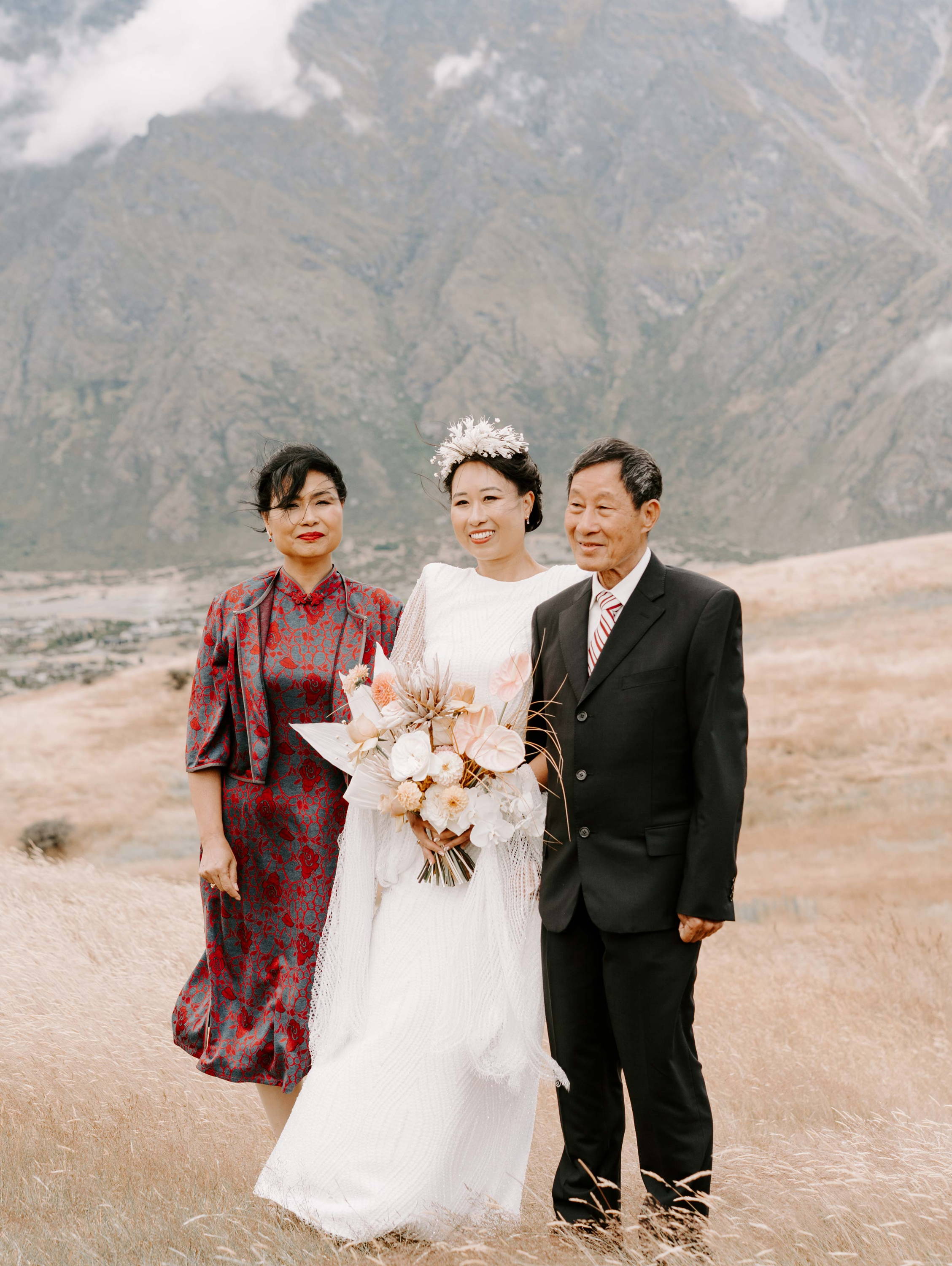 "I am naturally a very calm person, and always optimistic, but honestly, seeing rain roll in on our wedding day worried me. We'd already had multiple postponements, and I was really looking forward to finally getting married, so Gavin and I thought to ourselves, 'if we get wet, then so be it' — but what we didn't expect were the freezing gale force winds! Luckily Gavin was there to hold my hands, otherwise I would have blown away."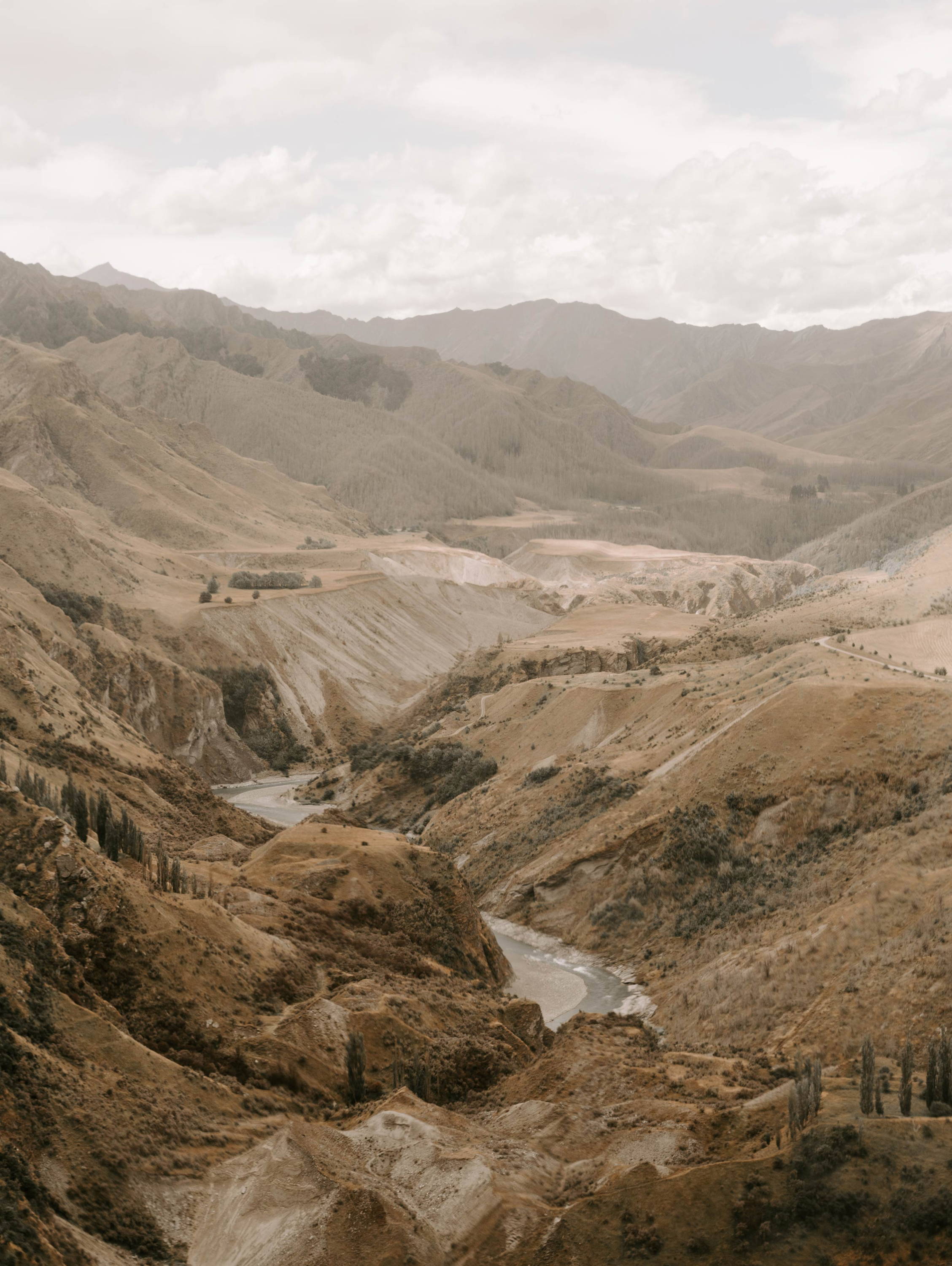 "My favorite part of the day would have to be when we got whisked away in a helicopter to a secluded part of the mountains. Our pilot was able to find a safe route through the wet and windy conditions, I quickly changed into my white suit, also designed by Blair, and we set off in the rain.
"Gavin and I both agree that it was at this moment, when we stepped off the helicopter, that we felt a sense of relief, calmness, and joy. Our journey of planning a wedding during the pandemic was heart wrenching, so it felt great to slow down. Surrounded by the magnificent mountains with the moody low hanging clouds in the distance, time stood still. For a second, we forgot about all the troubles and took in all the beauty."
"We returned to our families for a lovely, intimate dinner. We skipped all the formalities of speeches and first dance at the reception which was rather nice. I think we were all feeling drained and needed the simple comfort of loved ones, delicious food, and wine. One thing's for sure — we were all glad the wedding had finally taken place, and that we were officially Mr. and Mrs. Raymen!"