Long Island City-based digital strategist and producer,
Aliza Sena, had a backyard wedding at her parents' home in the Berkshires. She shared all of the details of this special, relaxed celebration that ended with a literal splash!
Photography by Oresti Tsonopoulos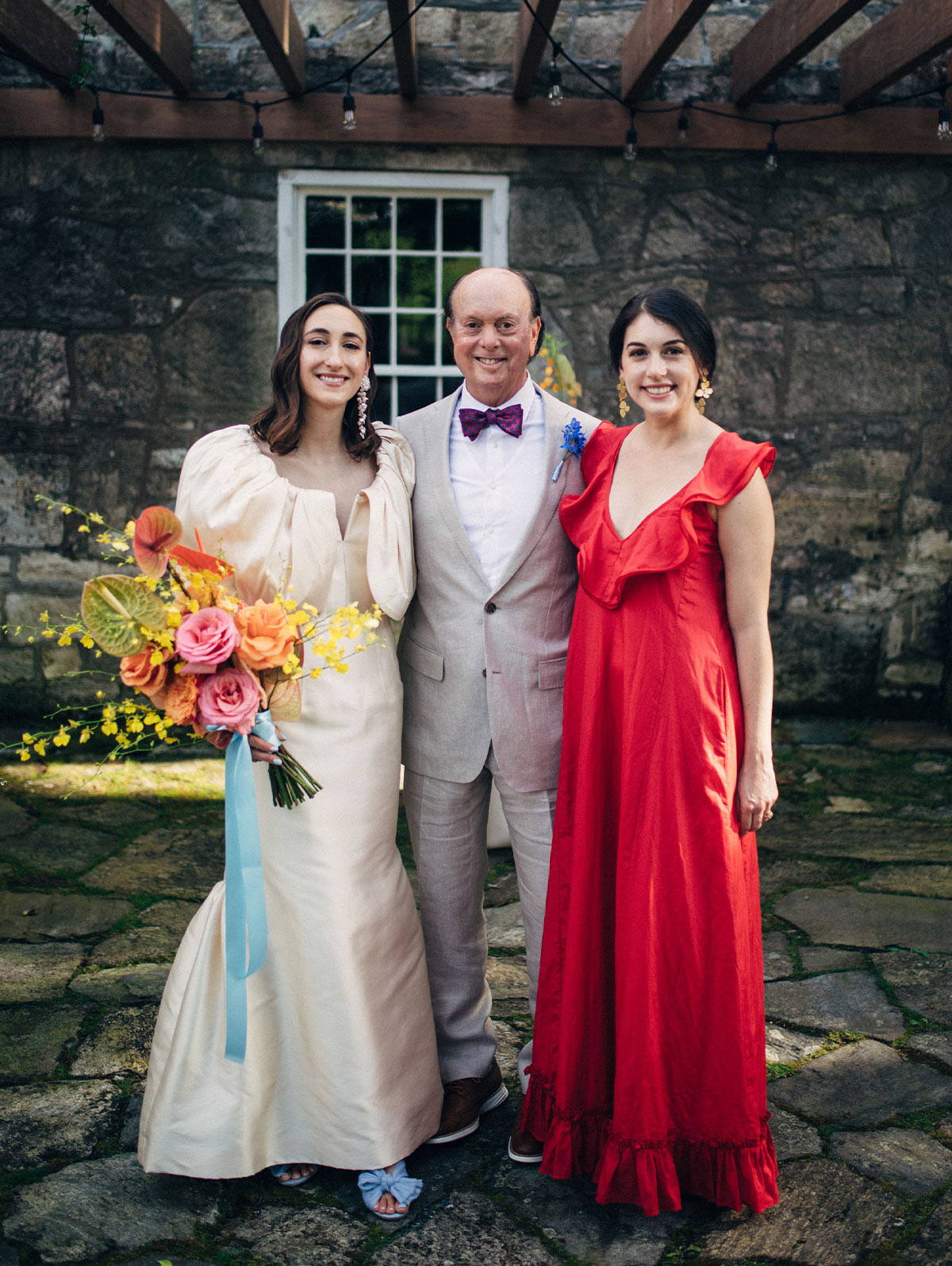 "We got married at my parents' house in the Berkshires. We were thinking about other venues but the thought of doing it at our home felt so unique, relaxed, and intimate, plus the property in August is stunning! It's a really special place for us because Max and I originally met in Western Massachusetts and we love spending time up there: hiking, big cooking projects, and even raising bees (our quarantine project). The ceremony and cocktails took place next to the house and then everyone walked up a winding path up the hill for dinner. The top of the hill has this stunning view from where you can see three states—and we chose our wedding date so we could be under a full moon—so we got a gorgeous sunset and then the moon's illumination for dancing. For the afterparty, we had fire pits and a bar and DJ near the pool. It's not easy throwing a wedding at home, but it was definitely worth it in the end."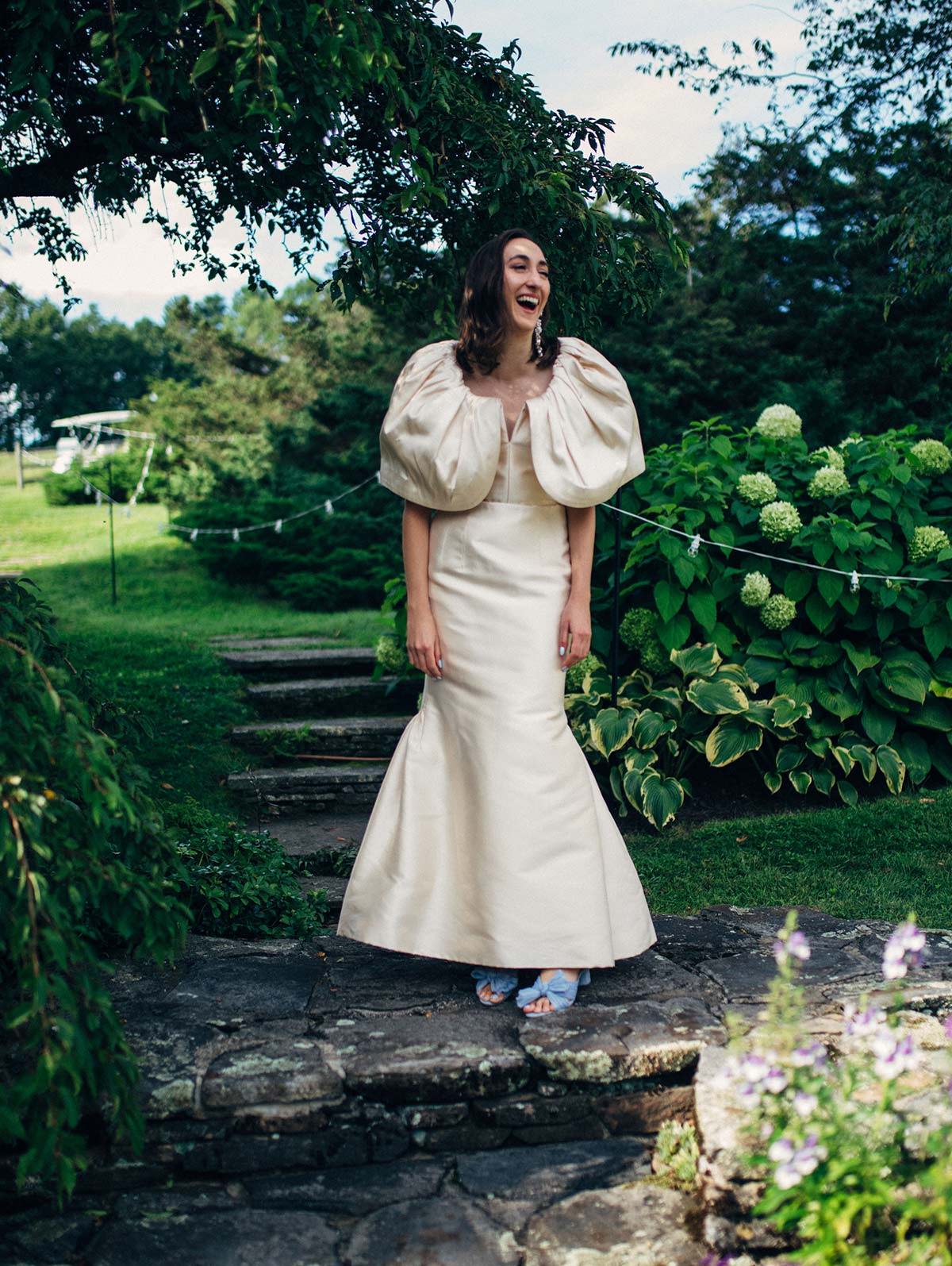 "I still can't believe I found this dress! I was killing time after a haircut in Tampa, FL, where I grew up, and wandered into a vintage store called La France. I tried it on a whim and it was perfect. It's vintage Oscar De La Renta and better than anything I could have imagined. I was drawn to the glam shape and how the color changed from champagne to almost a light pink depending on the light. I ended up jumping in the pool at the end of the night but it seems to be in okay shape—my dream is for it to find a vintage specialist who could give it some TLC and a new life for someone else's special day."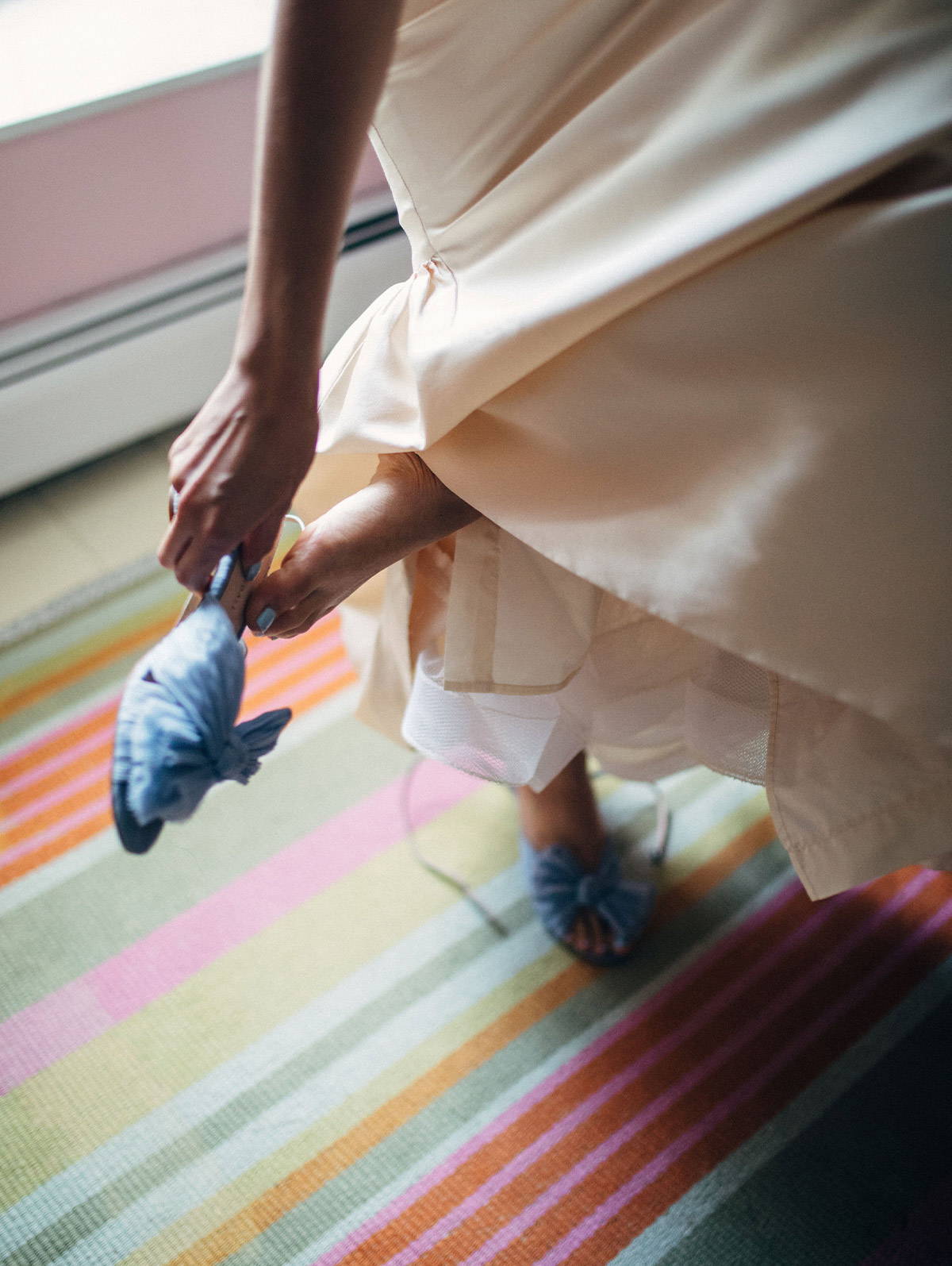 "I was drawn to these shoes because I loved the design, and they seemed comfortable for walking on grass and standing all night. Originally I bought them in gold but when I tried it on with the dress I thought it could be fun to wear a more unexpected pop of color—the shoes ended up being my "something blue." (Also big thanks to the LR crew who were super accommodating with the exchange!) Once I had the shoes, I thought it would be nice to match them with a blue ribbon for my bouquet and for Spaghetti's flower collar. They were really comfortable throughout the whole wedding and stood up too many hours of dancing. (I did take them off before the pool jump though!)"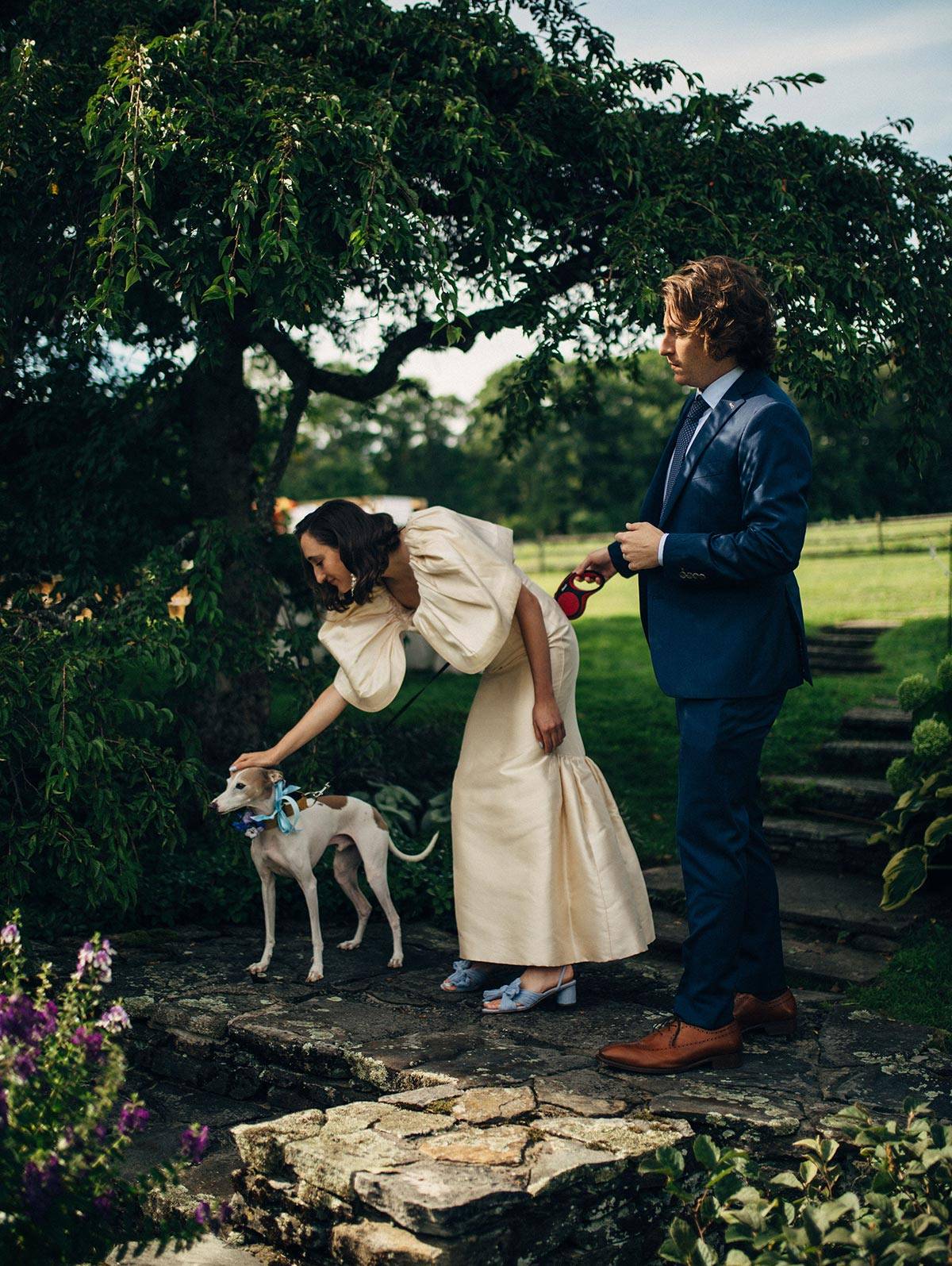 "It was rainy all week leading up to the wedding, and the day after was a huge storm, but the day-of was perfect, and we even got to take a morning hike with our friends (and our Italian Greyhound Spaghetti of course). My mom and I also created a mantra leading up to the wedding, 'relaxed, joyful, bucolic,' which absolutely came to fruition."
"It's not easy throwing a wedding at home, but it was definitely worth it in the end."
"Another special detail was that when we sat down for dinner, my dad surprised us with honey from our own beehives! Every place setting had a wooden spoon with a taste of honey on it, and he incorporated it into his speech in a really sweet way."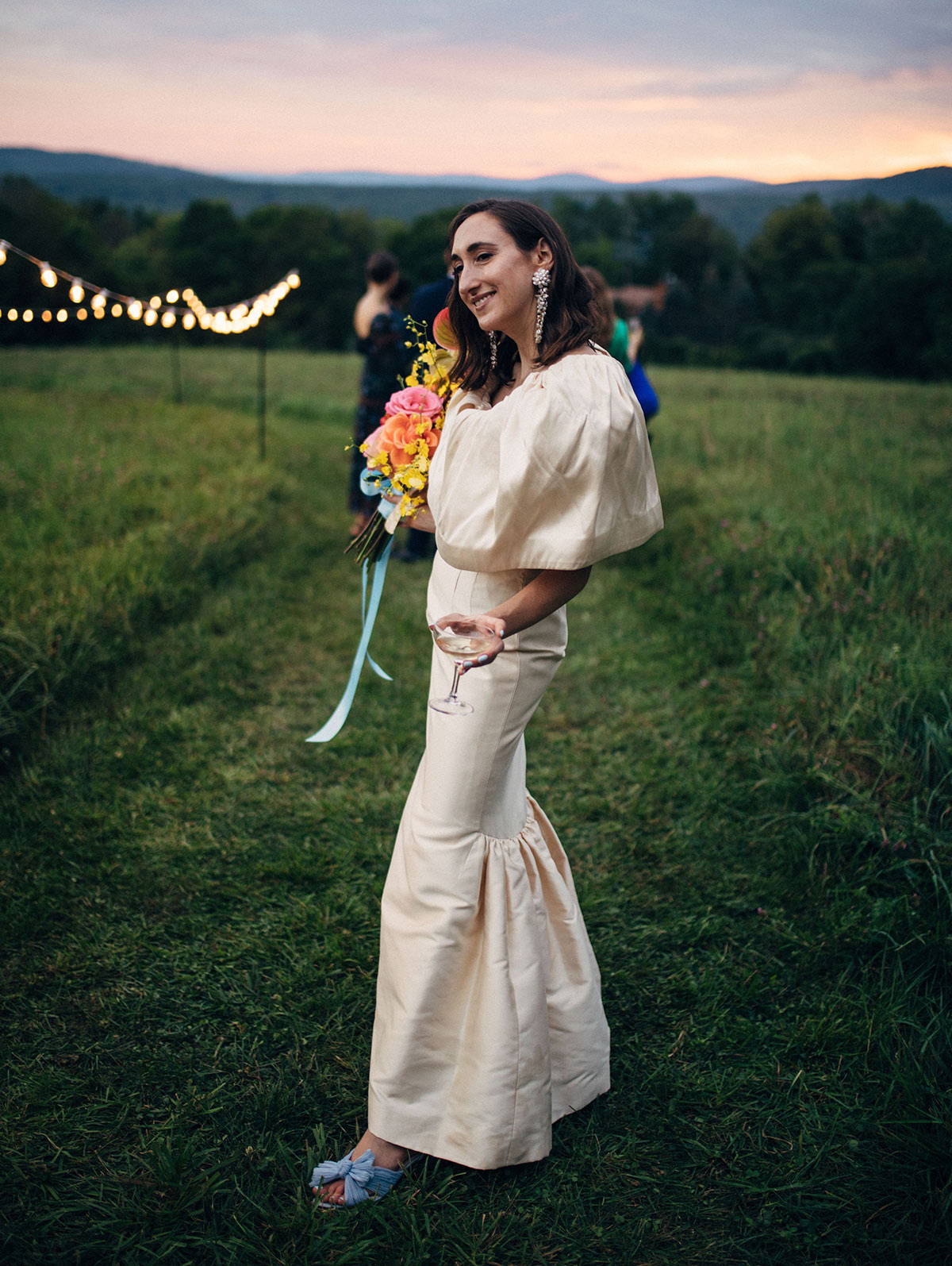 "I loved all of the creative aspects of wedding planning. We didn't have colors or a theme but I knew I wanted it to feel celebratory, colorful, and a little psychedelic. I designed all of the print materials myself (invites, menus, etc.)—they were inspired by Ram Dass's book 'Be Here Now' and I stamped out the graphics using a vintage stamp set I found on Etsy. For the post-ceremony confetti, I made paper cones out of old copies of the book and filled them with dried flowers. I also ice-dyed all of the dinner napkins in golden/orange tones; guests could then take their napkins with them at the end of the evening. The winding tables were also something that I wanted to have to make the evening feel even dreamier."