Though they were married one year prior in an intimate backyard ceremony, Sarah and Ryan felt their wedding wasn't complete. Cue: a Catskills ceremony for the ages, held in a locale essential to the couple's love story. Read on as Sarah shares the details behind her day.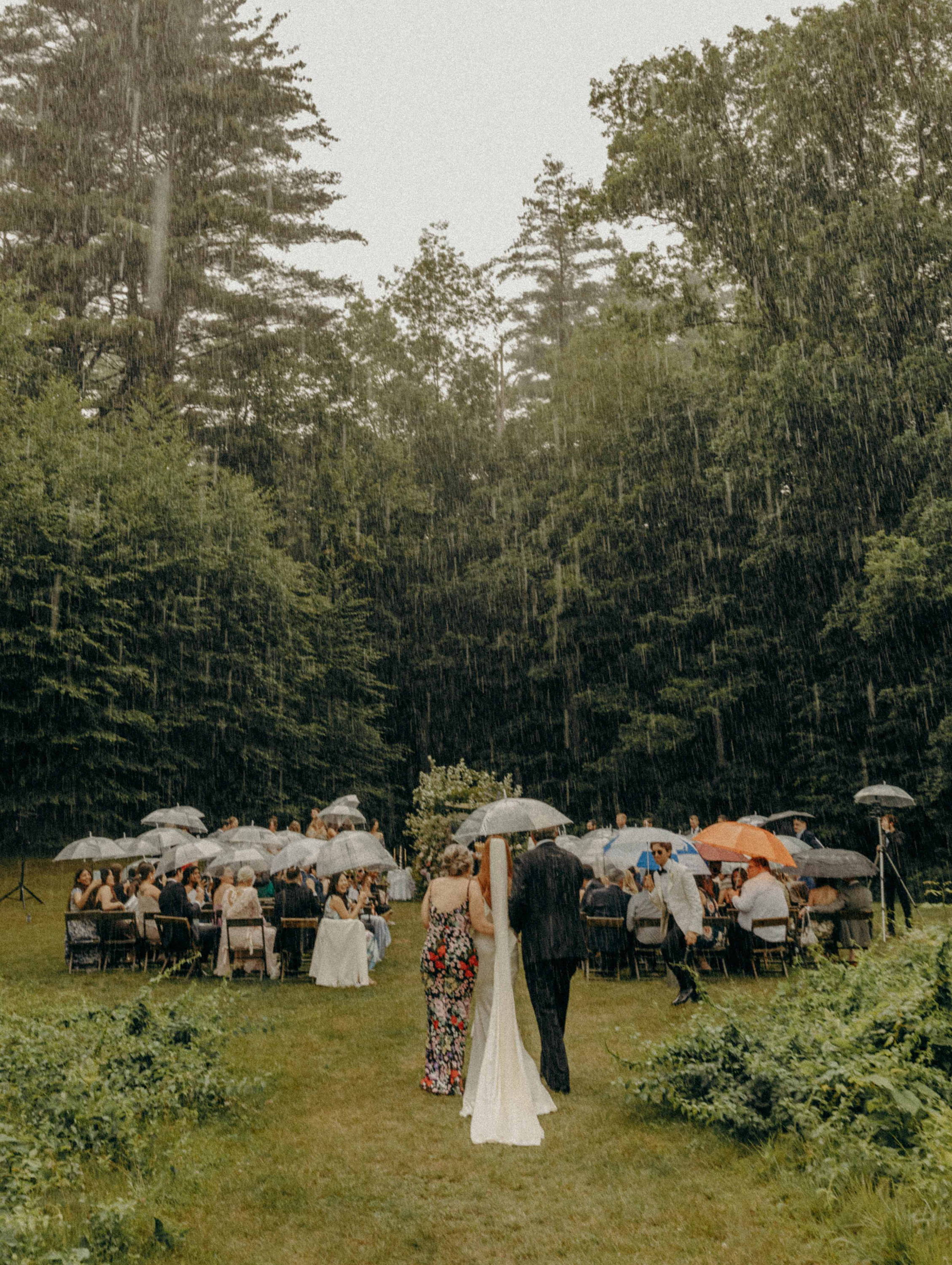 "The Catskills are so important to Ryan and me as a couple — it's where we had our first out-of-town getaway, and where we started to really fall in love. Though we'd had a small, beautiful ceremony in our New York City backyard a year prior, we felt we needed to celebrate our union anew, surrounded by our closest friends at a place that means the world to us. The Catskills' Foxfire Mountain House has been a mainstay over years of visits, and it was a dream come true to be married there, an essential locale in our love story."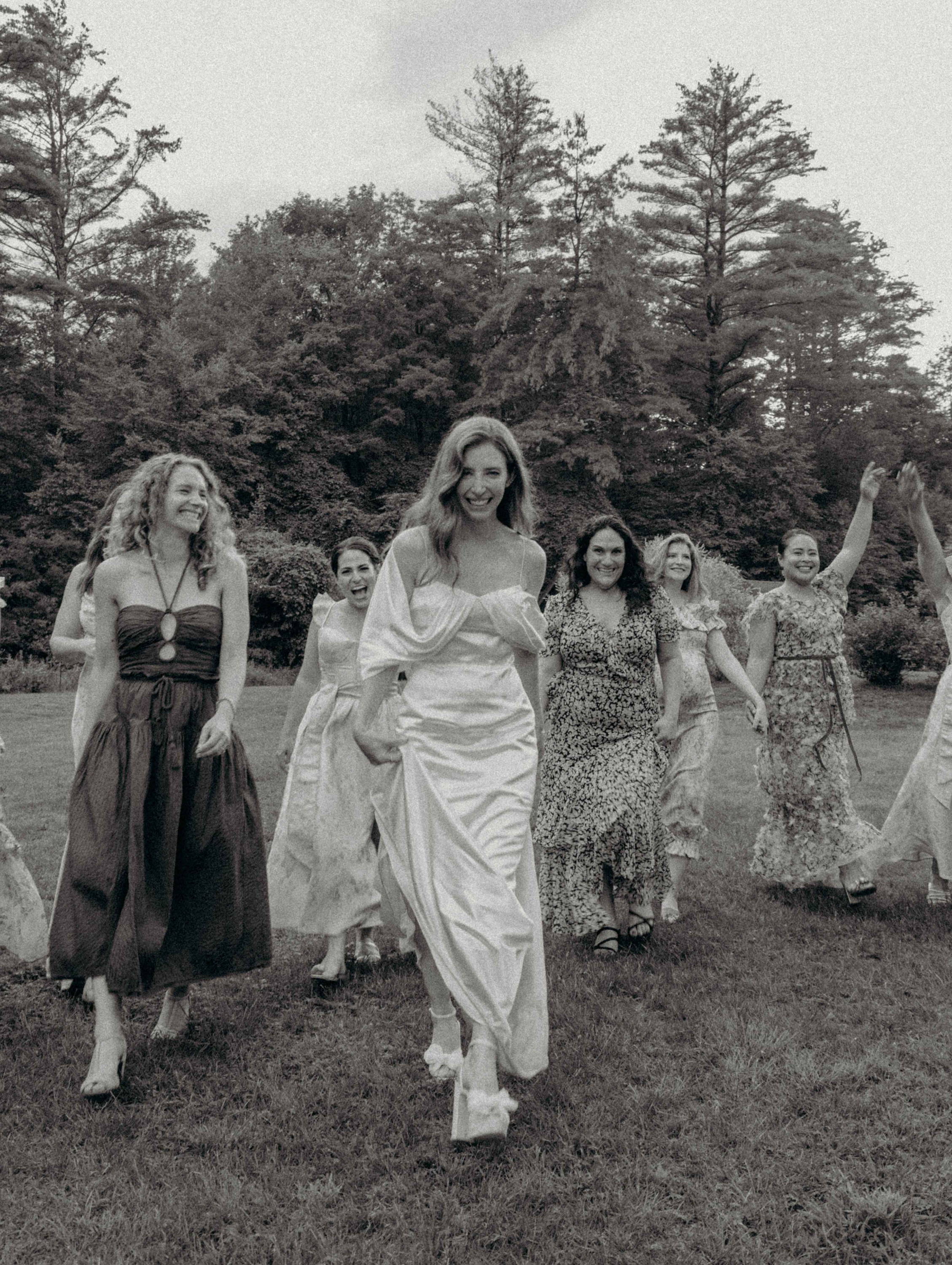 "Whenever anyone asked me to describe my dream wedding, I always knew it would include 3 things: 
1. The outdoors
2. Great music
3. A night of dancing until the wee wee hours
"When Ryan agreed that we would kick the night off with a special dance, it became even more important to have a shoe that would allow me to dance with him without hesitation and even more, the shoe had to last! The Natalia heel was not only flirty and romantic, but also insanely comfortable. I truly didn't think about my feet all night!"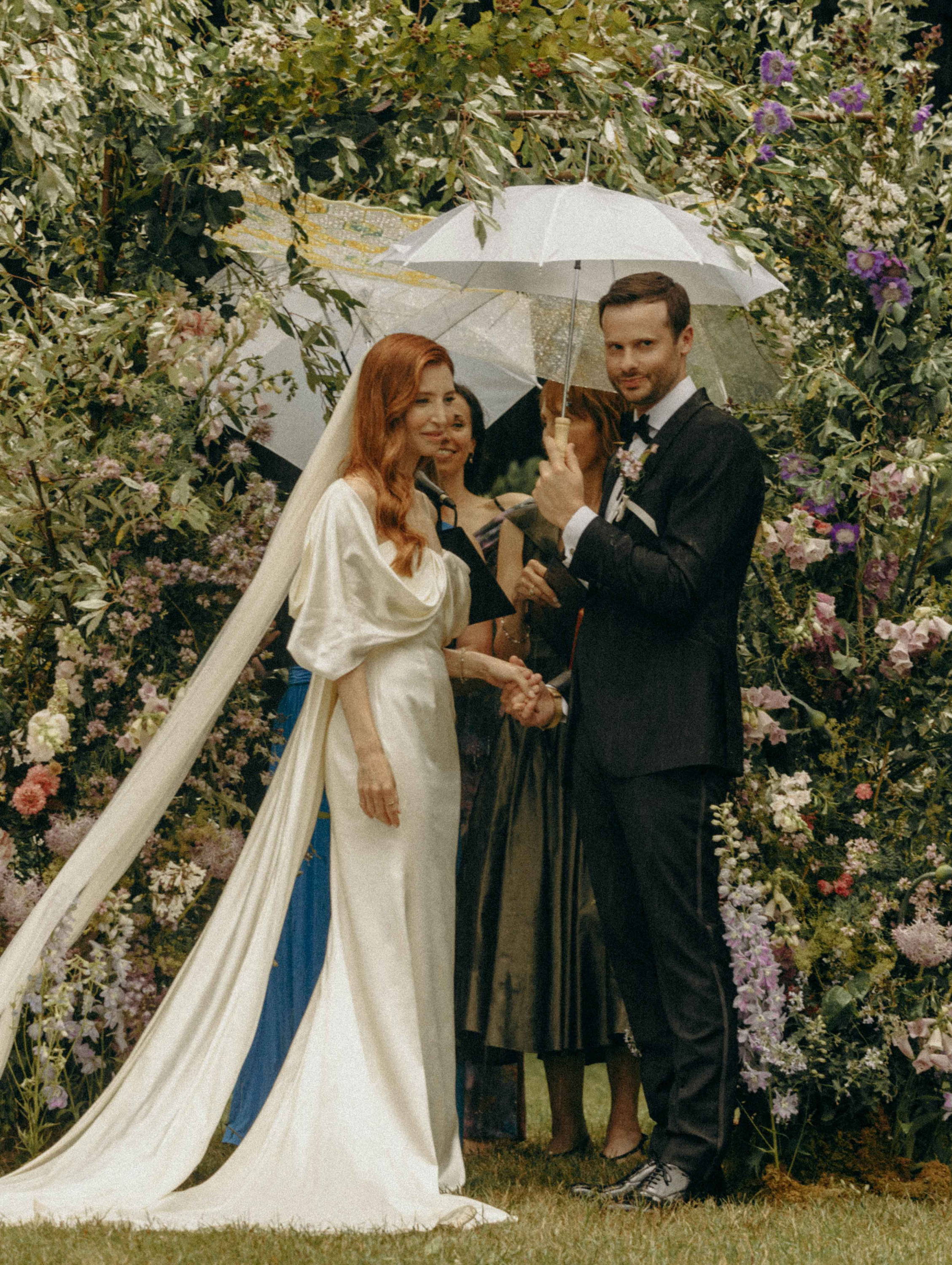 "My Danielle Frankel dress was truly the gown of my dreams. I wish I could wear it every day! I felt so special and also so like myself — it was a wonderful feeling and really my priority. The moment I put on Danielle's gown, topped with her stunning veil, I knew that the rest would be easy.
"I added a tennis bracelet and pinky ring by Shiffon, at which I'm creative director. Both pieces are made even more special for their design — they were created in honor of Title IX, with profits benefiting the Women in Sports Investment fund.
"To complete the look, I had intended to wear a pair of earrings from my grandmother, but on the day of the wedding I couldn't find them anywhere! Thankfully my amazing assistants Carlee Princell and Mia Stella had brought a fabulous pair of Maria Tash Marquis studs just in case, and my aunt had my grandmother's wedding band for me to wear as well, so I still had her with me (I did find the earrings in the depths of my suitcase after returning from honeymoon, thank goodness!)"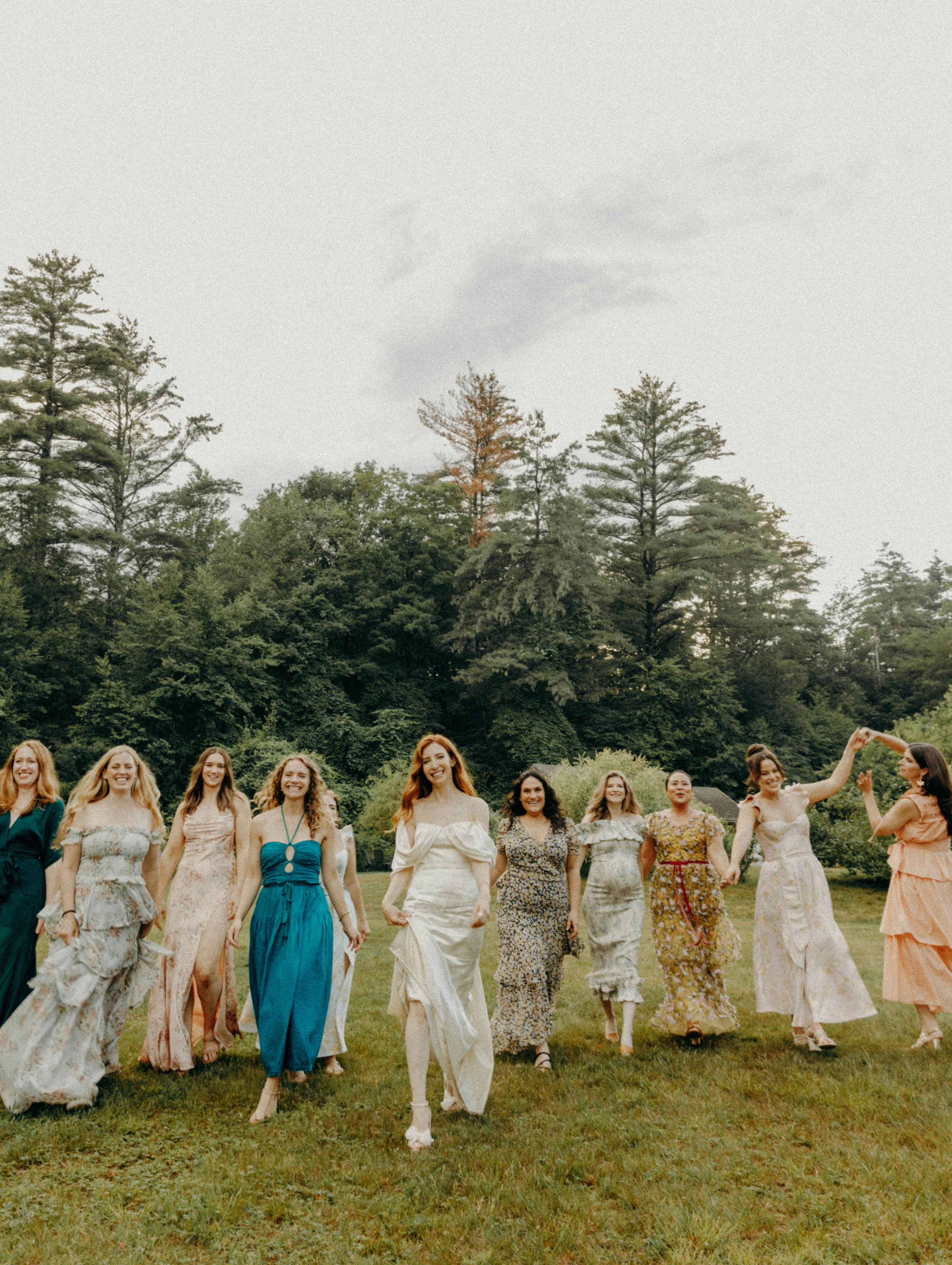 "The weather forecast all week had called for rain and sure enough Friday and Saturday morning it was raining on and off all day. However, during a wonderful yoga session for our bridal party the morning of the ceremony, I had sent a little prayer up to my grandparents to please please please bring out the sun so we could be outside and, sure enough, the day began to clear.  
"At 4pm, the moment for the procession arrived and the sun was shining. Our wedding band The Good Morning Nags opened with 'Sweet Thing,' by Van Morrison and I knew Ryan was heading down the aisle, followed by our dog, Chumley, and finally Elvis' 'I Can't Help (Falling In Love)' 'began and my mom, dad, and I were off. About twenty meters into our hundred-meter walk, though, the heavens opened up and down the rains poured! We all started laughing hysterically, Jacob rushed an umbrella over to my dad, the laughing continued and so did we. The rain stopped about 10 minutes after it began and didn't return again
"After photos and cocktail hour, we were ready to party! Ryan and I had our first dance, which was choreographed to "Harvest Moon," by Neil Young. I have to say, the crowd was ecstatic at our lift and dip!"
"It's impossible to pick one favorite moment, the day was sprinkled with so many, filled with people who are dear to me."
"I loved creating special pieces for our guests to take with them as mementos, and especially loved that it gave me the chance to collaborate with so many of my talented friends. I painted flowers and a landscape for the invitations, which my dear friend and designer Sarah Klunk laid out for me. My college roommate Jessica Owen Stephens then used my paintings to create pocket squares for the groomsmen. My oldest childhood friend Jessie Rosenthal helped me find vintage bells, which we then labeled with hand-lettered name cards for all the guests. These doubled as symbolic 'church bells' to ring at the end of the ceremony. It took us a day to make them all — we're certainly not professional calligraphists!"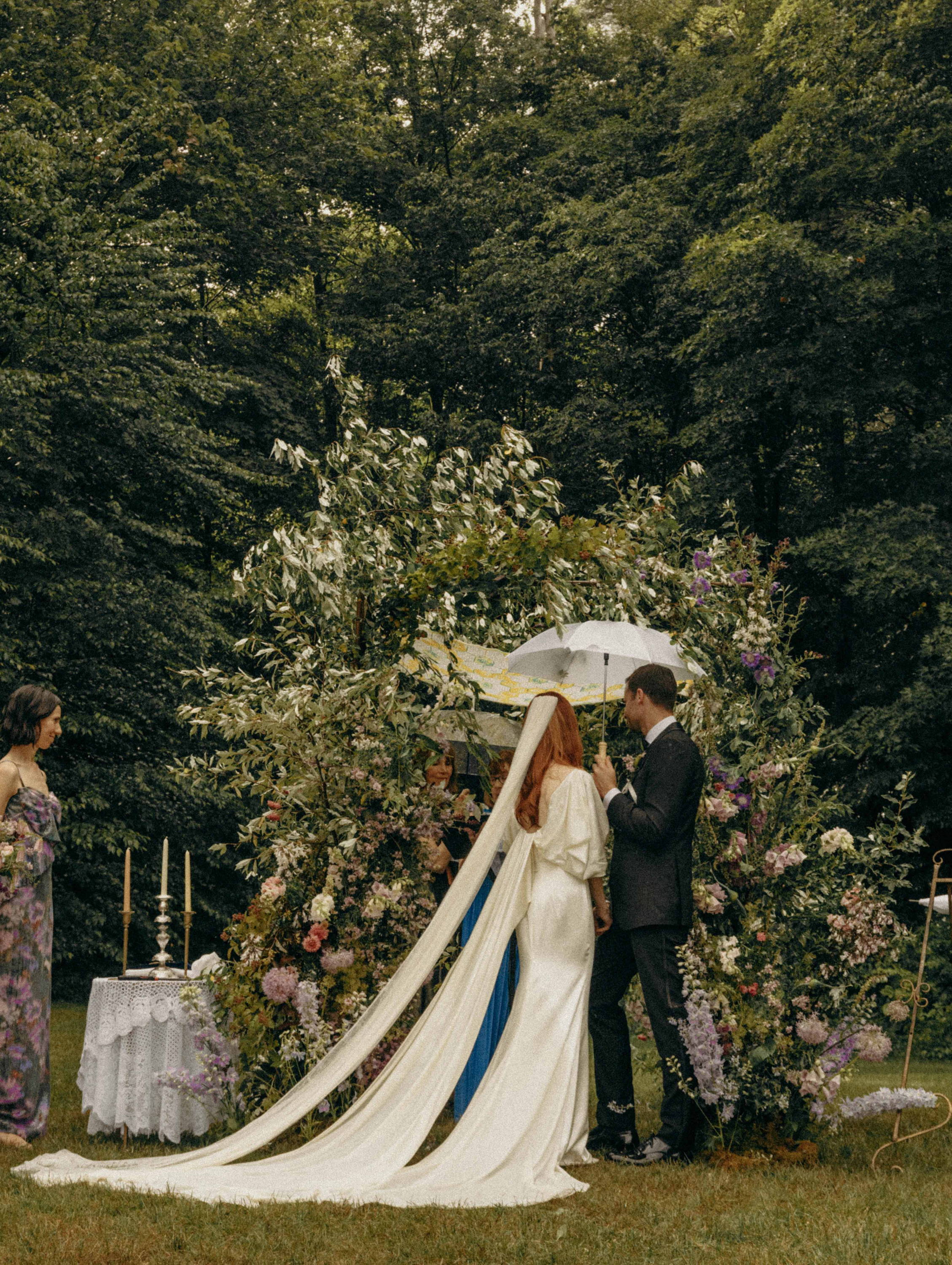 "It's impossible to pick one favorite moment, the day was sprinkled with so many, filled with people who are dear to me — I am so so grateful. If I had to share two highlights, they would be:
1.   After dinner Ryan and I didn't leave the dance floor again and I honestly don't think the guests did either. Our band was incredible, nailing hit after hit. My cousin Hannah Dawe joined the band to sing Aretha Franklin's "Natural Woman," -— she wowed us all and many guests asked her to return to the microphone for the rest of the night. 
2.   Best man, Sean Tooley, surprised us with a recording from Ryan's infamous "rap record!" After the first verses and a bit of encouragement (or demands from ALL of the groomsmen) — Ryan got up to the mic and the crowd went wild as he rapped the song for us, literally bringing EVERYONE to their feet, wild with applause and delight."