We'll always have hampstead
In planning their wedding, Sophie and Samir kept it close to home, opting for neighborhood nuptials in Hampstead, London. Their resulting ceremony was completely personal, filled with intimate moments between the couple — memories made in places they pass daily. Read on for Sophie's story behind her dream day now.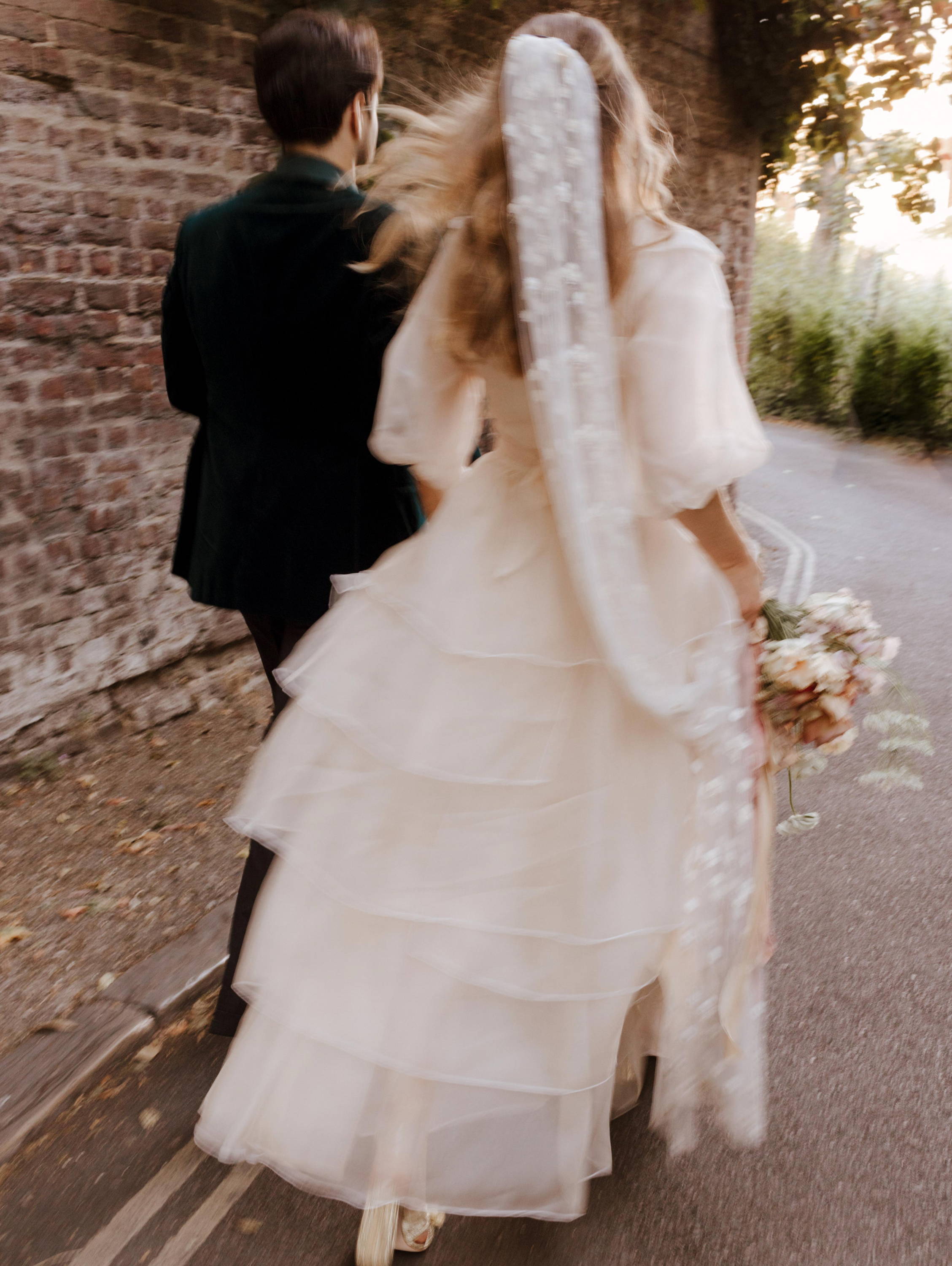 "Samir and I were set on having a small, intimate wedding in Hampstead, our neighborhood in London, in a venue that felt romantic, effortless, and relaxed. We chose Burgh House, just a short walk away from our home. I always felt there was something so lovely about getting married somewhere that we would pass by every day — a place we could always come back to. We followed the ceremony with a celebration in an upstairs room of the Holly Bush, a small Hampstead pub with a view of London's skyline. It's a favourite of ours for Sunday Lunch, and every time we return we get to relive so many special moments."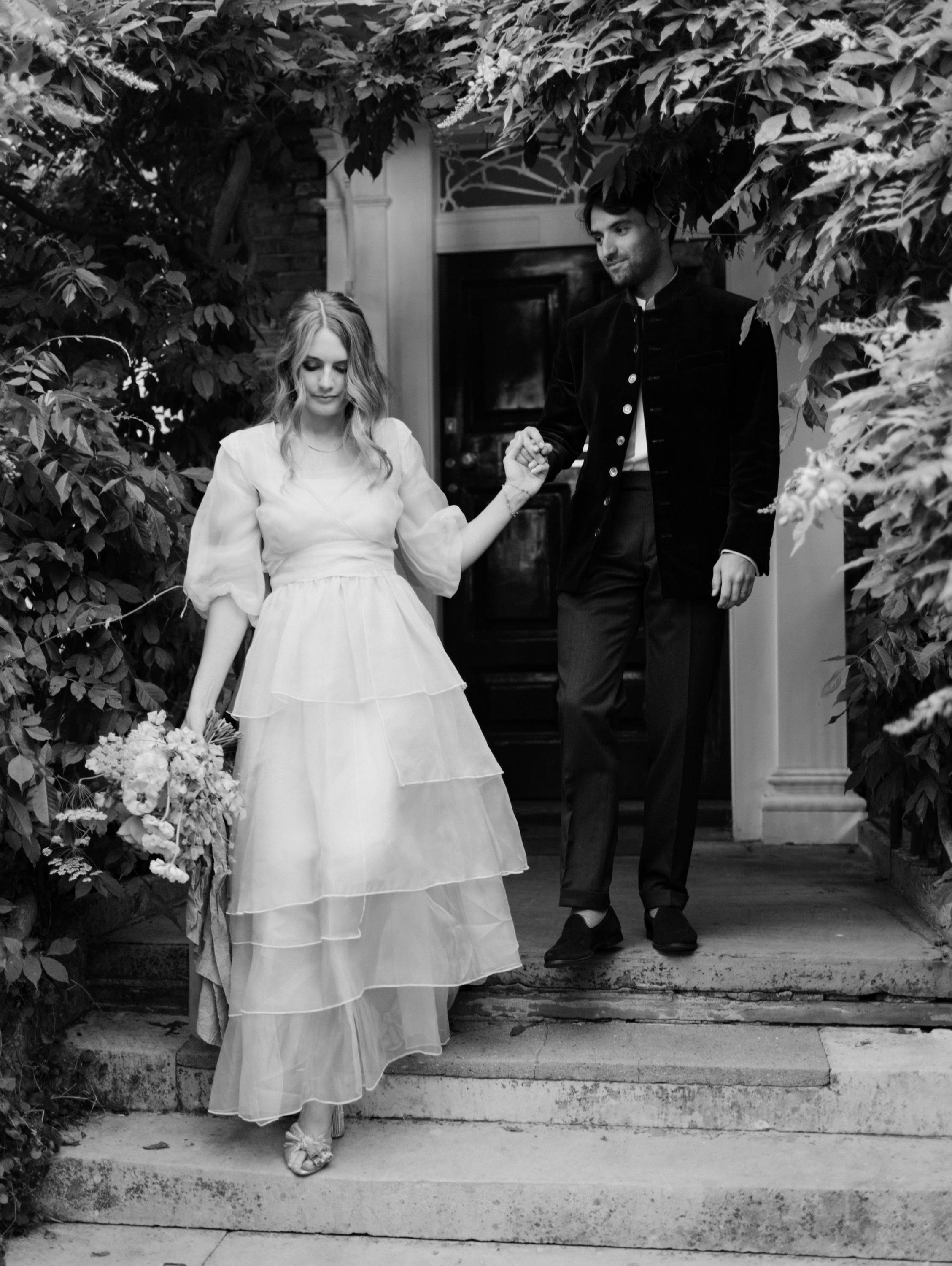 "I really wanted a dress that didn't feel like a traditional wedding gown — something more contemporary that I could style again and again. My search led me to the lovely Annelise at The Fall Bride and her beautiful showroom in Dalston. I first visited the studio with another dress in mind but, thanks to a nudge from my mum, I tried on a couple of dresses from Kamperett, and immediately loved their sheer silk organza and blush tones. My dress felt so effortless and different than anything else I'd seen. I felt like myself as soon as I put it on and knew it was the one!"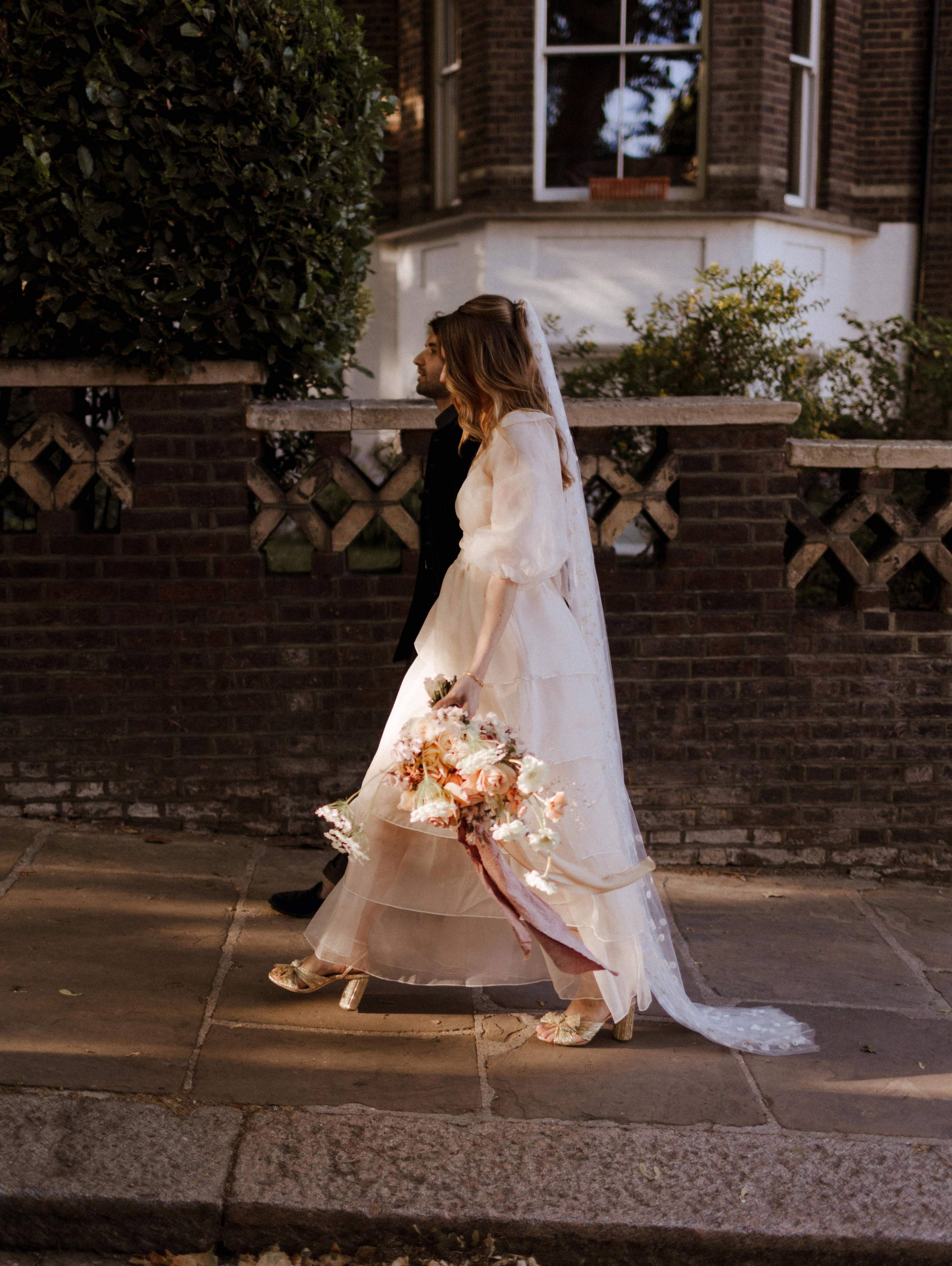 "I had fallen in love with the Camellia long before my wedding, and when I saw Loeffler Randall had styled them for a campaign with the exact dress I had picked, it felt like fate! They added the perfect pop of sparkle and the chunky heel meant I was comfortable all day long."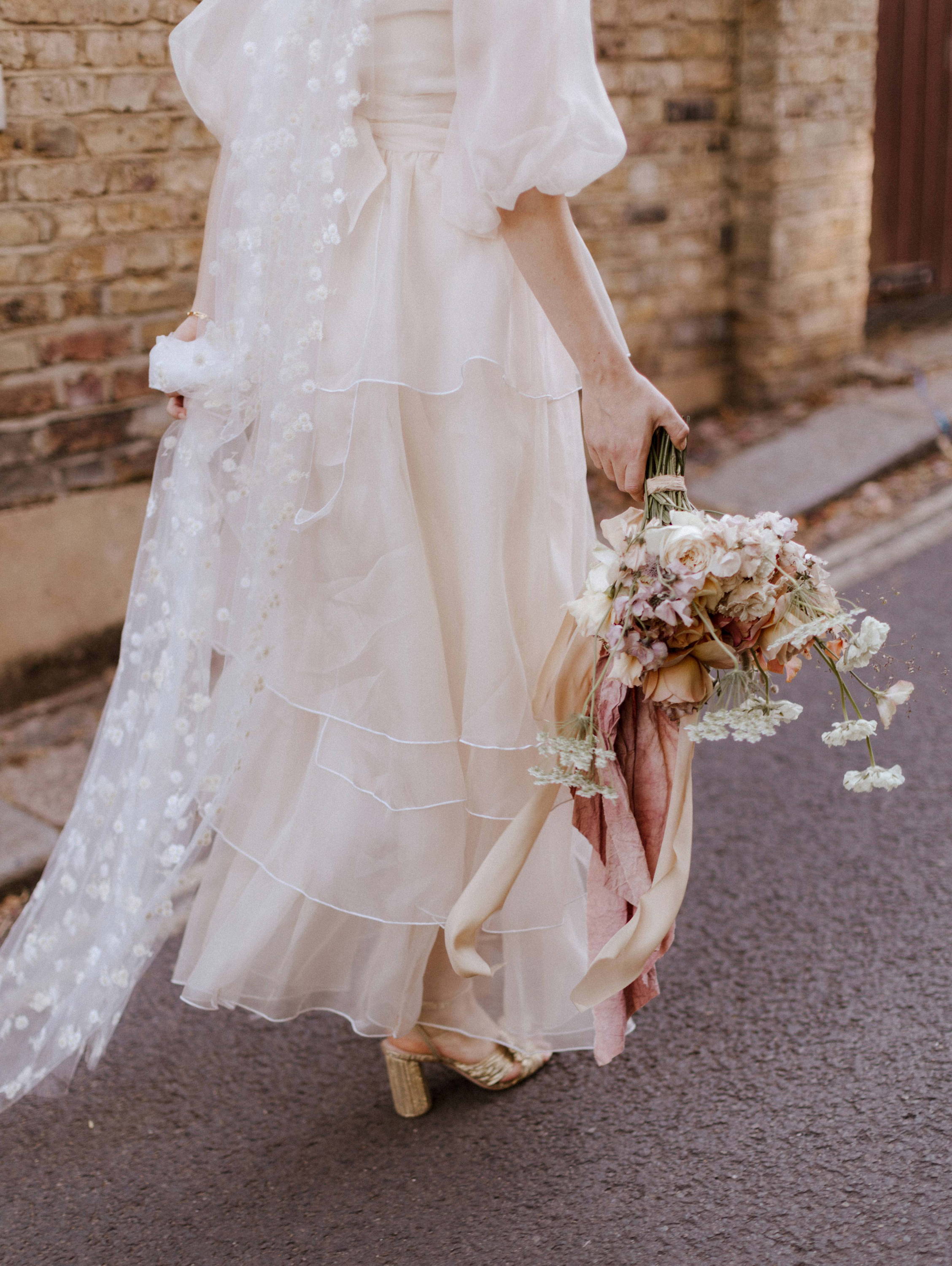 "I couldn't have been happier with our flowers, designed by Katie and her team at Worm London. From beautiful arrangements of blush tones and sprinklings of dried flowers to the naturally-dyed fabrics woven into our bouquets, it was all perfect."
---
"I'll remember it forever, walking home together in the place we have found so much happiness, first as best friends, and now husband and wife."
---
"It was a small wedding, so the planning didn't feel overwhelming, and I was able to have fun with the details. I was intentional in every decision and found truly amazing people to help us realize our vision and prioritize the aspects about which we cared the most. I was nervous about how it would all come together on the day, but it was all more wonderful than I ever could have imagined. A lot of people said they could see my touches everywhere they looked, and I was so pleased. It all felt so true to us."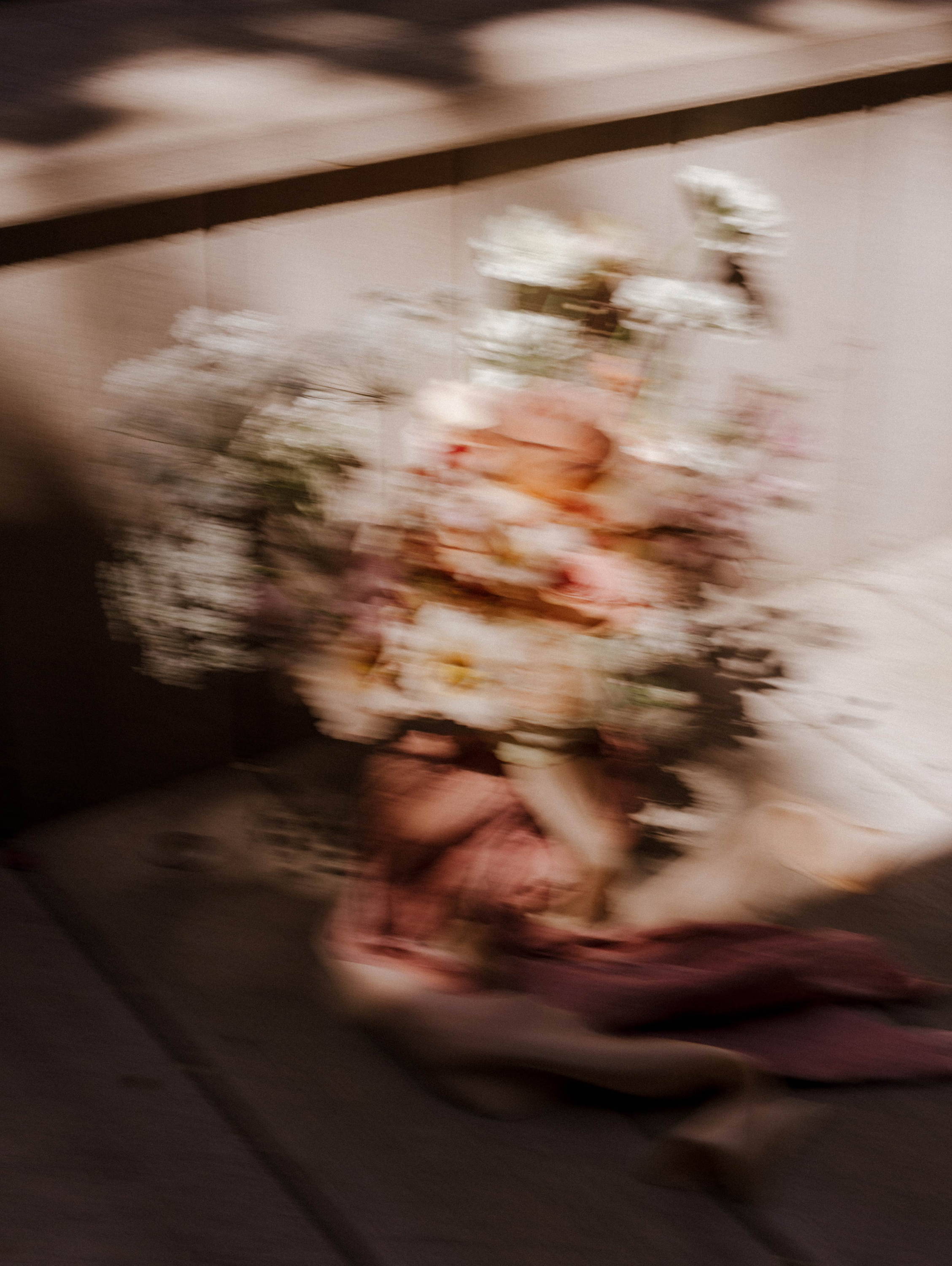 "There are countless moments I'll never forget. I loved getting ready before the ceremony, spending the morning with family at a house around the corner from our venue. It was calmer than I imagined, which I was so grateful for, with lots of quiet and emotional moments that I will cherish forever. I walk past the house most days, and it always fills me with warmth.
"We got lucky with the weather. It was a beautiful day in July, and Samir and I strolled through Hampstead with our photographer just as the sun was beginning to set. It felt like time stood still — like a moment amongst the excitement of the day that was just for us."
"After the ceremony, as the venue was in our neighborhood, Samir and I got to walk home at the end of the day. It was a warm summer night, and we strolled back hand in hand reflecting on the day we'd just spent with our closest friends and family. I'll remember it forever, walking home together in the place we have found so much happiness, as best friends, and now husband and wife."