When planning their family farmhouse wedding, Ivey and Josh took care to make every detail completely special, from the song scoring Ivey's walk down the aisle, written by the groom, to the one-of-a-kind decor the couple collected for months. Here, Ivey shares the secrets behind her beautiful backyard ceremony.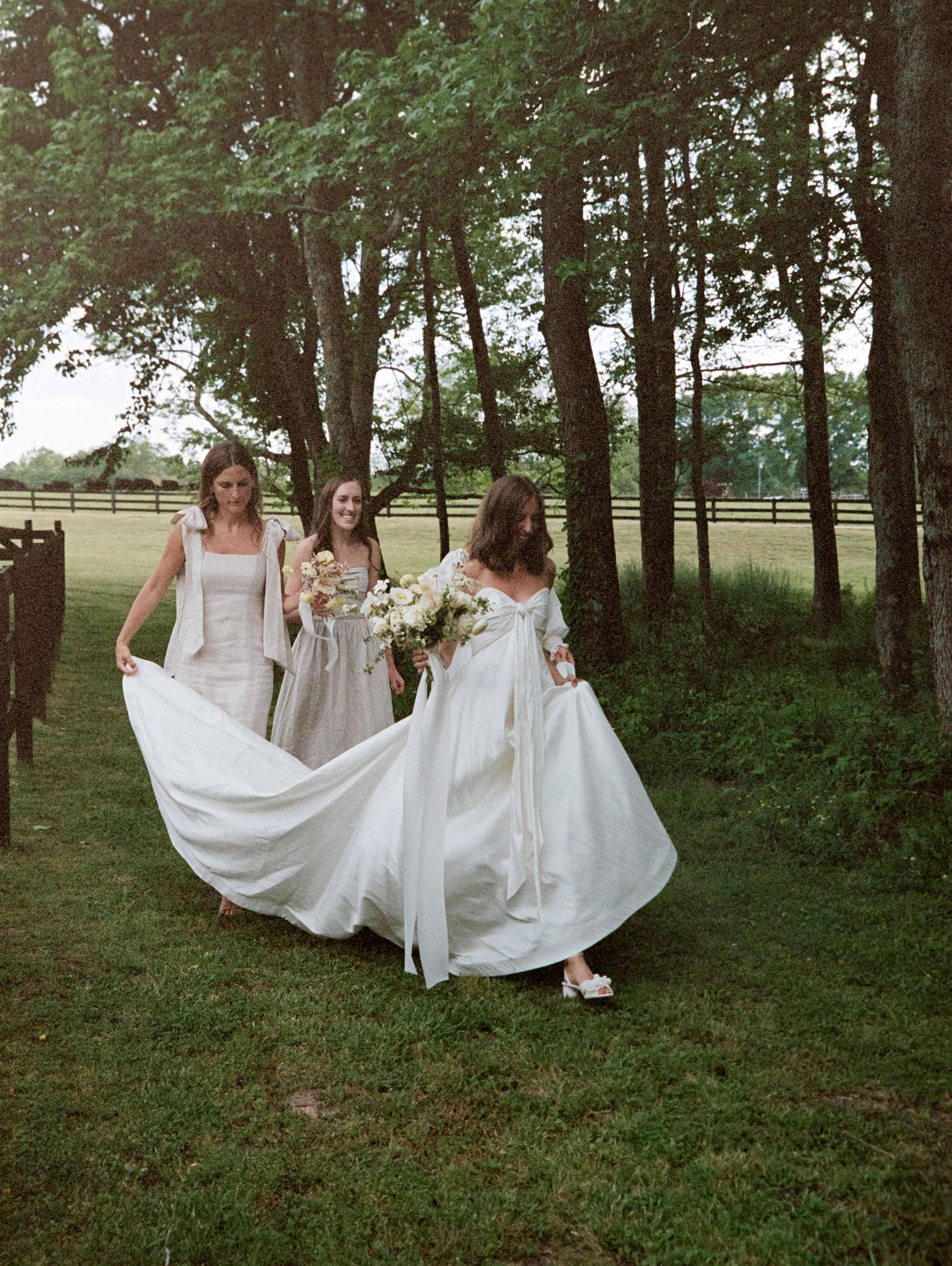 "I honestly can't put my finger on the precise moment when Josh and I decided to get married at the farmhouse. It feels like it was somehow always understood between us as the plan. Josh and I spent a lot of our dating relationship in Georgia with my parents, helping my mother care for my father who was battling ALS. Our days there were very slow and sweet and repetitive. Our shared time in that space, on that land, added an extra value to our decision to get married there."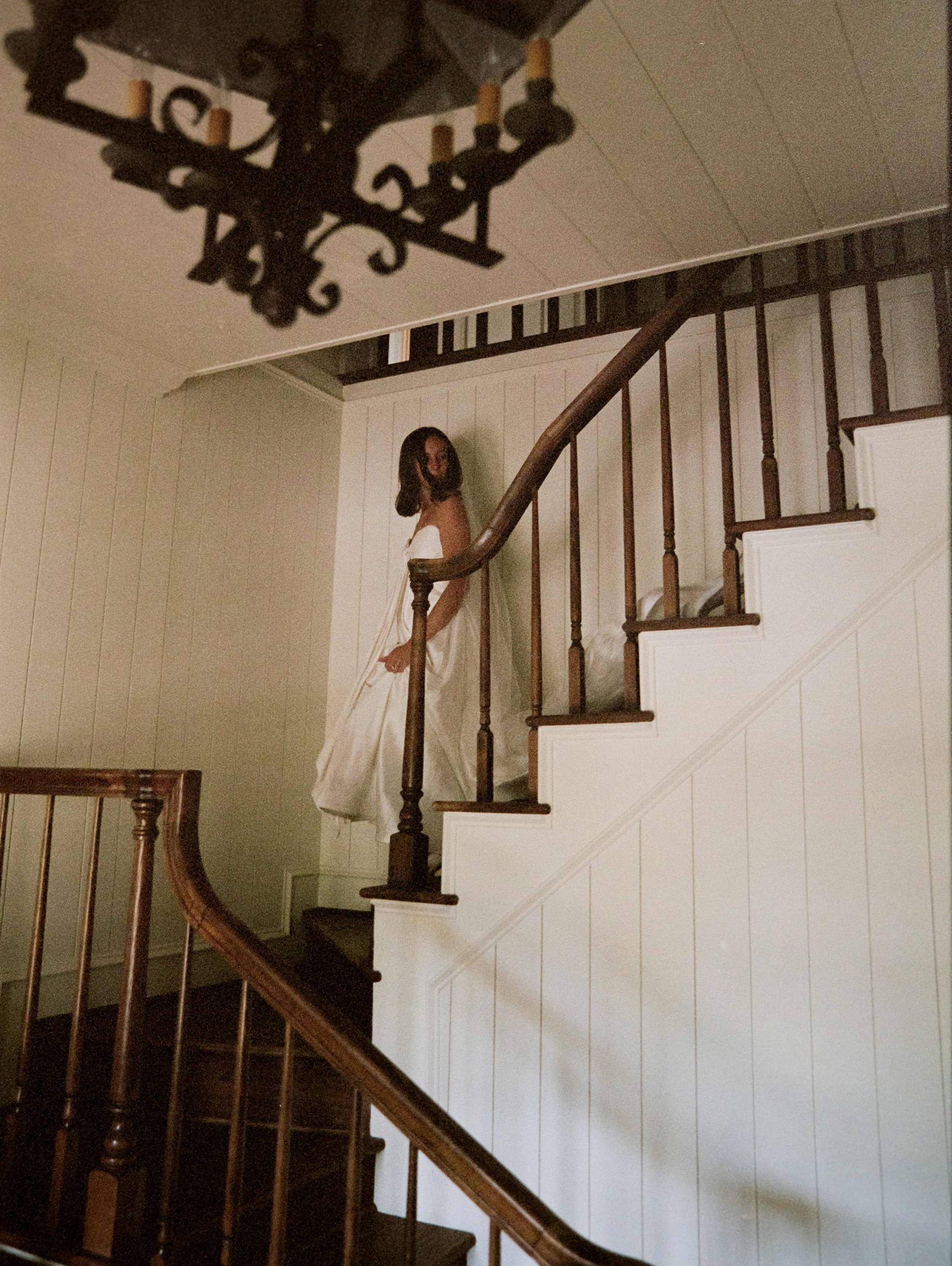 "Of course, the home already held sentimental value for me — I grew up in that house as a young girl. I actually got ready on my wedding day in the same room where my parents brought me home from the hospital when I was born. I put on my dress and shoes in the same bedroom where my father took his last breath last year. It felt only fitting that this home would bear witness to the moments that held our deepest grief along with our greatest joy. All translate to me so clearly as love. It just felt right to commit ourselves to each other there."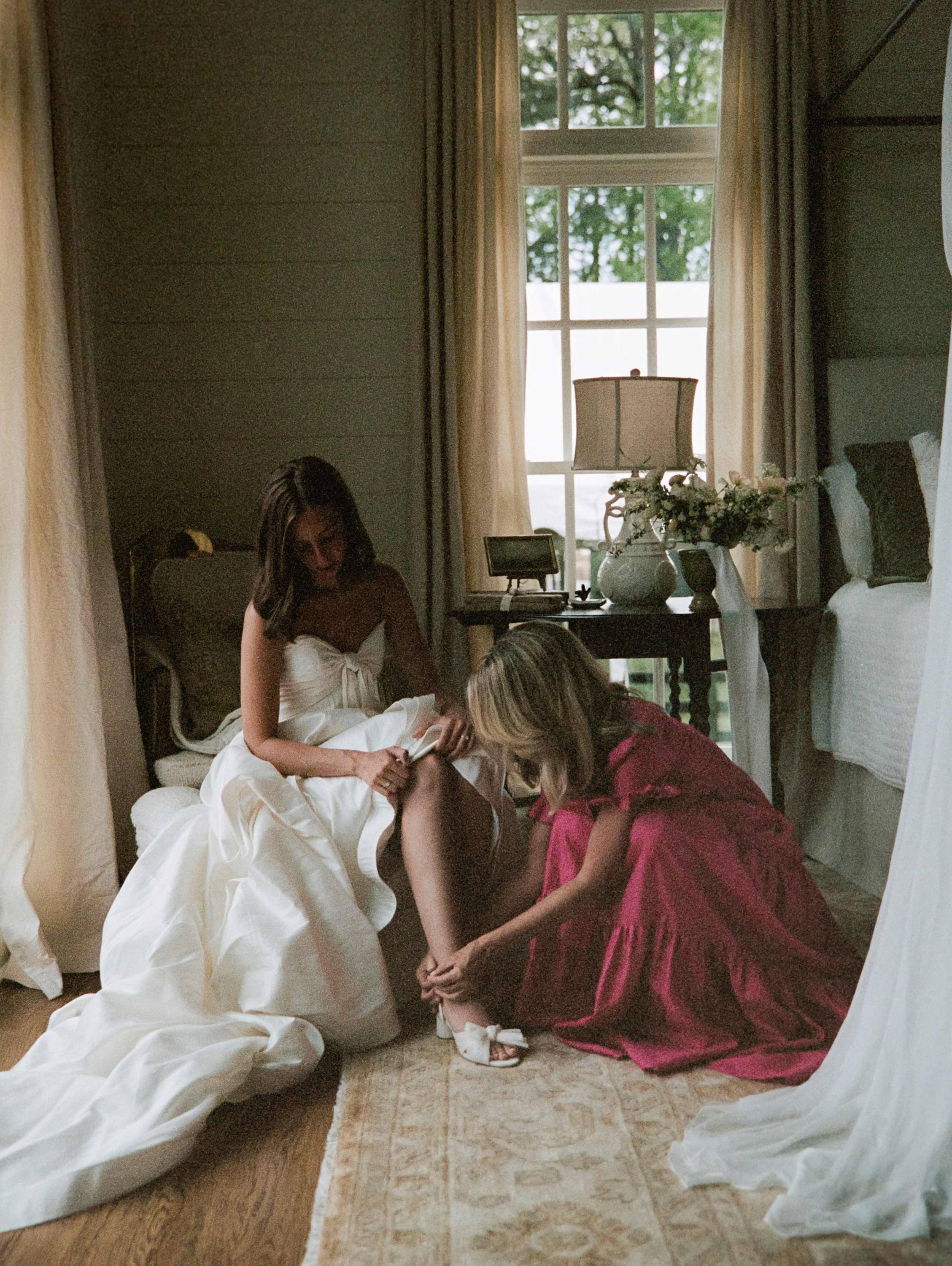 "A few of my favorite details: My grandmother's nightgown from the 1950's that I wore as I was getting ready for the wedding — it had a little scalloped lace sleeve that I loved. The jazz trio that played during cocktail hour in the front yard, setting the mood. Our wedding cake, which was truly the most delicious thing I've ever tasted — lemon berry cake, (with whole berries in it) lemon curd and buttercream. But one of the most memorable moments from the party was my first dance with my mom. Josh has a friend in NYC who is a talented dancer, so we had him choreograph our dance to Frank Sinatra's 'Fly Me to the Moon.' No one knew we had anything planned, and it was a big hit. Jazz squares and all."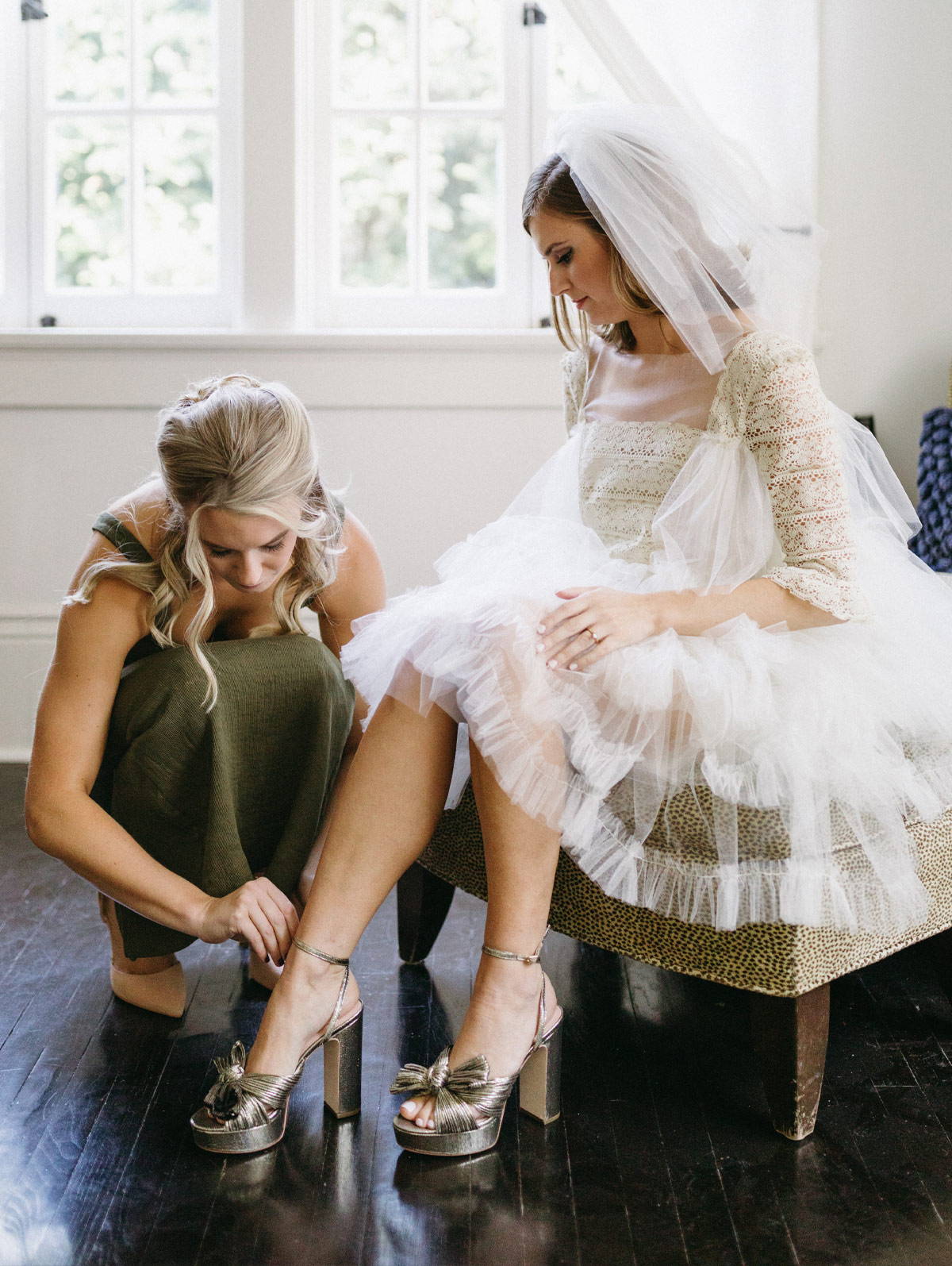 "When I stumbled upon the Loeffler Randall pleated bow heels, I knew that they would be the perfect fit! My dress was made out of Dupioni silk, so it had a textured, romantic feel to it. I wore it knotted in the front, and the shoes seemed to effortlessly echo that same look. The bow, the textured pleats, the soft fabric — the dress and shoes felt like they were made for each other. I felt feminine and romantic wearing them. A dream!"
---
"Josh and I both cared deeply about creating a day that felt very true to who we are as individuals and who we are together."
---
"Josh and I both cared deeply about creating a day that felt very true to who we are as individuals and who we are together. We wanted each detail to reflect that. I think the ceremony is often overlooked in the wedding planning process — people want to skip straight to the party. But at the end of the day, we knew that the ceremony would hold so much value for us. We wanted to pour extra attention into planning it, all in a deliberate effort to make sure it felt sacred and personal. For us, that meant cutting out a lot of the traditional wedding ceremony tropes."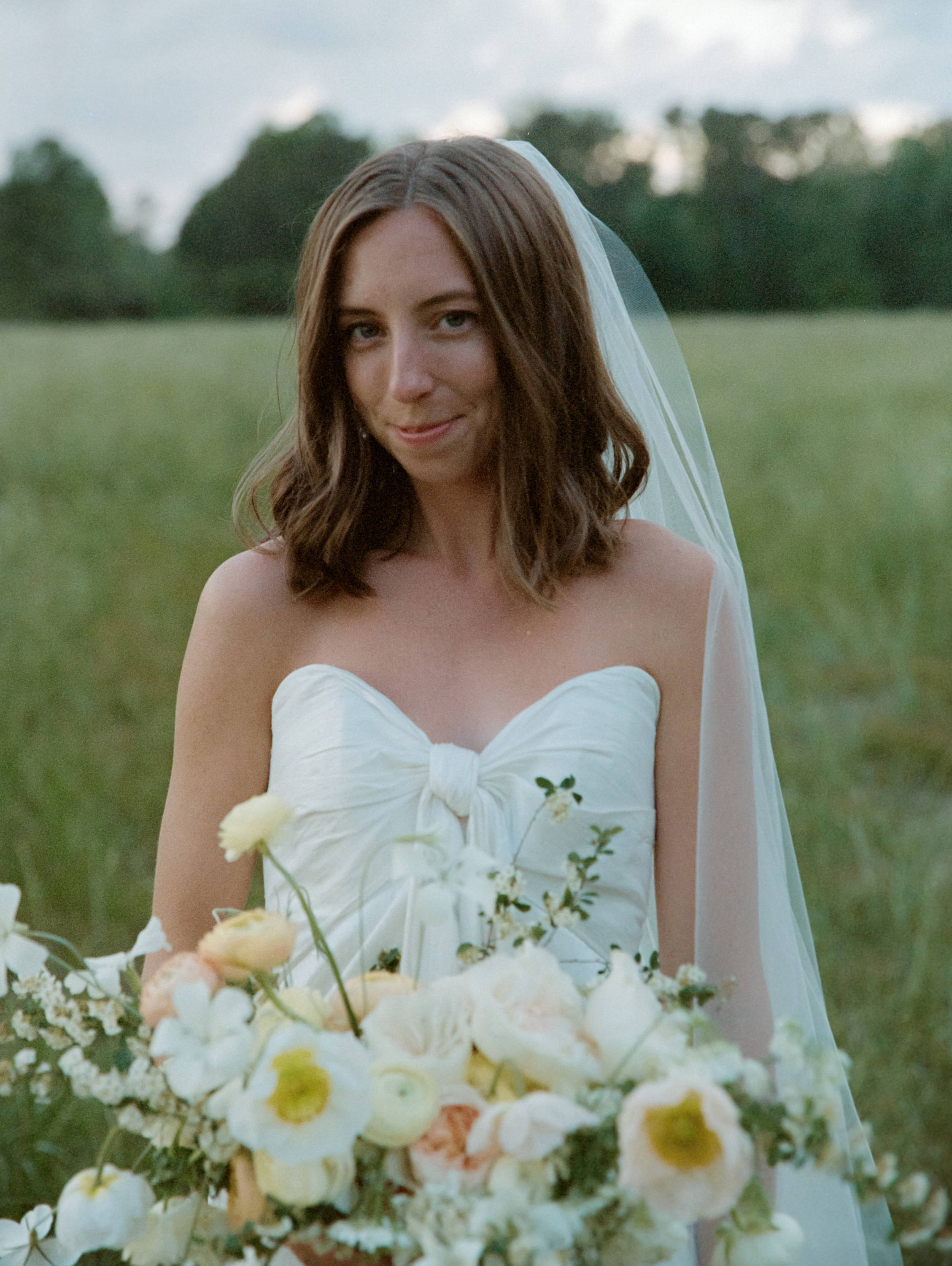 "Josh and I are both creatives, and artistic expression is central in both of our lives. We also have so many friends who are incredibly talented artists. We decided to put creativity at the center of our ceremony, letting art serve as a guiding metaphor for love and marriage (because what is a love if not a continuous act of collaboration and creation?). Josh wrote the song that played as I walked down the aisle with my mother. Our friend Maxx wrote a poem for the occasion, which he read at the ceremony. Our friend Annika wrote a song for us and played it before we exchanged vows. My cousin officiated (and last minute got ordained in order to do so). Everything felt very personal and very us."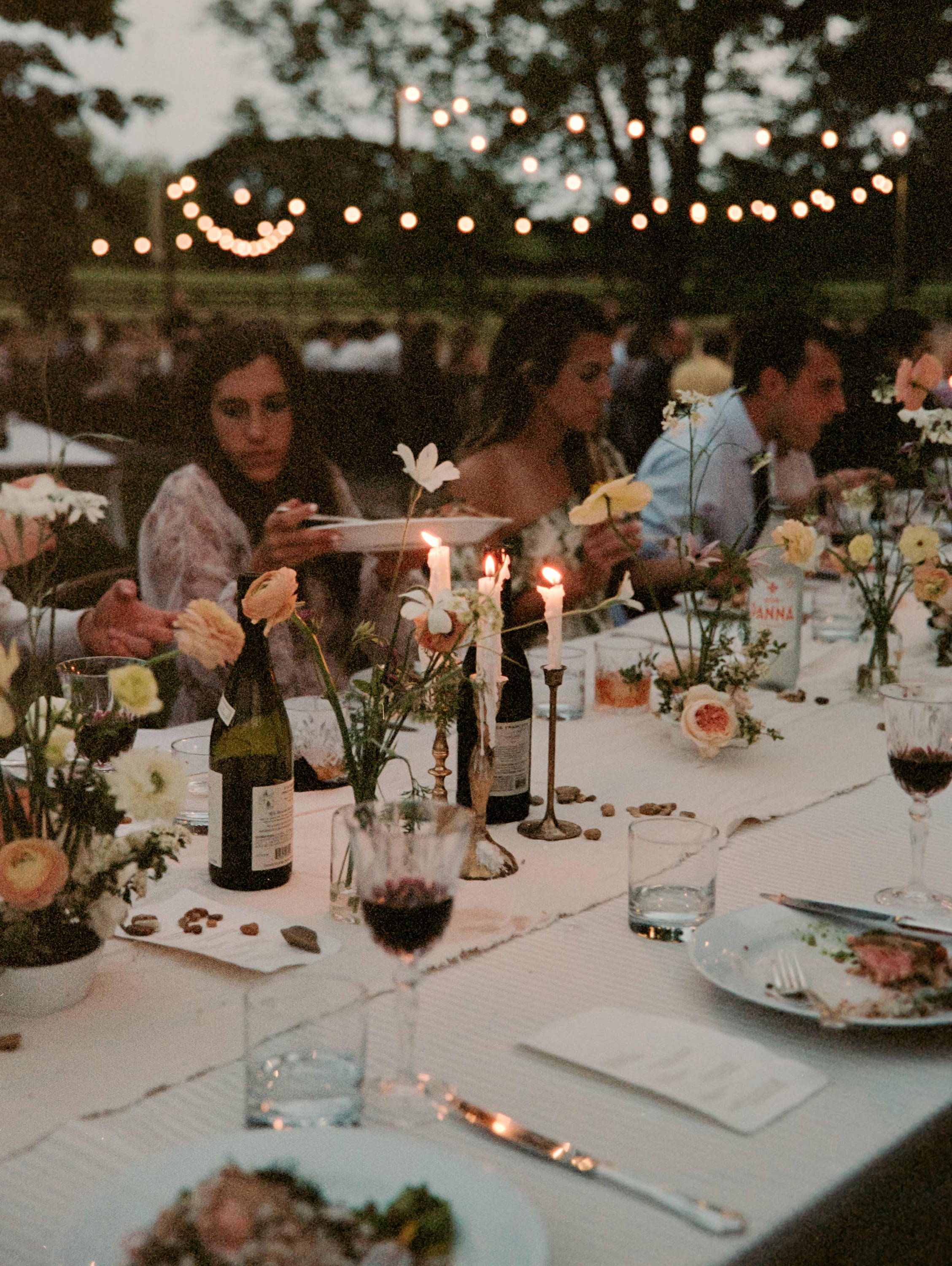 "I knew all along that I wanted one long dinner table. We thought about renting table linens and china, but decided to do things the hard way since we tend to be pretty DIY and particular. In the months leading up to our wedding, we took countless outings to junk stores to collect all of the mix-matched white antique napkins and brass candlesticks and ceramic serving platters we could find. We pulled together old curtains to serve as the 104-foot long tablecloth. We used leftover fabric scraps as the table runner. (Have I mentioned that I habitually make things as difficult as possible in order to make things as personal as possible?). My cousin is a potter and gifted us with a whole set of her handmade plates, which we used at the head table. We served French 75's as a nod to the fact that we would be honeymooning in Paris the next day, and served lots of French cheese and bread from the restaurant my family grew up going to every Sunday for brunch."
"I was horribly indecisive in the process of choosing my wedding dress. But honestly, the thing that sold me on my wedding look was the Leanne Marshall cape. Growing up, my biggest obsession was Christine Daaé in the film adaptation of the Phantom of the Opera. She was absolutely my icon and role model. The cape and dress together reminded me of one of her outfits, and that absolutely tipped the scale in convincing me to go with this look. It felt elegant and romantic and dramatic. I also chose to wear a veil for the ceremony that had delicate wildflower details embroidered on it. I felt like it tied the outfit together in making it feel perfect for a springtime garden wedding."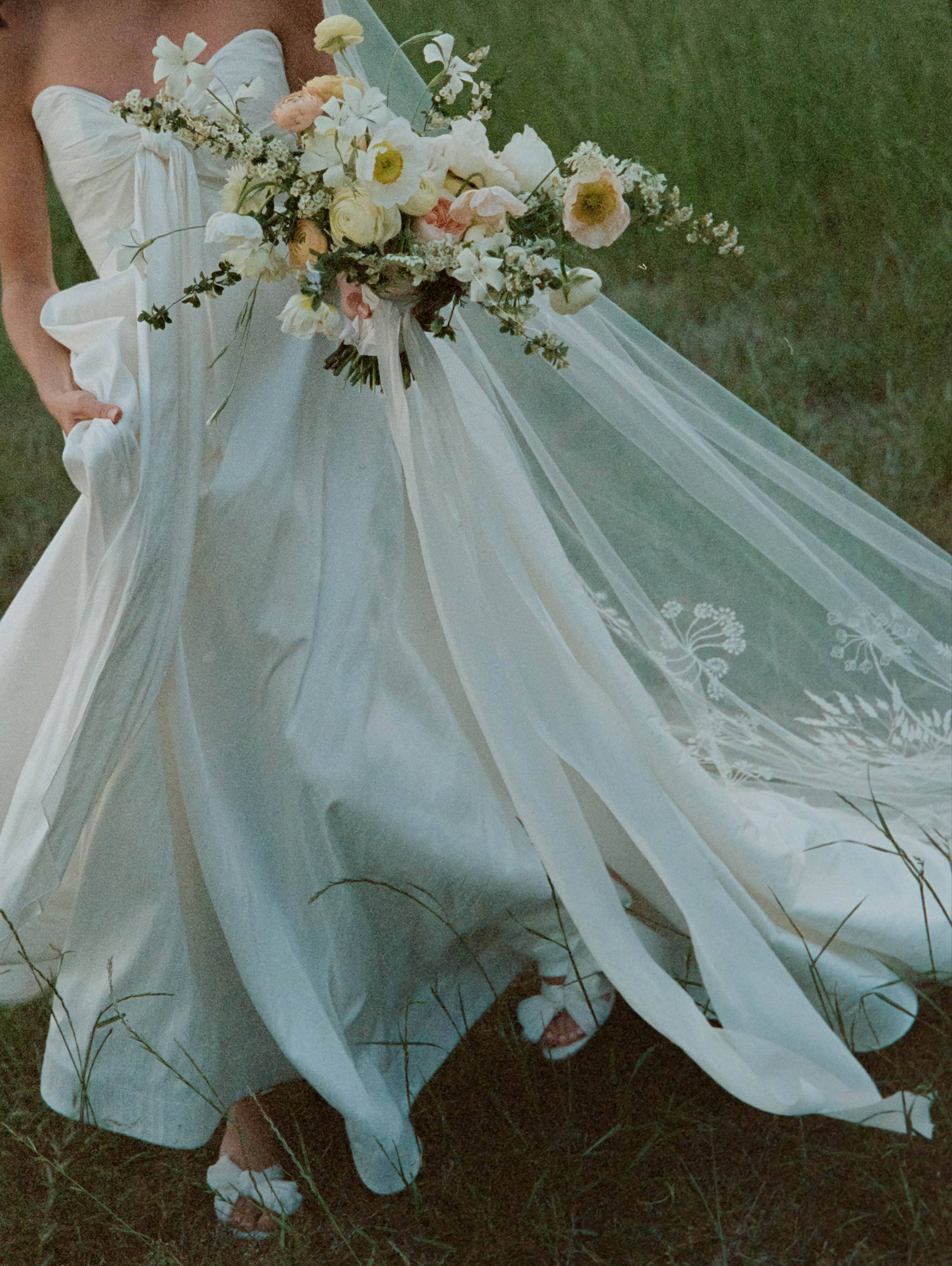 "After the ceremony, I changed into a little silk organza dress that Natasha Andrews, a talented seamstress in Nashville, custom designed for me. We collaborated during the months leading up to the wedding to create a fun little flirty dress for me to exit in. I loved it so much. After we ran through a cloud of confetti, our friend Bennett drove us away in a vintage car (he got the gig because he's the only person we know who can drive stick shift), and then the next day we hopped on a plane to Paris! We honeymooned all over France for three weeks, which we understand good and well was likely our peak."