On a cloudy day in Yorkshire, backed by the breathtaking facade of Crayke Manor, Sophie and James held a simply heavenly ceremony, the sun shining through the moment they said "I do." Read on to discover Sophie's secrets behind her perfectly personal wedding weekend filled with good friends and favorite pleated shoes.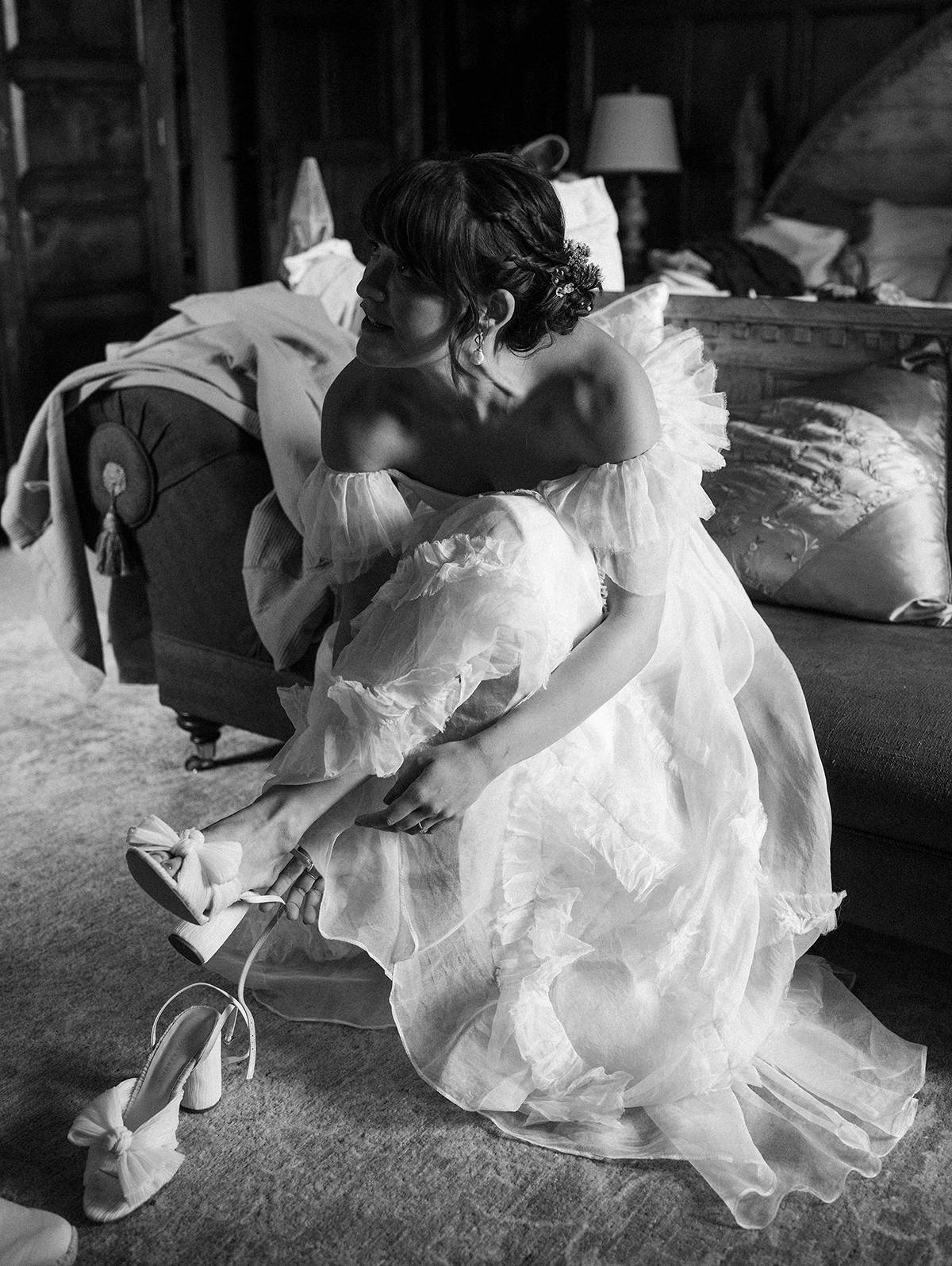 "I knew I wanted to get married in Loeffler Randall's Camellia heel long before we got engaged, and I'm still obsessed with these pleated beauties — I want them in every color! They are just the perfect height, and so comfortable I could wear them for hours. They have a really romantic and vintage feel which matched the style of my dress, and I loved the way the bows peeked out from under the hem when I walked. II will definitely wear them again and again and will treasure them forever. They are the most stunning shoes I've ever seen."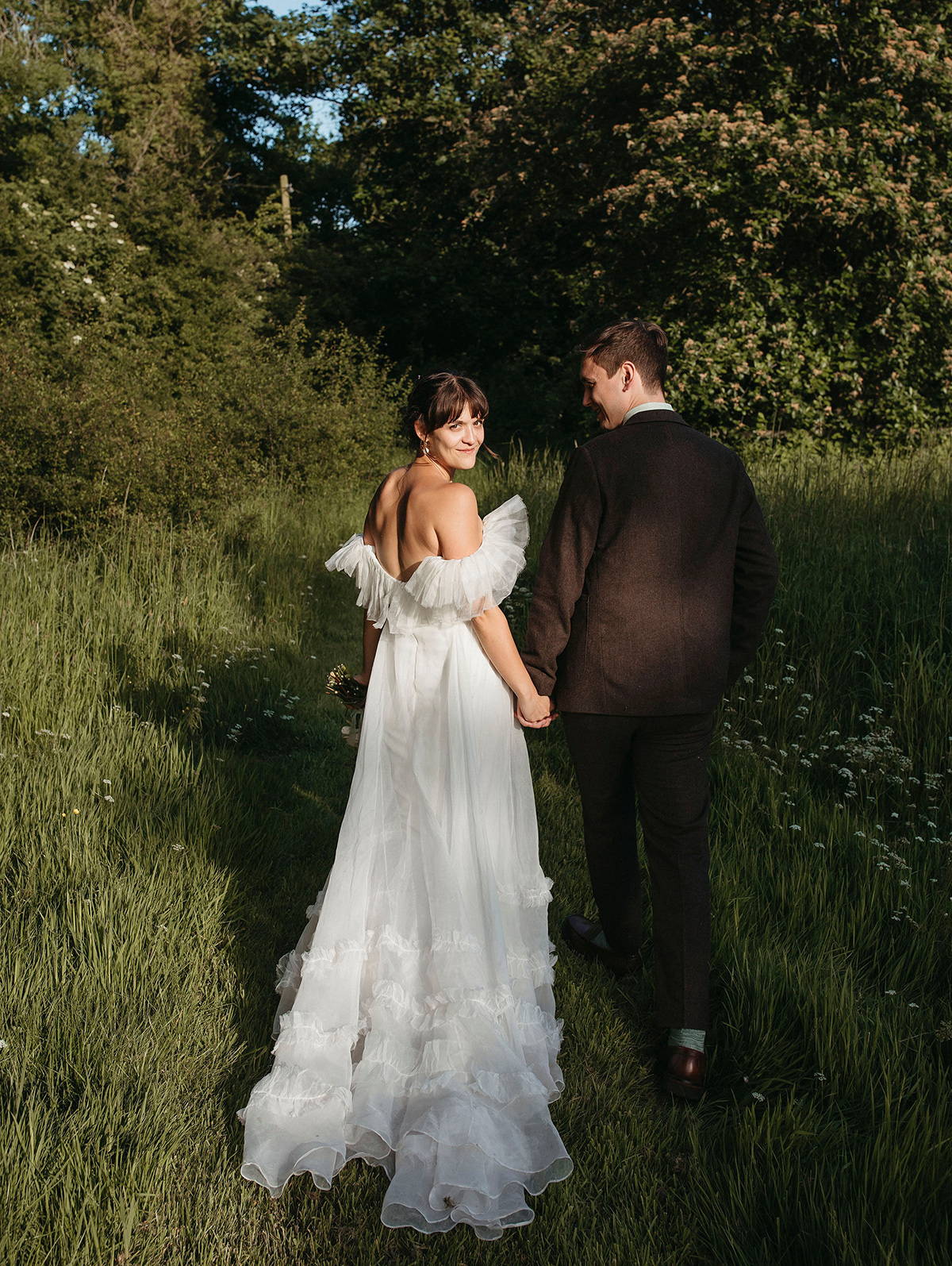 "When James and I began planning our wedding, we knew we wanted it to feel relaxed, creative and personal — an event that we could make our own, hand-picking our suppliers with a blank-canvas venue. We also wanted it to be a weekend-long celebration with our friends and family, like a big group holiday, where we could spend time together with everyone we love."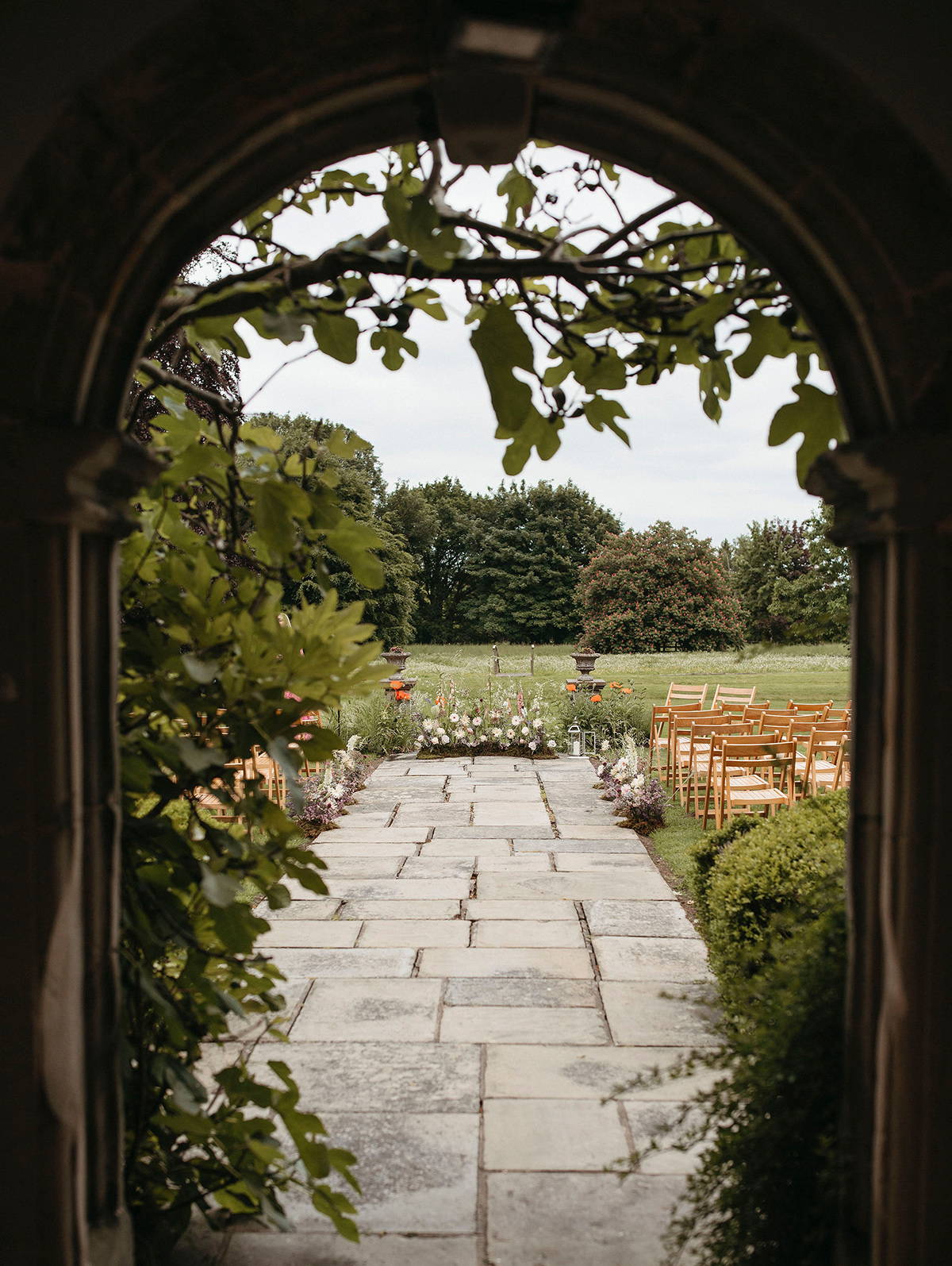 "We knew Crayke Manor would be perfect for us the second we found it — it was the first and only wedding venue we saw! It's an eccentric, ivy-covered Jacobean house full of nooks and crannies and oddities, set on 16 acres of grounds, with a festoon light-covered courtyard and adjoining covered stables. James is a Yorkshireman and we spent many happy years together in Leeds before we moved to London, so the beautiful Yorkshire countryside felt like the perfect fit for us and the vibe we were after. We were able to stay Wednesday to Sunday at the house with the wedding party and close friends, giving us plenty of time to settle in, catch up with everyone (& use the hot tub!), and decorate before the big day, which was perfect."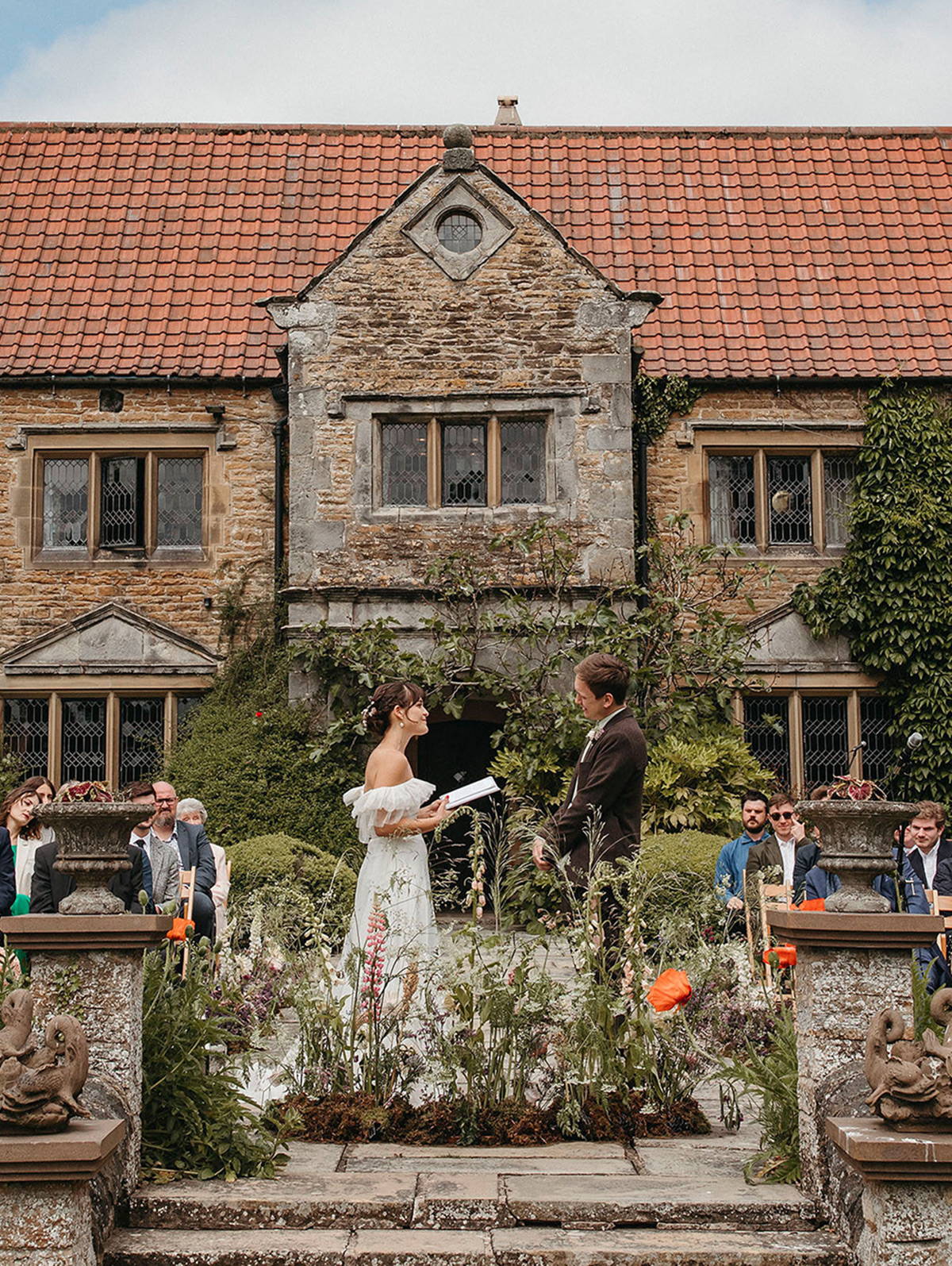 "As with our venue, my wedding dress came naturally, too — I fell in love with the first dress I tried on, the Mayfair dress from Halfpenny London. It made me feel like an old movie star, like Vivien Leigh in 'Gone with the Wind' or something. The off-the-shoulder neckline, romantic silhouette, and the way the silk organza and ruffles moved were heavenly!"
---
"...such a poignant reminder of how lucky we are to have each other..."
---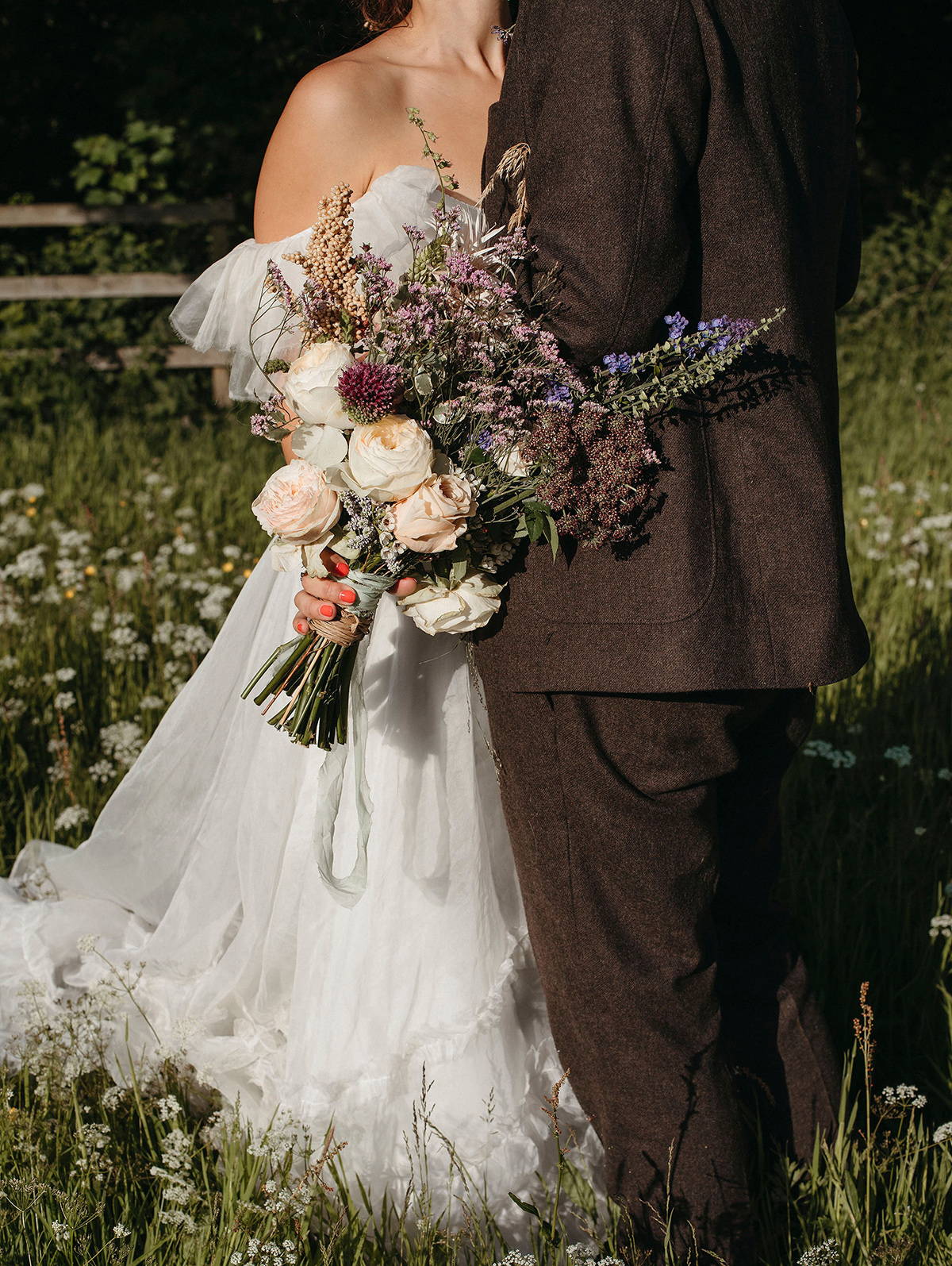 "I work in the resale fashion industry and am passionate about vintage and secondhand clothes, and had always loved the idea of buying my wedding dress from another bride and giving it a new lease on life. After months of searching, I found the Mayfair at a Halfpenny sample sale, working with a seamstress to repair the delicate silk organza and raw ruffles. I like that my dress looks like it had a history before me, and had stories to tell. The frills were relaxed, with a vintage feel, making me love it even more."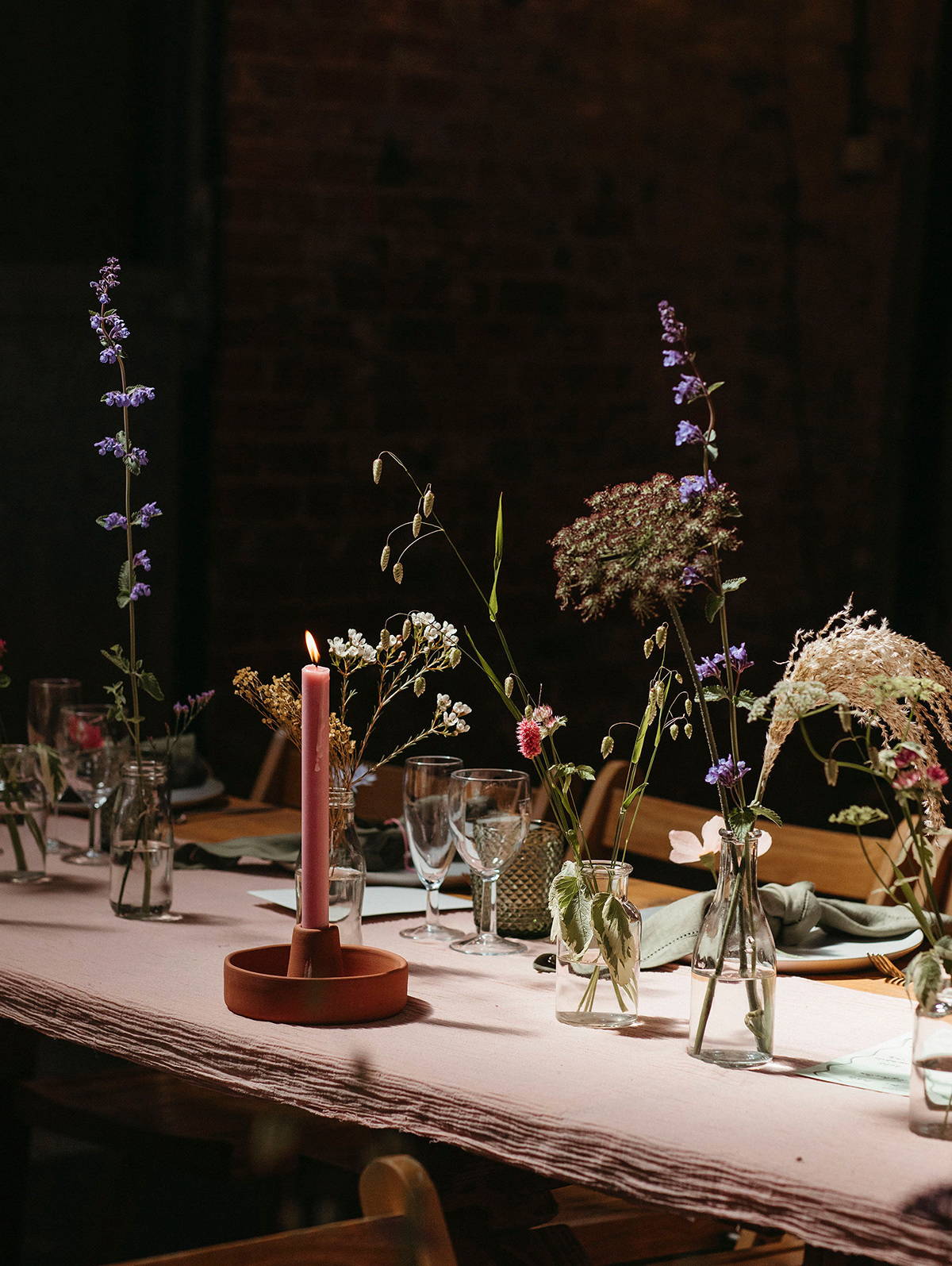 "For the ceremony, our celebrate Lisa suggested that we ask a few close friends and family members to share memories, well-wishes, or readings of their choice. It was an incredibly personal way of encapsulating the eleven years that James and I had been a couple — such a poignant reminder of how lucky we are to have each other, and of the time we've all spent together as a group of friends."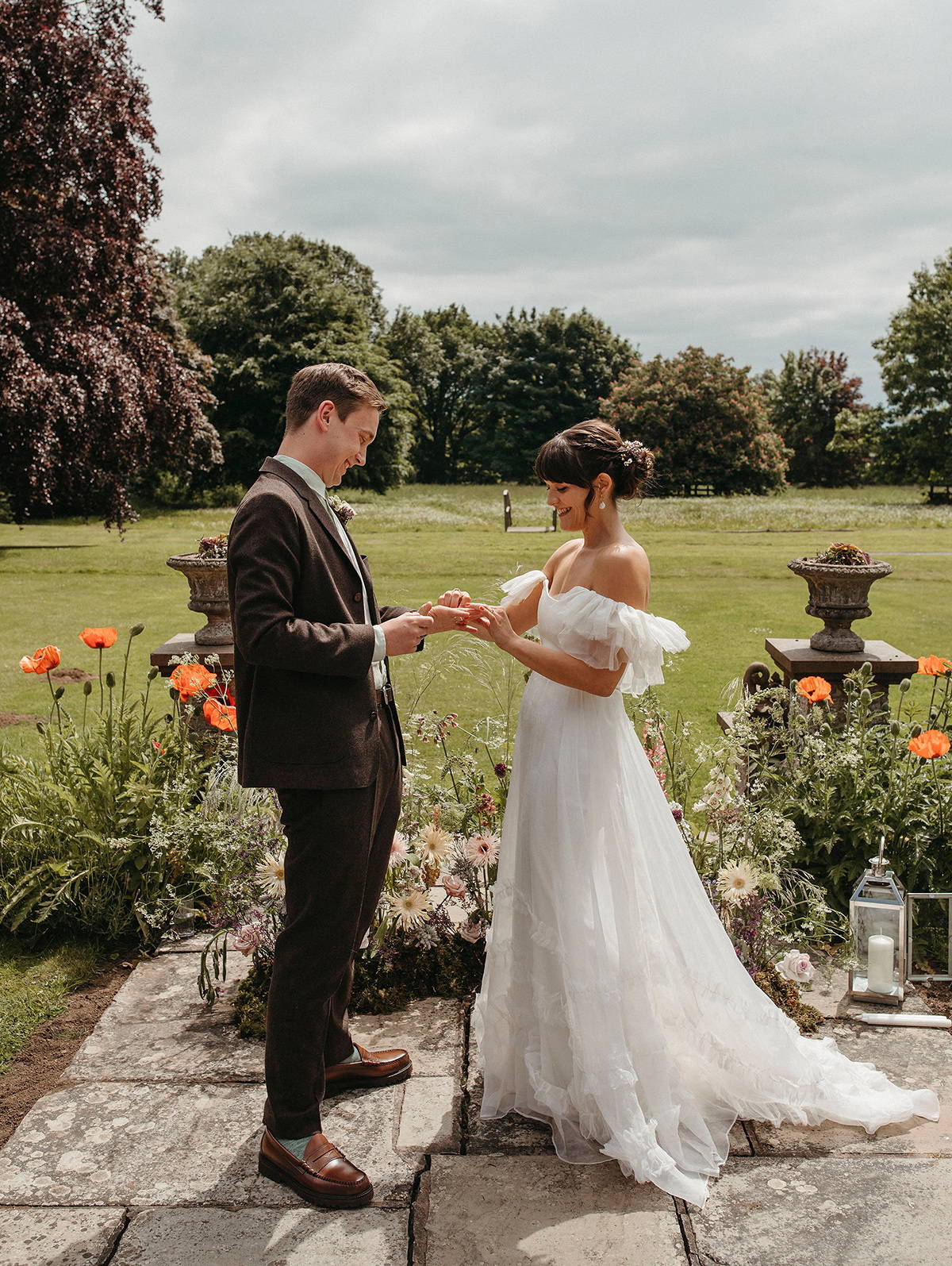 "There were so many special moments on the day, but I'll always remember the exchange of our rings as being particularly magical. The morning of the wedding had been quite gray and overcast, but as I put the ring on James's finger there was this incredible sunburst as the clouds cleared and blue skies and sunshine broke through, for the entire rest of the day! Our photographer, Patrick, captured this moment and we couldn't believe the timing… stupidly perfect."