Both Louisiana locals, Anna and Bailey have always held a special place in their hearts for New Orleans, making their Magazine Street wedding a dream-come-true. Anna shared all the details of her Uptown ceremony, from a custom-made dress to a front porch dance party.
Photography by Hannah Pickle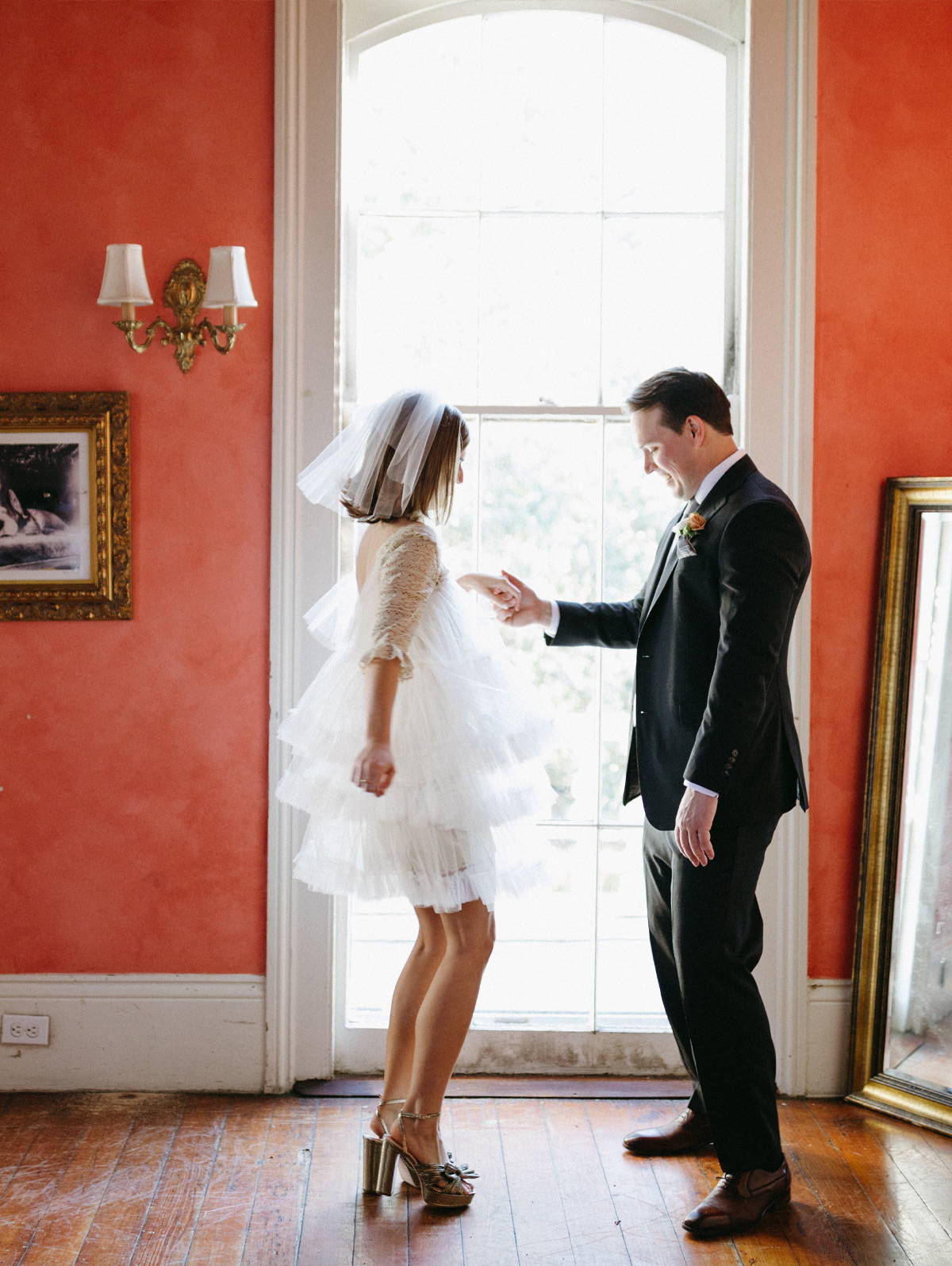 "It was really important for us to have a great party — we're both from Louisiana, it's what we love to do — and a wedding in New Orleans is guaranteed to be a great party. It's one of our favorite places to visit, and it's such a magical backdrop. Who doesn't want to get married on Magazine Street?"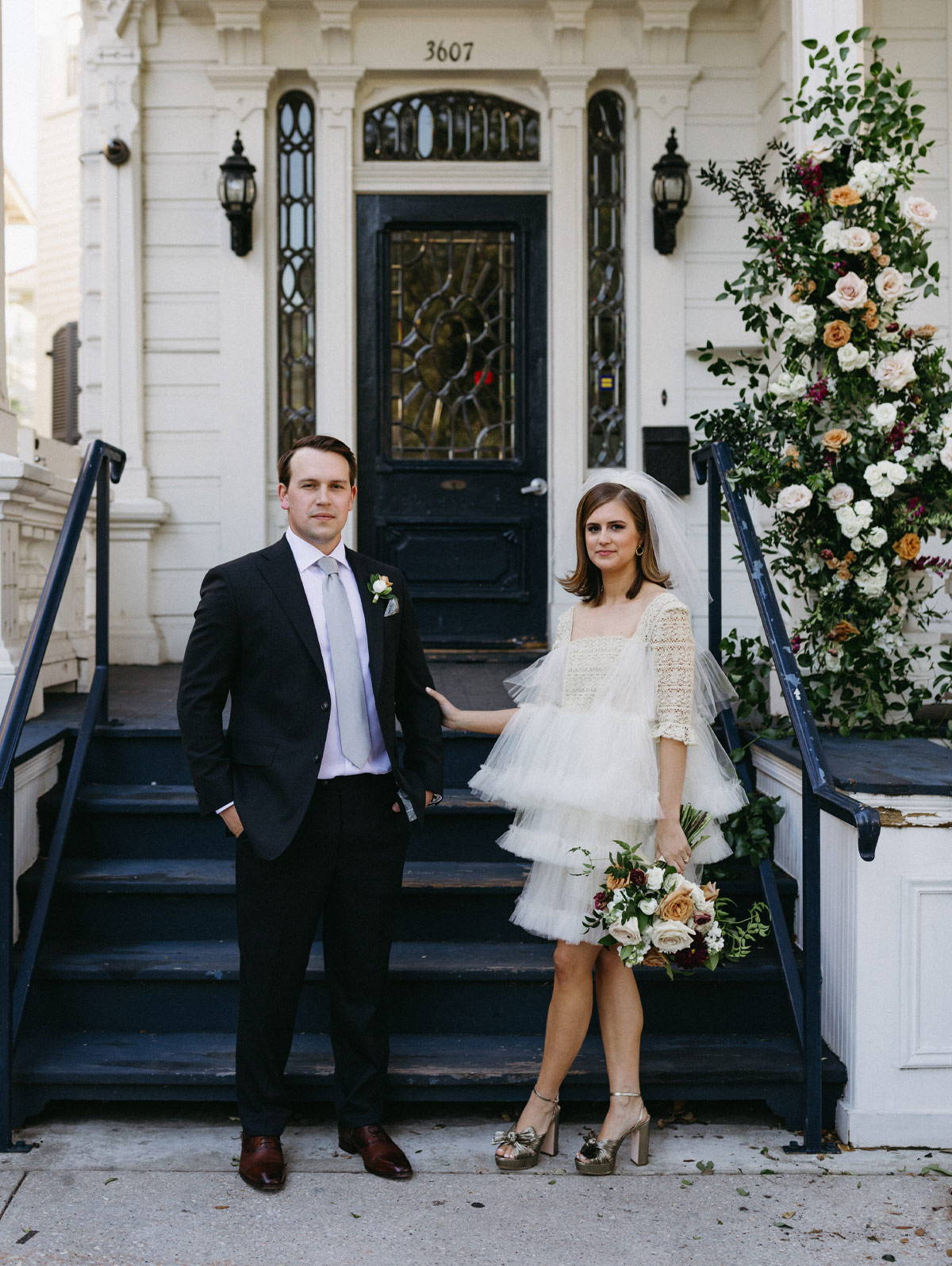 "My dress and veil were custom-made by a dear friend of mine — we've been friends for over ten years. She is an aspiring designer, who is just starting her brand, Gretta Garments, creating vintage-inspired silhouettes with sustainably-sourced vintage fabrics. I knew I wanted her to make my dress, and I was so happy when she said yes."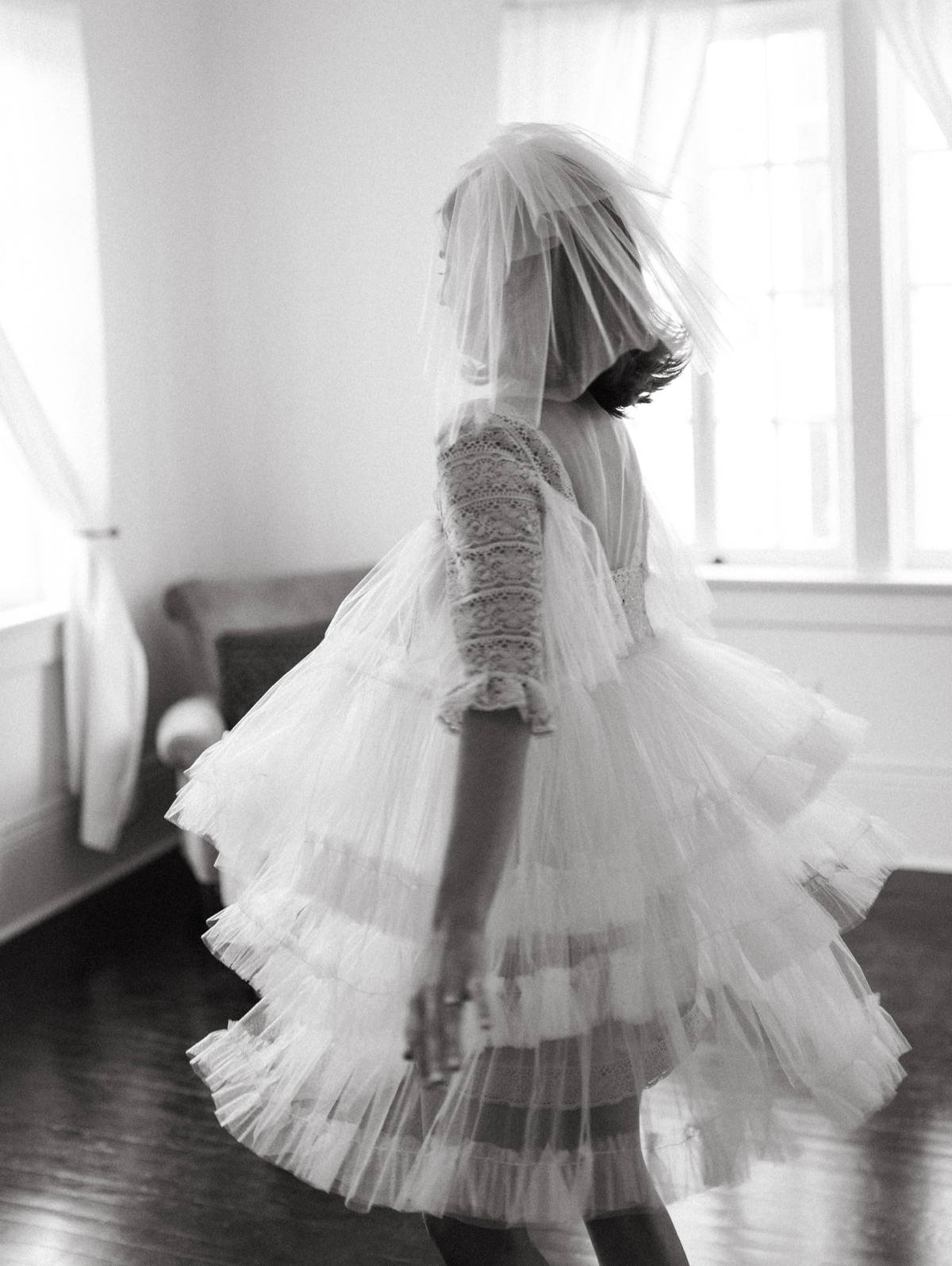 "The design process was so fun, it was like playing dress up again. I had always wanted to wear a short dress, and I sent Grace some images of dresses I loved for inspiration, and from there, she really designed the dress herself. When I met with her in the spring, Grace had drawn three designs for me to choose from. When she talked about the design that would eventually become my dress, I could tell it was the one she was most excited about. This made the decision so much easier, because I knew if she loved it, it was going to be beautiful — I fully trusted her."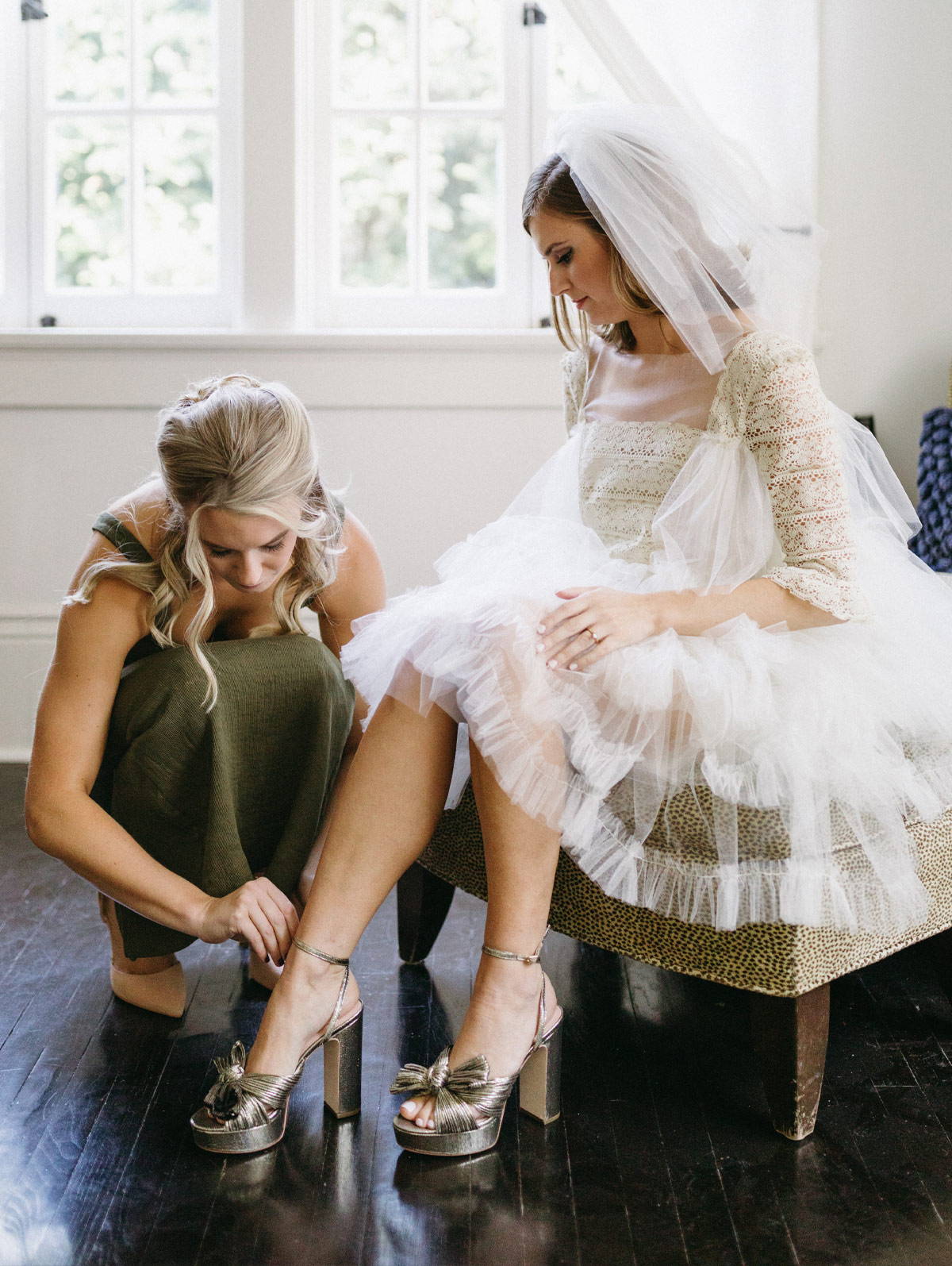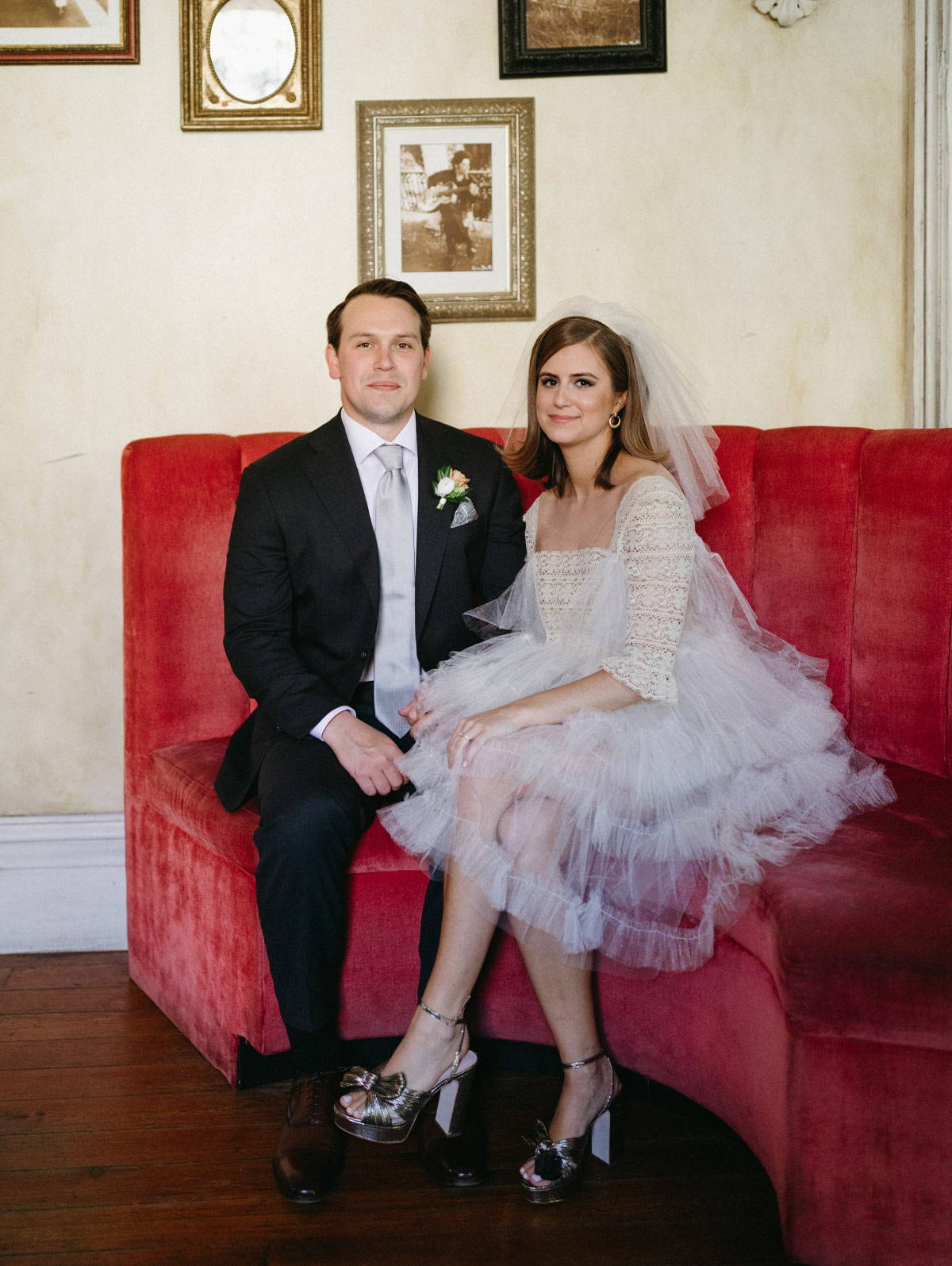 "I couldn't have envisioned a more perfect dress. It was so fun, unique, and beautiful. I love the way it moved, I love the vintage elements (the lace Grace used had been passed down from her grandma), and I love that I was able to wear the art my friend created. I was so proud to be wearing her work, and her design inspired the rest of the look, as well as a lot of the wedding's retro-inspired vibe."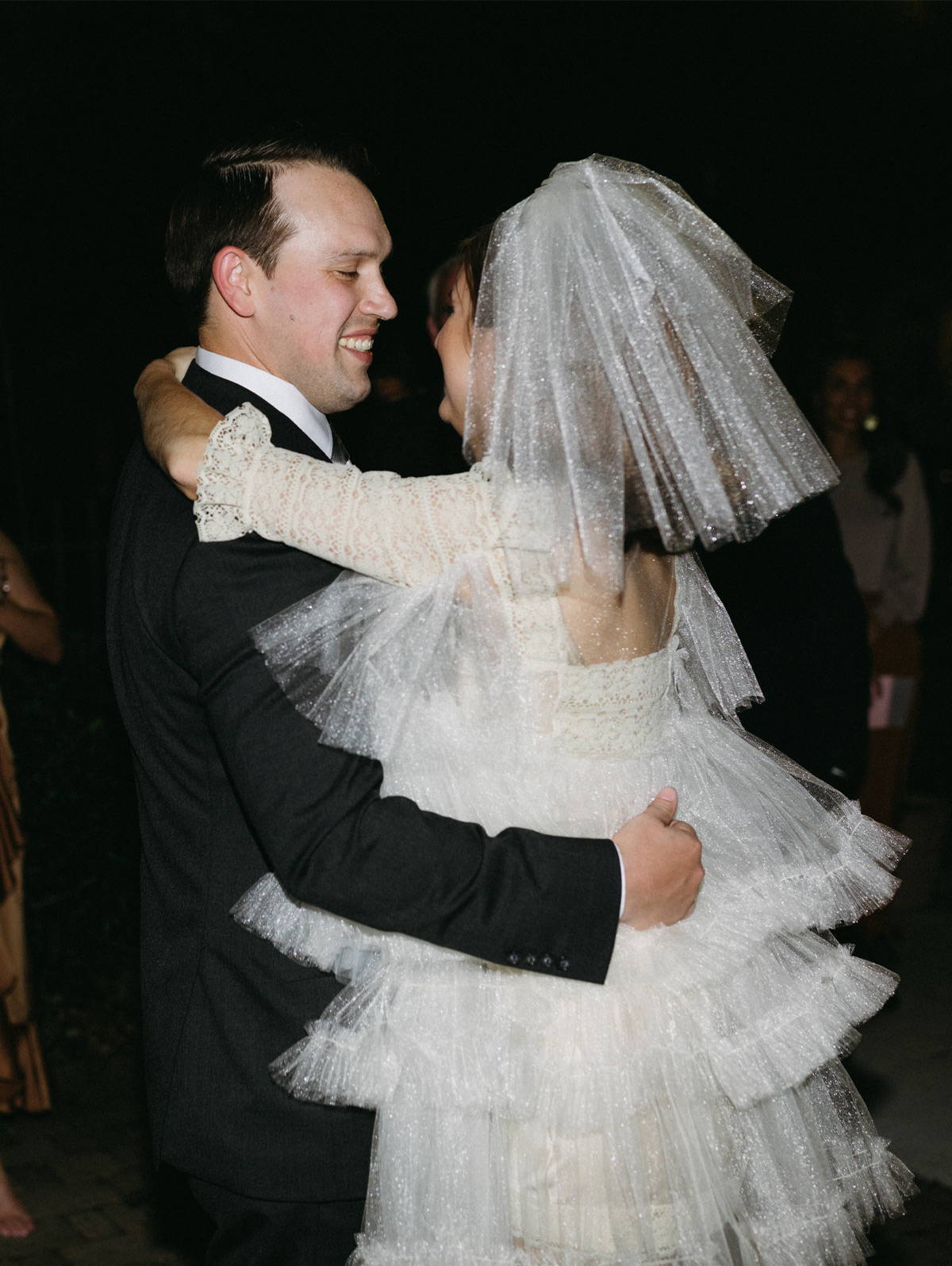 "Since my dress was short, the shoes were extra important. They needed to be equally as fabulous as my dress, and to add the right amount of height, so I was instantly drawn to the Natalia Platform Heel. They completed the look, and fit the vibe perfectly — a little retro, yet modern. The dark, almost antique gold color paired so well with the dress, as well as with the backdrop of the old New Orleans mansion."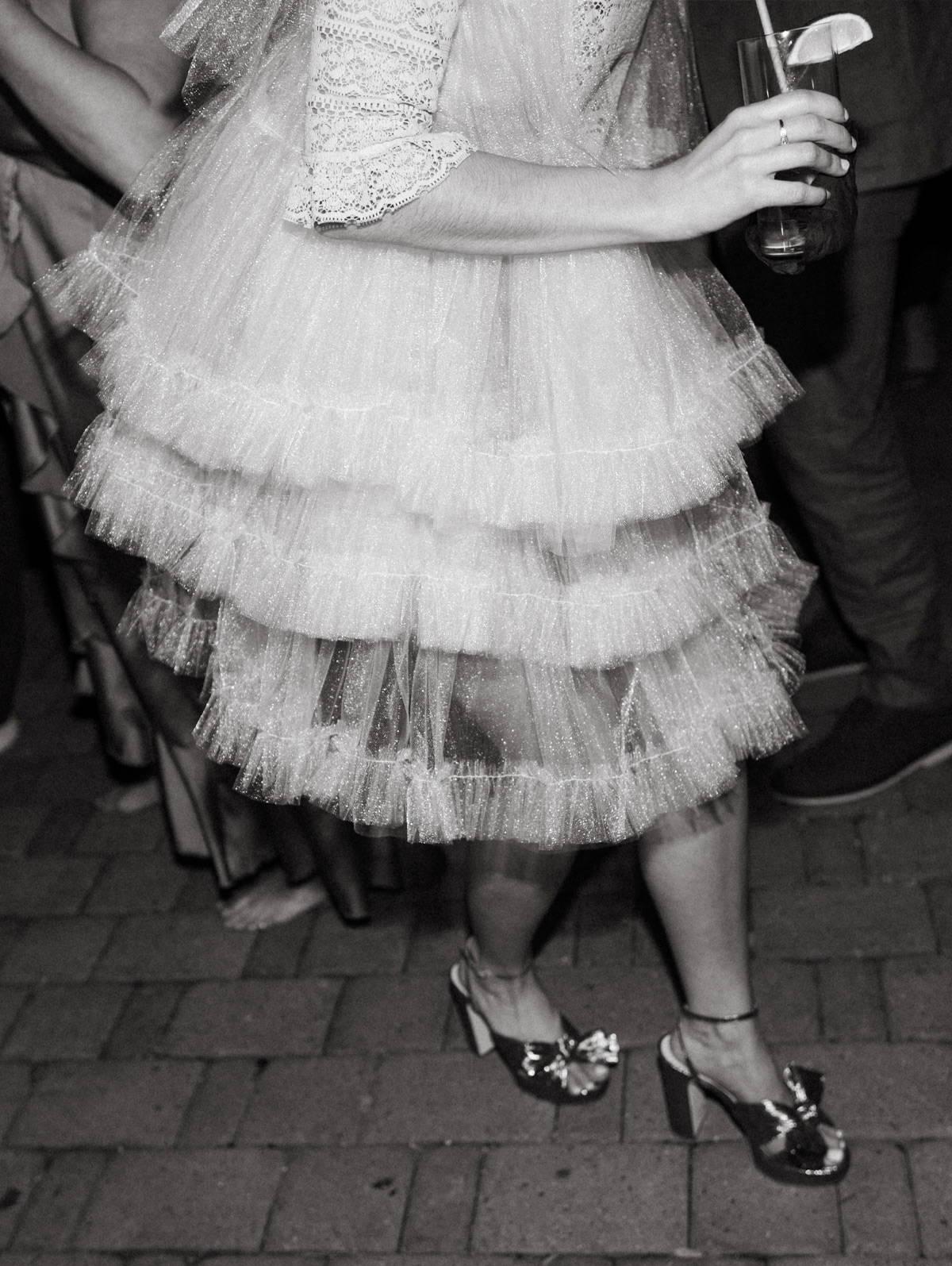 "We didn't have any particular, must-have songs on our playlist because we trusted our DJ, Ann Glaviano. Ann is a local DJ in New Orleans, and she only plays from her own unique collection of vinyl records from 1957-1974, which was so cool and fun for our little retro-inspired wedding. We jammed to the likes of Stevie Wonder and Irma Thomas all night. My guests loved it."
---
"If you have all your favorite people in one place with good food, music, and drinks, it will be amazing."
---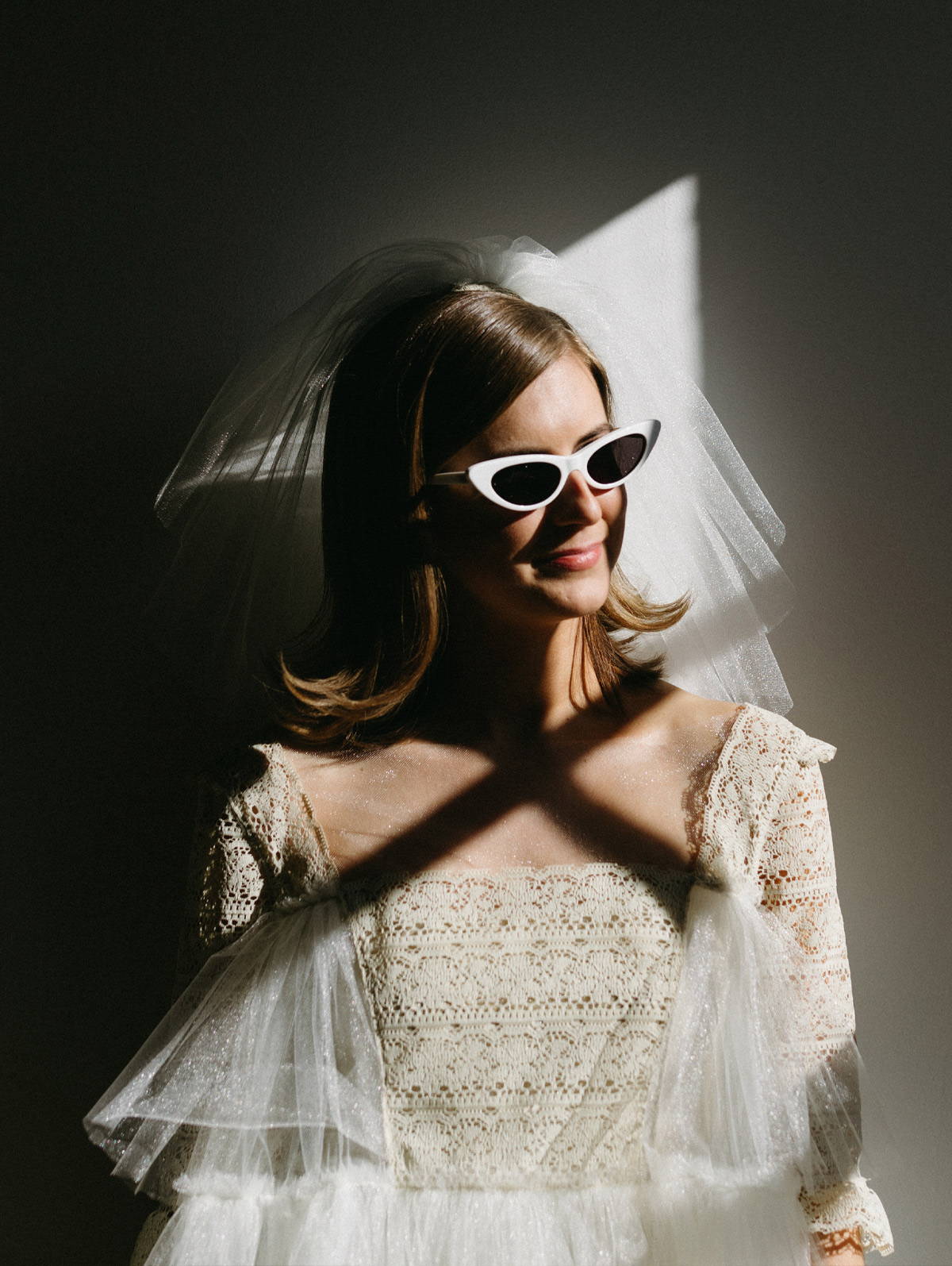 "My favorite part of wedding planning was creating the bridal look — the dress, the shoes, the earrings… everything. I am not much of a planner, but I know how to throw a good party, so that is what I focused on. I learned not to overthink the decisions, and just go with my gut. If you have all your favorite people in one place with good food, music, and drinks, it will be amazing."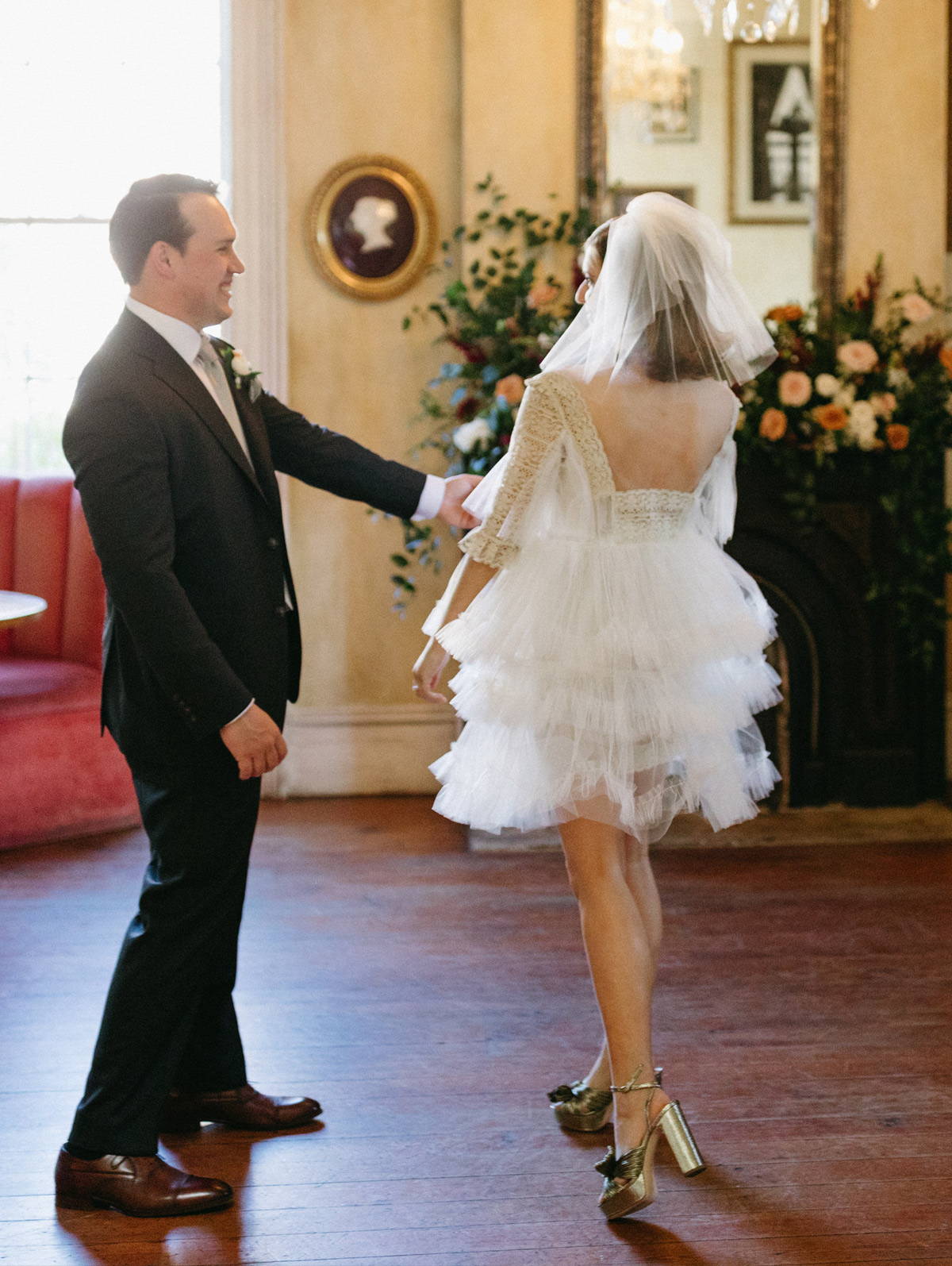 "One of our favorite details was having the ceremony and dancefloor on the front porch and patio. It's New Orleans — people are used to partying in the streets. It felt like we were dancing with everyone else out that night, and it was the night before Halloween, so New Orleans was on full display.
        "There were a lot of vintage details I loved, too. We had a vintage cake topper, vintage records, vintage dress — we even used vintage postcards for our invitations. I think those details helped create a timeless night."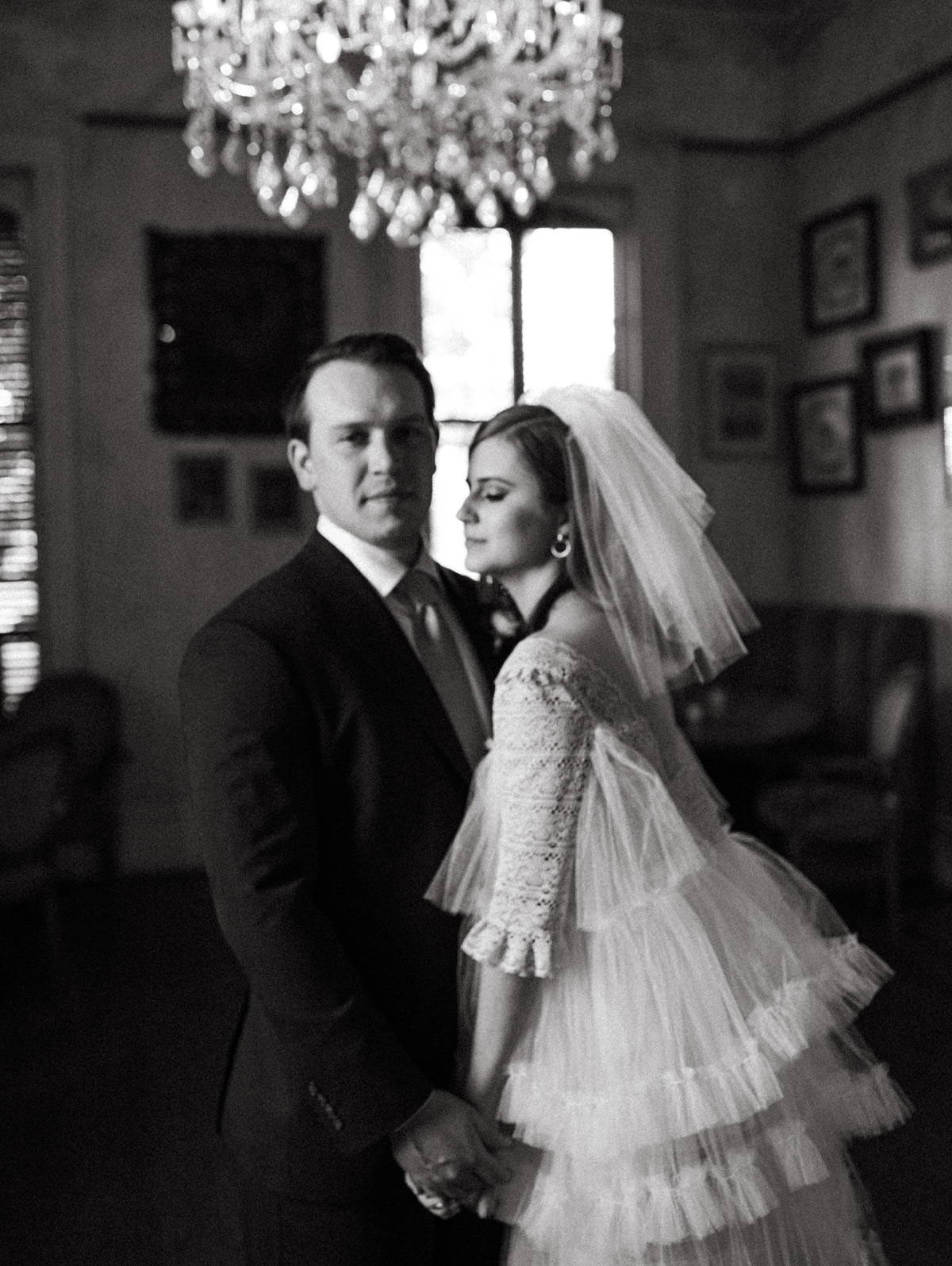 "There were so many great moments, but the moment I'll remember most is riding off at the end of the night on our bikes through the streets of New Orleans to our hotel. The weather was perfect, and lots of people were out on their porches celebrating. There was just something in the air… we were so happy, with the added feeling of, 'wow… we pulled it off.' Even though it was a short ride to our hotel, The Chloe, it was an appropriate ending to our idyllic Uptown wedding."