Jessie asked 6 of her friends to share how they're wearing our Fall collection for school drop-offs this fall, along with questions about creativity, style and motherhood. Read their interviews below--we hope they inspire you during this busy season!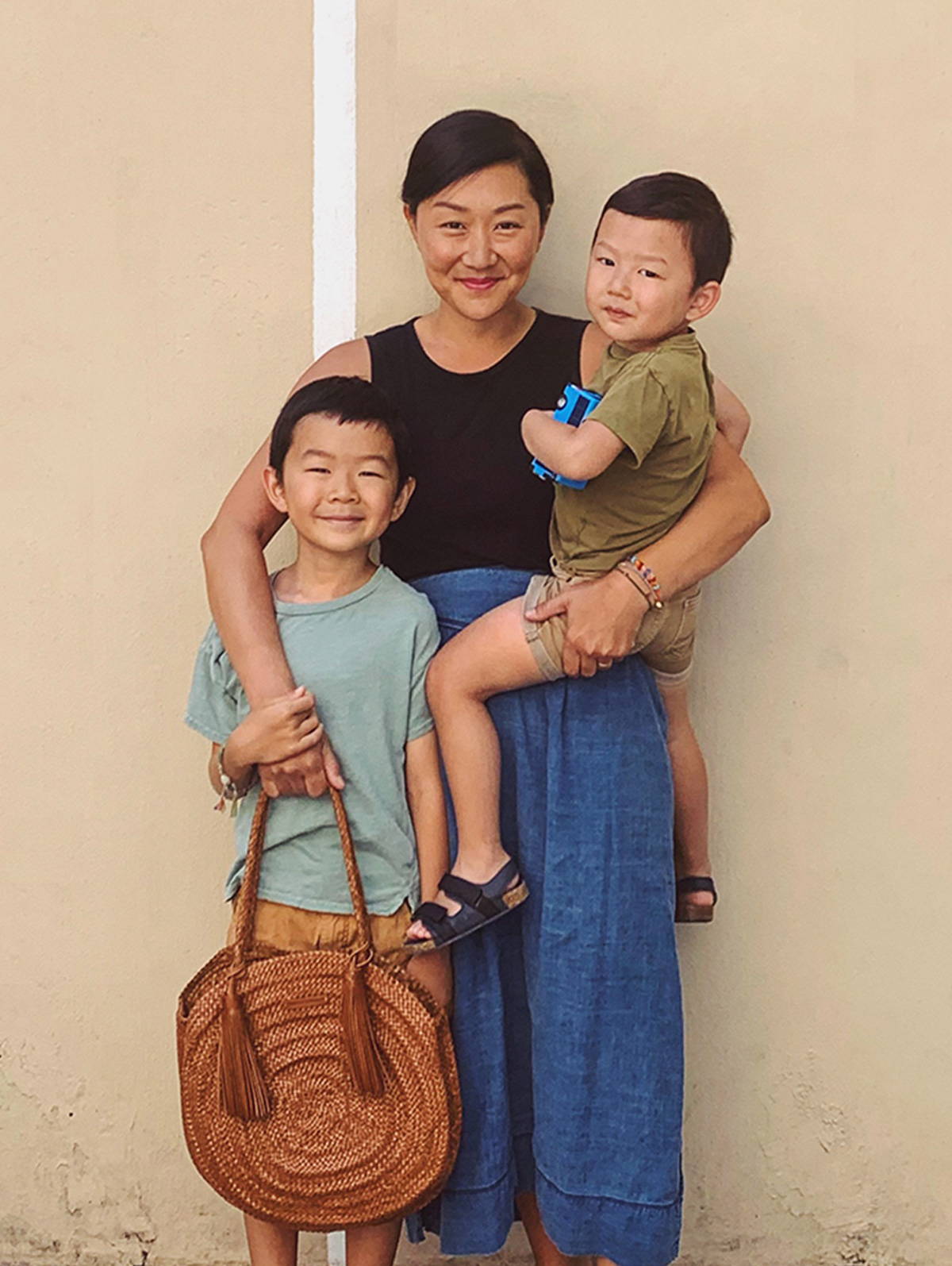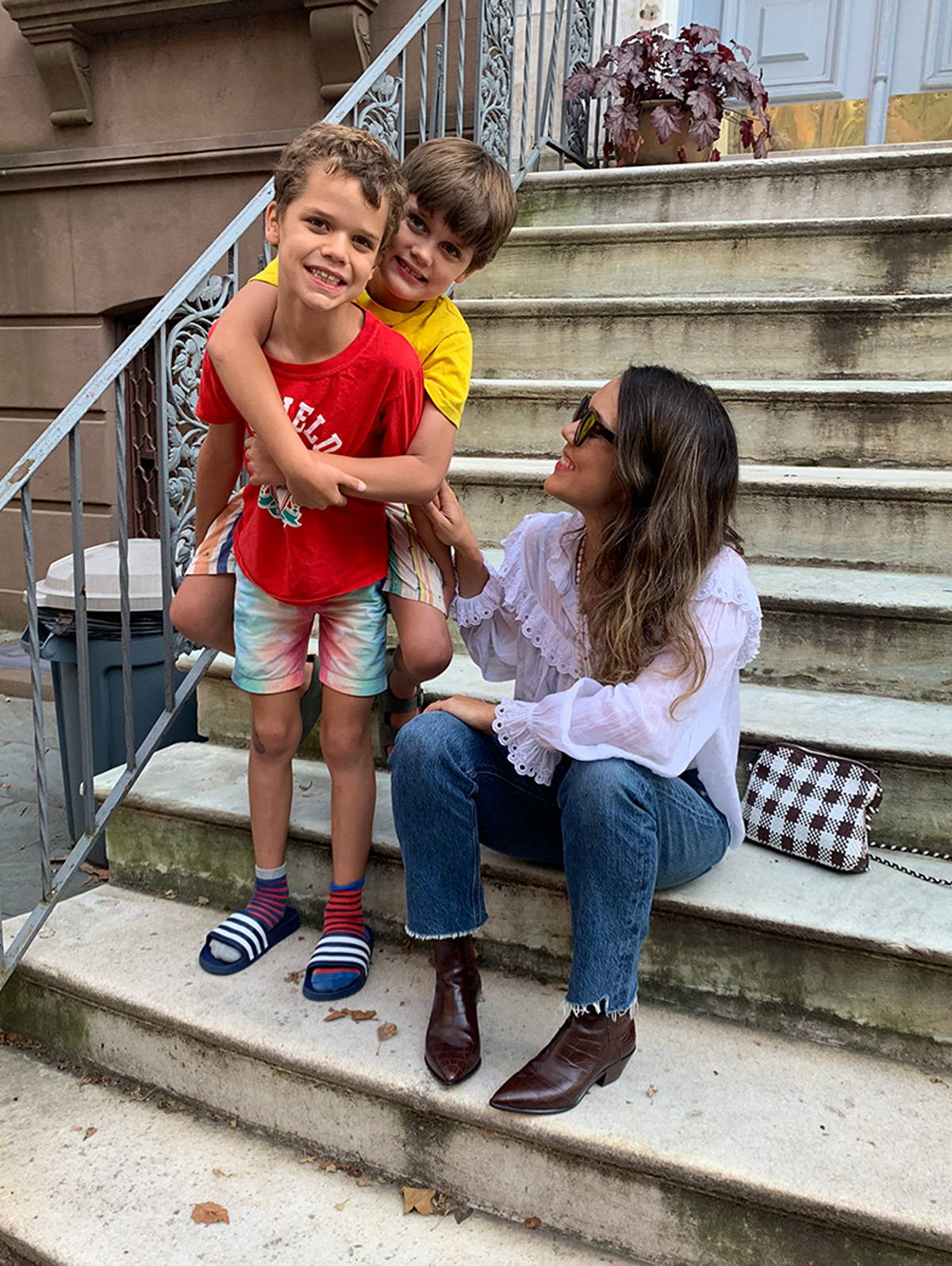 Gisela wears Aylin in Dark Brown
Gisela, @giselagueiros
An art historian, art advisor and educator on the fall trends she's excited to try.
JR: What is your strategy for dressing for your busy day including school drop off / pick up and then heading to your amazing artsy tour business (and please tell us about your artsy tours)?
GG: I guess the trick is to choose a "neutral" outfit, and then finish up with a remarkable accessory — maybe a good pair of shoes, a cool necklace or a pop of color on my socks to add some spice to the everyday look. I like to be playful with stripes and mix unexpected colors.
For my artsy tours — where I lead groups on foot to visit 6 or 7 different art galleries, sometimes including stops to discuss the High Line or the amazing new architecture in Chelsea — super comfortable shoes are a must! Always my number one priority.
JR: What LR fall products will you be wearing this fall?
GG: OMG! I always have the hardest time choosing just one item to get every time LR launches a new collection. For the Fall I plan on wearing my brown croco booties (Aylin Low Western), and will still be rocking my Mallory crossbody brown/white checked woven leather. It's the perfect size — and a great example of an accessory that saves any look! :)
JR: What are three fall trends you see and are excited to try?
GG: Dressing like our moms dressed in the 80s (boots with skirts, belts over blazers, that whole Diane Keaton vibe), matching top and bottom (hello #stickofbutter and #canadiantuxedo!), and buying vintage clothes. I definitely think that recycling fashion and revisiting ours closets — I still use my first LR bag from 5 years ago! — is a trend that is here to stay. And thank goodness for the planet's sake.
Anja wears Juno in Amber Snake
Anja, @anjattyson
A fashion professional with a focus on sustainability on her evolving style.
JR: So many of the moms who inspire me are actual moms who live in my neighborhood or whose children go to school with my kids. But you are someone who inspires me from afar - I "met" you through Instagram. I love the way you are so open and honest about your life and invite others in to all that you are doing and feeling. You are very vocal about what it's like being a single mom and I appreciate that very much. Can you tell us a bit more about yourself and what motherhood has meant to you?
AT: That is so kind, you inspire me so much too, Jessie!
I didn't really come into motherhood in the conventional way, or at least not the way I assumed I would. I am almost six years in now, and I think the most prevailing theme throughout has just been realizing what an enormous amount of life we all tote around and deal with on a day to day basis. We all demand so much of ourselves every day, and oftentimes are doing so in the face of adversity or while also healing from trauma or just carrying the emotional load of the multiple shifts we work outside of our "office hours". Motherhood to me has meant an expansion of kindness and humility, knowing everything I handle that never gets shared with the world and knowing that everyone else out there is likely dealing with something comparable behind the scenes.
I think that humility is especially important in this age of social media where we are relentlessly feeling like we need to stage, crop and filter our lives to build our "personal brand". But motherhood is really intimate and really messy, and it's easy to feel like you're doing it wrong when it's not capturable with a snapshot and an inspirational quote. One of the things I noticed when I started sharing more real stuff on Instagram is that a lot of mothers – single mothers, co-parents, married moms, all kinds – started reaching out to me to share how grateful they were to hear some real talk. And that means the world to me, because as a solo parent with an infant I was constantly feeling really lonely and inadequate, and the idea that anyone else gets any comfort from my words is such an honor.
At the end of the day we are all basically trying our hardest with the intention of raising Good People. And you get knocked down a lot and there's not really any recovery time built in, and I guess motherhood has given me a higher respect for how strong we all are, and how much grace we all have.
JR: You've worked in fashion for many years. Can you talk about your aesthetic and how it has changed over the years?
AT: You know, for as long as I have worked in this industry and as many brands as I have worked with, my personal aesthetic hasn't changed much in all this time! I started out working with Miu Miu and then Marni, two Italian fashion houses that came up in the 90s and had very specific aesthetics. But my own personal style icons are very specific and unwavering. They are; Ali McGraw, Audrey Hepburn, Anjelica Huston, and Carolyn Bessette-Kennedy. I'll occasionally slip on other costumes and trends, but my de facto fall back is braless and tailored and vaguely gamine with retro references.
That said, I truly, deeply appreciate so many different aesthetics and references within our industry. We are so powerful in our capacity for expression, and one of the most beautiful and unique things about fashion is the emotional response we can elicit from wearers and observers. I love our industry for its boundless capacity for emotion, and I love every creator for offering the chance to feel empowered and excited by our every day costumes.
JR: What are 5 fall trends you are excited to incorporate into your wardrobe?
AT: I am still sad to have lost Phoebe Philo at Celine, but I actually loved Hedi Slimane's vision of 70s retro chic, and am super excited for a knee-high boot with a stacked heel and a bit of tweed. I'm also not fully over the bow trend, and will be carrying my silk hair ribbons forward indiscriminately. I'm still here for bits of animal print and snakeskin too, which always feel a little more luxe in the fall. And stacks of knits all worn at once!
JR: If you have a mom uniform how would you describe it?
AT: I've really resisted having a mom uniform, maybe because I am a solo parent with one income (sorry to be crass but it's the truth) and I feel like I've already given everything over to my child and I hustle so hard every day and it's just like… you can't have my clothes too. I buy and wear what I love, I care about how things look and fit, and I want to own things that I will wear for a long time. I've never dressed too preciously so I don't find my day to day clothes every really interfere with my ability to parent. I think everyone should dress however they feel most empowered, and there are a lot of women for whom a uniform is a savior to their day, but dressing for me is a vice of mine and I may never let go of it.
JR: What are you most excited about during this back to school season?
AT: Honestly, I'm excited to have a little pressure taken off of us. The summer is hard for me because work does not really slow down, and there is this feeling in the air that you need to be relaxing and maximizing your downtime and the sunshine and traveling non-stop, and I fall victim to that really easily. I end up trying to go to every party and every picnic and get up early with the sun and stay out later to eat outside and it's just a lot. I like the retreat of the fall, the chillier air, the cozy dinners with friends, the prep for winter, the return to normalcy of a school schedule. Just walking Matilda to school in the morning with our dog is one of my favorite routines I've ever had in my whole life.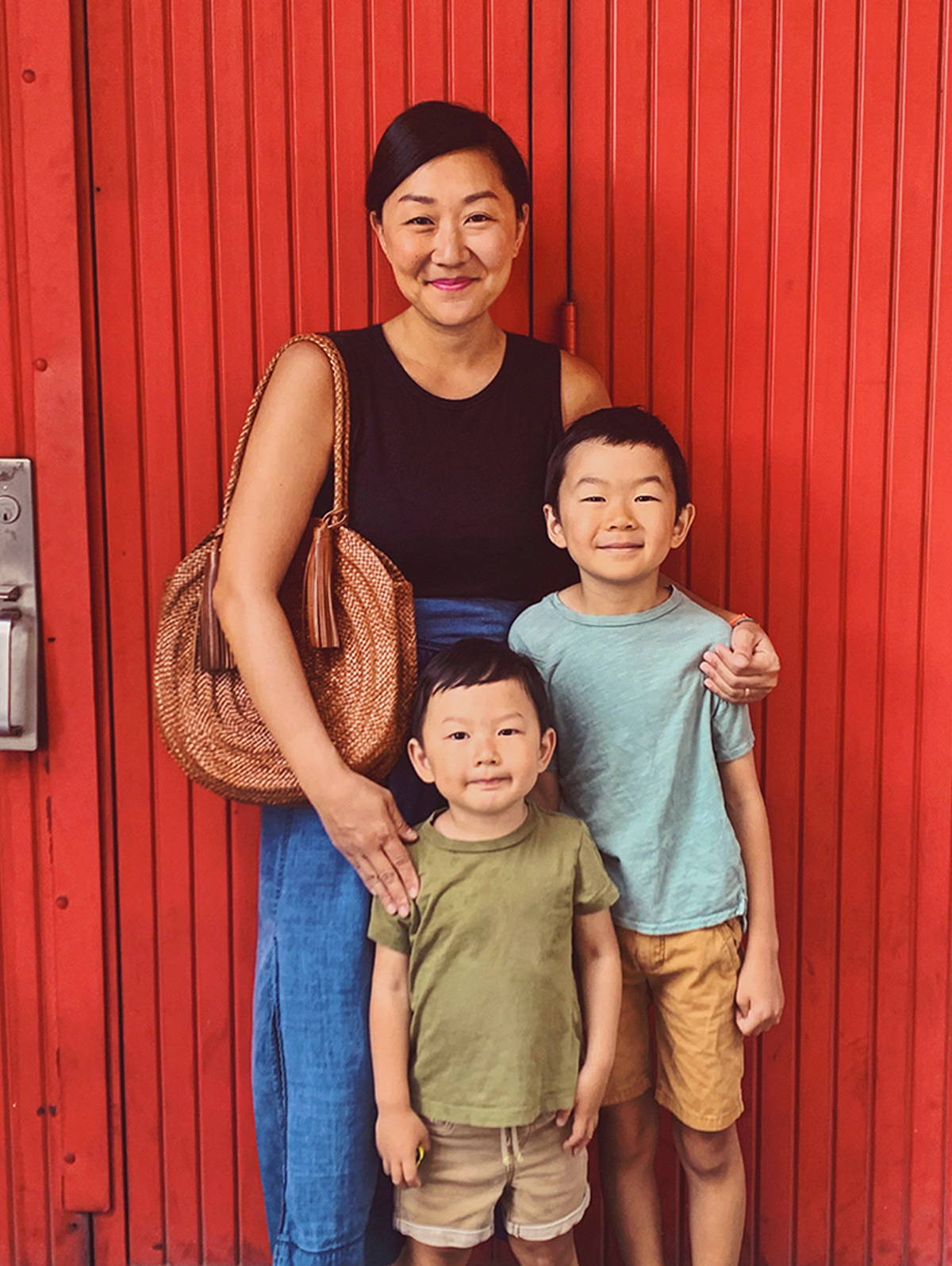 Erin wears Lelani in Timber
Erin, @theindigobuntings
A designer and illustrator with her own creative studio, The Indigo Bunting, talks wardrobe investments.
JR: When we were away together for a girls' weekend, I was really struck by your style and the simple, but impactful pieces you choose for your wardrobe. No surprise that you are a genius at color and choosing the shades that work so well on you. How do you make choices about the pieces you choose to invest in?
EJ: I don't shop very often; but when I do, I tend to be very utilitarian about my purchases. I like considering whether I will wear a certain item for a long time, if it can be worn with things I already own in my closet, and if I feel happy and comfortable wearing it.
JR: When it's back to school time I always start thinking about how I am going to dress also, not just my kids. What is your fall wardrobe and dressing philosophy?
EJ: Fall is my favorite season. I love that small window of time where you can put on a cozy sweater and jeans, but still wear sandals! With the busyness of back to school, I just want to dress with ease, so I can do all the fun things — a jumpsuit to throw on so I can shoot hoops with my son after pickup, and sneakers and flats with everything so I can run around and play with my boys.
JR: What fall products will you be wearing from LR?
EJ: The woven leather circle tote (Lelani) is my new everyday bag. I am super picky about handbags, but this one is the perfect size (not too big, not too small), and well-made. I also love the shape. I can fit the essentials for my day in here, including my small work laptop, and a book and snack for my kids for subway rides!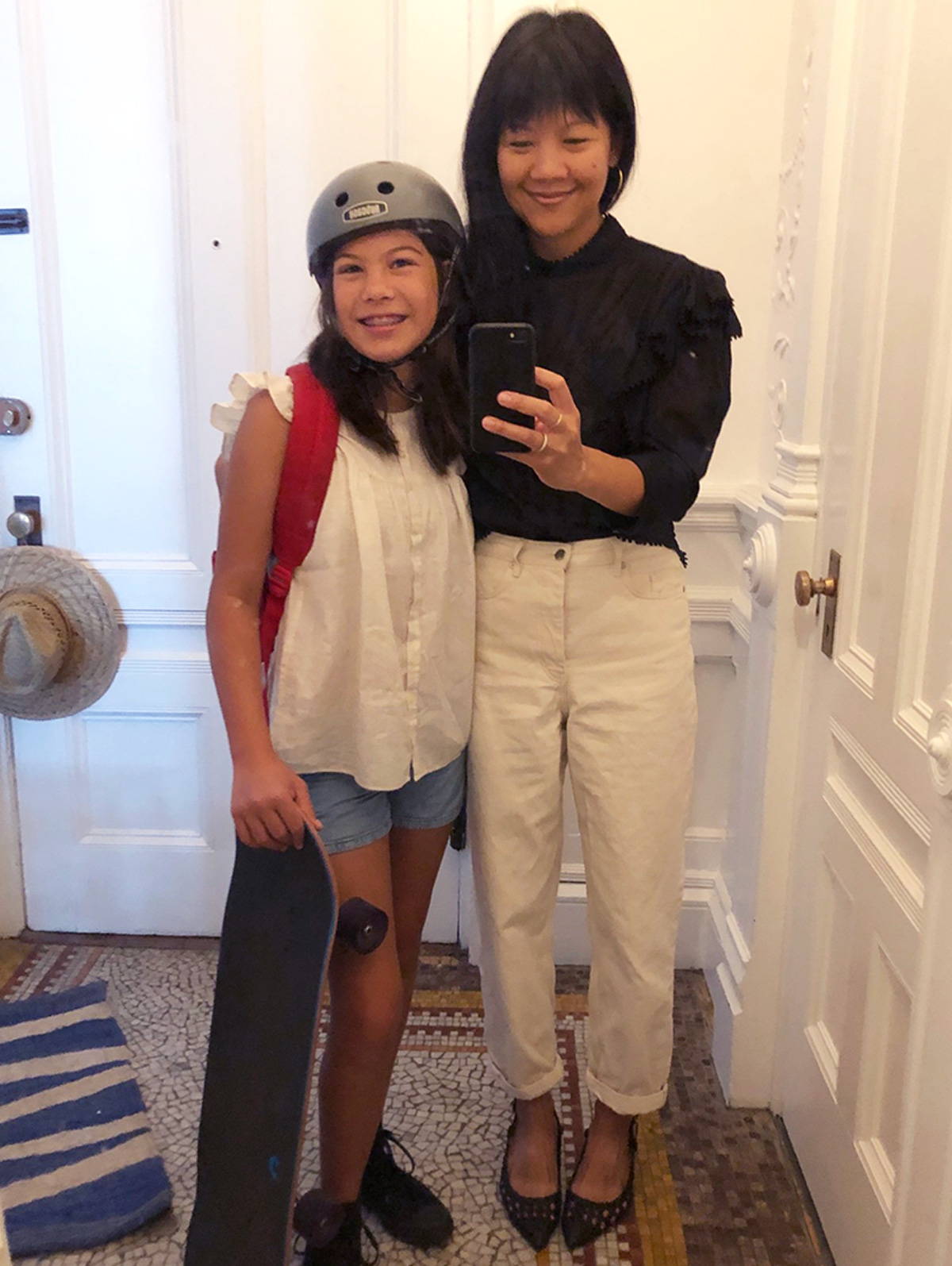 Tara wears Coraline in Black
Tara
A PR Director tells us about her "less is more" shopping philosophy.
JR: One of the things I love about your style and your whole philosophy in general is that you always choose very beautiful things to keep in your home or to wear but then you keep them forever and take good care of them. You don't tend to buy a ton of things but the ones you do invest in are things you know you'll love for a long time. Can you talk a little about this philosophy and some examples of it?
TM: My kids tease me relentlessly about Konmari, but my parents really taught me the value of less is more. After living in Japan, my parents moved back to Hawaii and were clearly influenced by Japanese minimalism. I grew up around clean lines, a neutral palette, natural materials, space without clutter, nature and serenity. It sounds silly, but nature, simplicity and serenity bring me bliss that carries through all aspects of my life. Style follows suit in that I want to make long lasting and thoughtful purchases that will be on trend, but timeless at the same time. I'm always on the hunt for long term favorites vs. a short term whim. I think a lot about the environment and our impact on this fragile world. We have a responsibility to be mindful about our choices.
JR: I often think about you when I'm designing because I want to make sure I have things that you will wear and love. I love your taste and your eye and also the way you are never over dressy or casual, never overly feminine or masculine in the way you dress. It's a very clear aesthetic. Can you tell us which fall LR items you would most like to wear?
TM: I love how friendship is a circle of inspiration! I'm always inspired by your style, your craftsmanship and the incredible creativity you bring to LR and your everyday life. You are a creator and I learn from you everyday. It's surreal to hear you describe my aesthetic as clear. Working in fashion, I spent years making tragic fashion missteps, but life's a journey and I've definitely learned what it's like to look back on my style and cringe big time! The learning curve is real and over the years I've fine tuned my likes. After trial & error, it's funny how I've come full circle back to my roots of clean lines, a neutral palette and natural materials. Those elements always hold true. The majority of my shoes are LR and it's tough to play favorites. If I had to pick my Fall essentials, it'd be the tall Gia, the slim ankle bootie with square heel, the Coraline in every weave, and the Isla which I already have in navy but could use in every other color!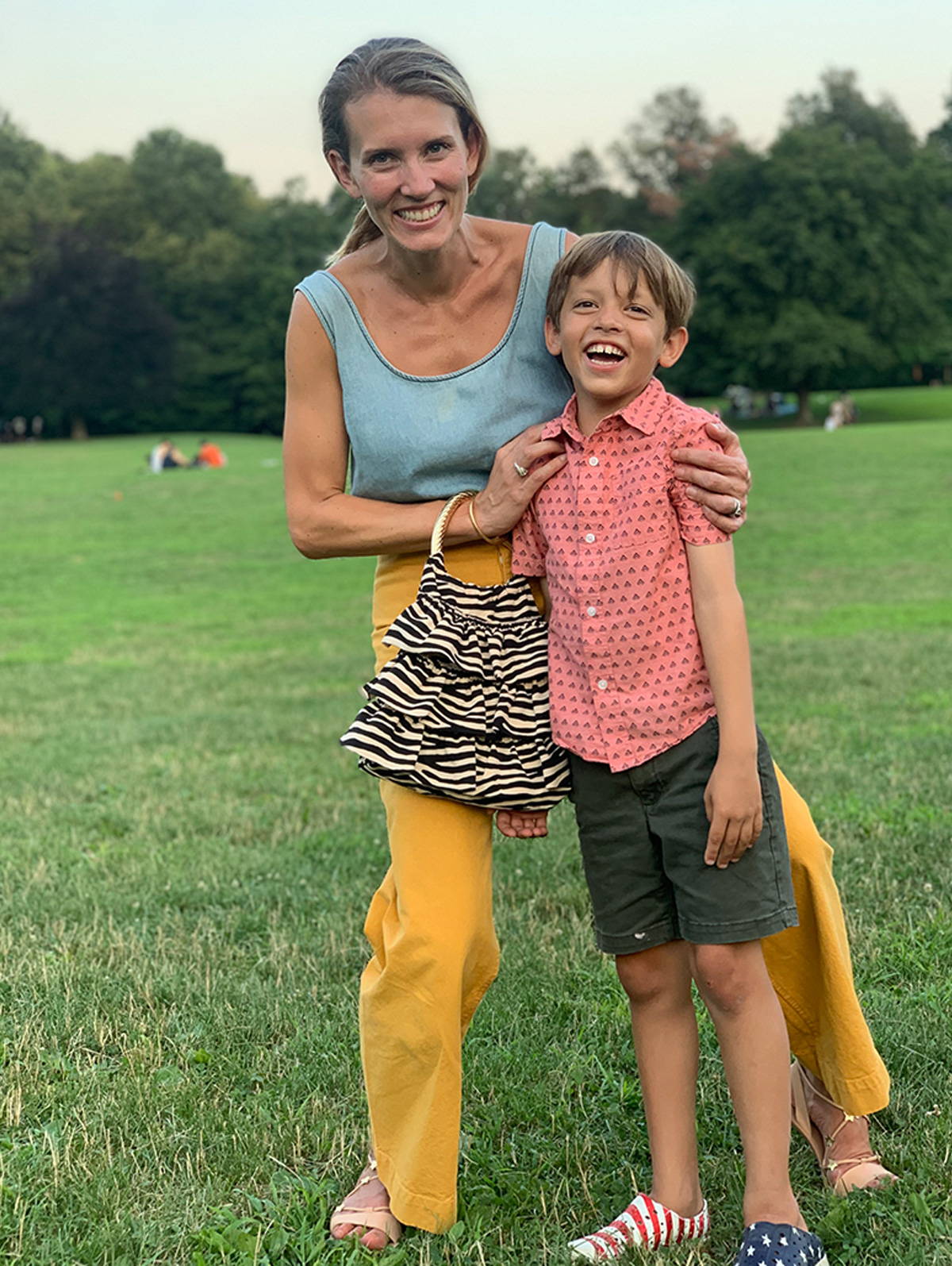 Kate wears Izzie in Zebra
Kate, @studiofournyc
The Studio Four co-founder on how her job inspires her creatively.
JR: We met in Rose Pearlman's rug hooking class a few years ago and immediately became friends. I was so excited to learn that you are my neighbor and we have boys the same age. I admire so much the way you've built your career. You rep so many of the textile artists and illustrators I admire. You have beautiful taste. Can you tell us a bit about your career and how creativity is a part of your everyday life?
KR: That class was so much fun! I've always been drawn to interiors and the relationships people have with their homes using pattern and color. I think a home is something that naturally evolves with us over time, the things I love about my own home are often changing. Accepting this impermanence is probably how creativity comes into my everyday life the most. I am constantly inspired by the textile artist I have been lucky enough to work with over time and learn from in my career. Seeing their ideas and illustrations come to life as textiles and wallpaper and helping to tell their stories is most definitely the best part of my job!
 JR: I absolutely adore your sense of style. You are always dressed in such a fun way but also comfortably and your style works seamlessly from school drop off to work and beyond. Can you talk a little bit about how your dressing philosophy and the kinds of pieces you choose for your wardrobe?
KR: Comfort is certainly a big component to my weekday wardrobe. I typically find myself on the floor with rug samples or on ladders working with new products and displays, so I try to dress for a mix of flexibility and style. I am surrounded by pattern in my career, but I've noticed that weirdly my closet has a lot of solids. Because I have two young boys my mornings are nothing short of hectic, and I often go with pairing my favorite jeans with a fun top and LR shoes are usually in that mix!
 JR: You are a die hard LR fan and it always flatters me so much when I see you wearing our line. It makes my day because I admire your taste so much. To think someone with such beautiful taste likes the things my company makes, just makes me so happy. Can you talk about what you like about LR and what fall products you'll be wearing?
KR: I run around a lot during my day, and every pair of LR shoes I own makes me feel like a mix of Cinderella and Serena Williams. They are beautiful like glass slippers, but can keep up with the stress and intensity of my schedule. I also love the inclusivity and unique style of your brand. I am always proud in my LR!
I am really excited about the new fall accessories, especially the Izzie Heart Handle Tote and your new gold mini hoops! I can't wait to pair them with jeans and some fall boots!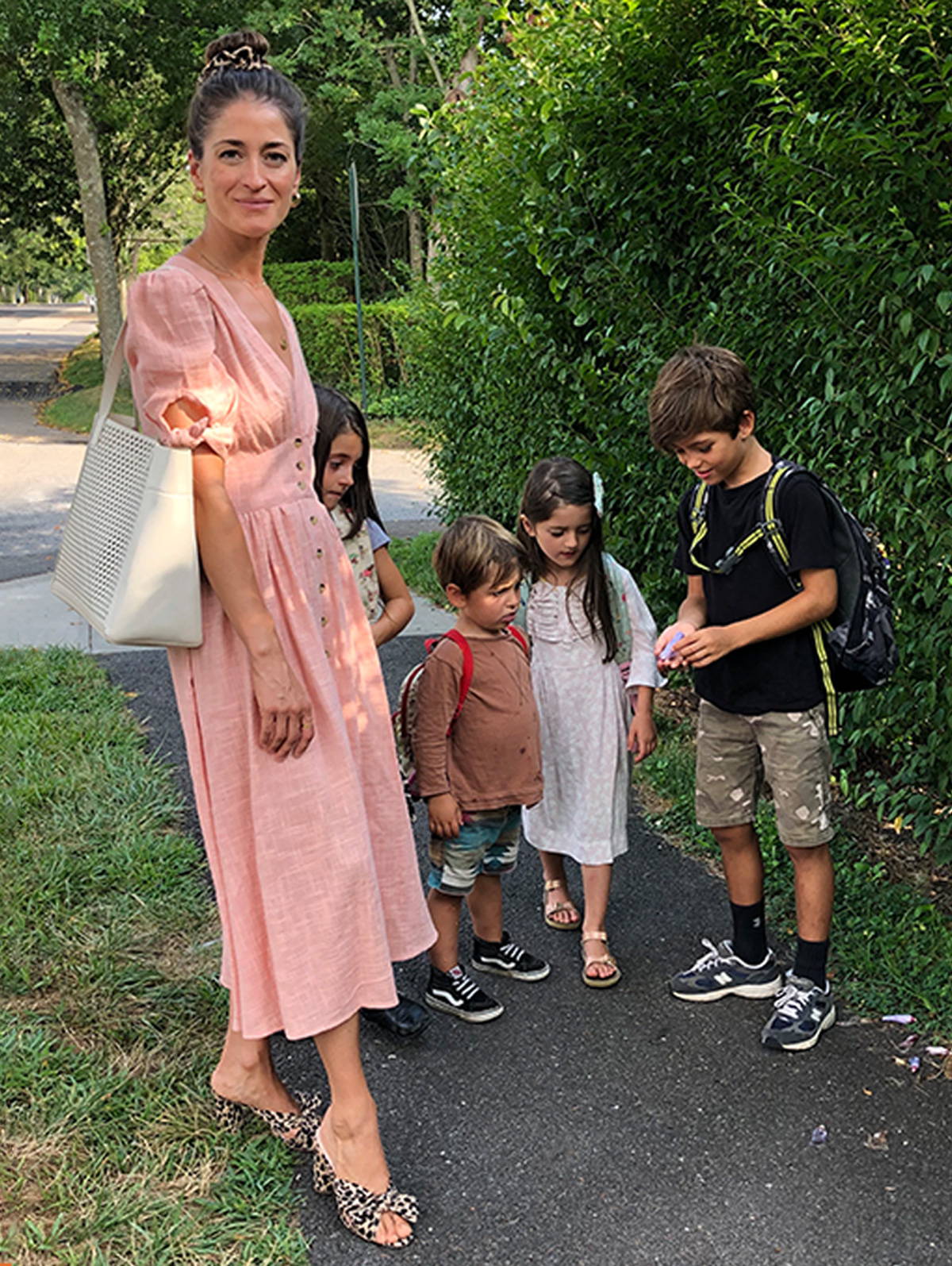 Tamsin wears Penny in Leopard
Tamsin
Mother of four (and Jessie's neighbor!), Tamsin, on having fun with getting dressed.
JR: I love your sense of style and especially the way you incorporate vintage into your wardrobe. Can you tell us a bit about your love of vintage and how these pieces have come into your life?
TL: I've always loved clothes! I have three older brothers and we used to have so much fun with dress up and make believe. I used to dress up in my French grandmother's high heels and I guess clothes and dressing up has always been a creative outlet for me. Vintage clothes have always excited me the most and feel dreamy and romantic. My dad has an eye for amazing vintage finds and will spot wonderful coats or dresses in London and Benj always brings me back a vintage silk scarf from his travels so now I have a nice little collection. I'm always on the hunt for vintage clothes and especially love and support the recycling and sustainable element of vintage shopping. I love pairing vintage with new pieces and think it always makes an outfit unique.
JR: You are the mom of 4 small children. And every time I see you you are serenely pushing a stroller and walking calmly and happily with your family. What's your secret for such a well behaved brood and what's your secret to remaining calm and upbeat in the midst of the chaos of motherhood?
TL: Oh that's lovely of you to say, I'm not sure I'm calm all the time! In fact I'm definitely not! But I do enjoy being with my children and I think that's so key. They feel that. My general aim in life is to be "present". It's such a challenge but that gives me a sense of calm and focus and helps me find joy in the everyday moments with them. I have never wanted to lose who I am amidst being a mother so even though they are my world and my everything, I think it's important to keep myself alive and of course that then affects how I parent. I do like to be intentional about things. How I dress, how I parent, how I love my man and try and find beauty in those things.
JR: What do you love about LR? What fall pieces are you excited to incorporate in your wardrobe?
TL:  Oh my goodness I couldn't believe it when I stumbled across your brand 5 years ago through meeting you in our neighborhood! I honestly still use that bag to this day!! LR has been the biggest treat to discover and was totally perfect that it was through meeting you, Jessie! You give the brand such life and wonderful energy which draws people in. There is something so gentle yet beautifully confident about the brand. The whole color palette and world of LR is for me, every woman's dream! LR is so stylish and on point that a pair of shoes or a bag of yours completely makes an outfit. There is such a classy, timeless feel to the brand too that you know they are pieces you'll have forever. I love the creativity and the inclusivity that the brand represents and champions too.
I Iove anything animal print so will be wearing the penny knot mules with a pair of classic jeans and an oversized cardigan or coat. LR always make a killer pair of boots for the Fall, too.