In the months preceding her wedding day, Sharna fell in love at first sight over and over again — with the venue, the dress, and finally, the shoes. Read on for the story of Sharna and Luke's Somerset ceremony now.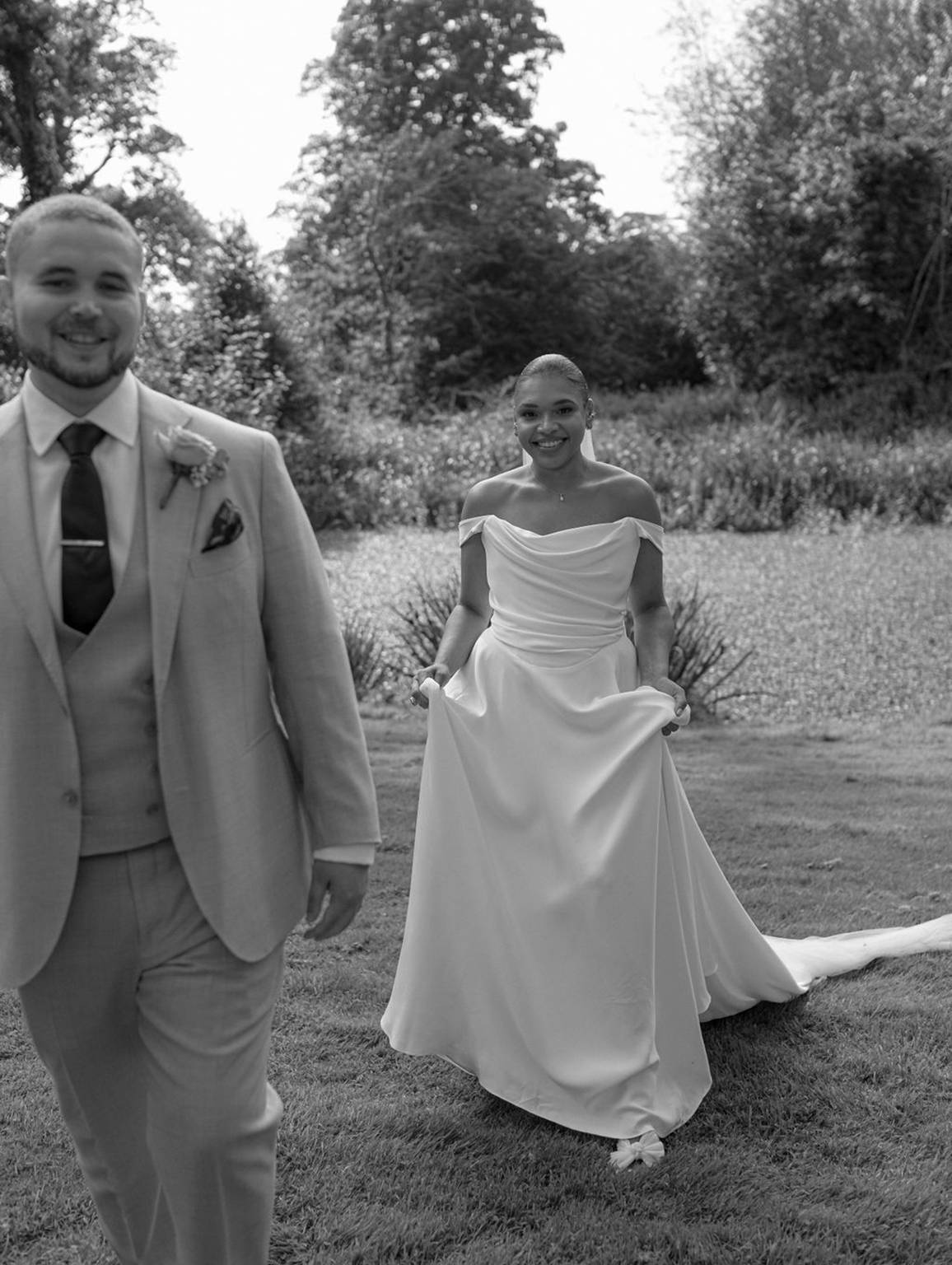 "It had been raining all day when we visited Crowcombe Court, but it stopped as soon as we pulled into the driveway, a rainbow arcing across the grass in front of us. I said to Luke 'if that isn't a sign I'm not sure what is!'
"We fell in love with everything about the gorgeous venue. It felt grand yet homely, the perfect combination, with enough room to house most of our guests. I fell in love with the ceilings in the great hall and with the amount of natural light that flooded the place. Its best kept secret, though, is the undercraft, the cave hidden underneath the estate."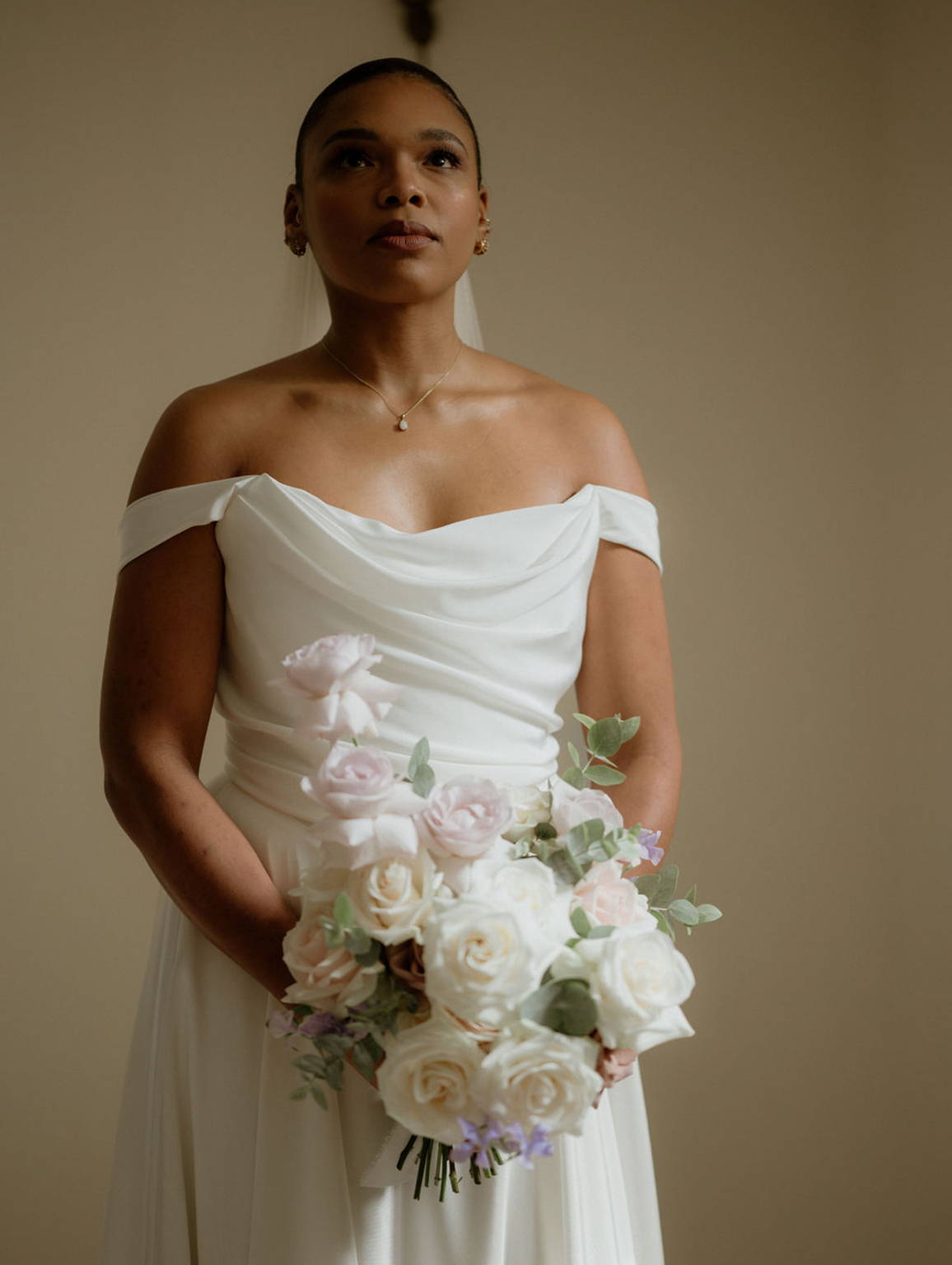 "My appointment at Halfpenny London was the only one I booked, and I found my dress instantly! I had the best stylist, Megan, who suggested the Charlotte Dress, a stunning Italian silk crepe gown that felt and looked incredible. I cried when I put her on — I knew it was the one.
"The dress was so amazing, I knew that everything else needed to be simple and elegant to complete the look. I opted for a dramatic long veil, a simple diamond and opal necklace, a slick hairstyle, and natural glowy makeup. It was all about the dress."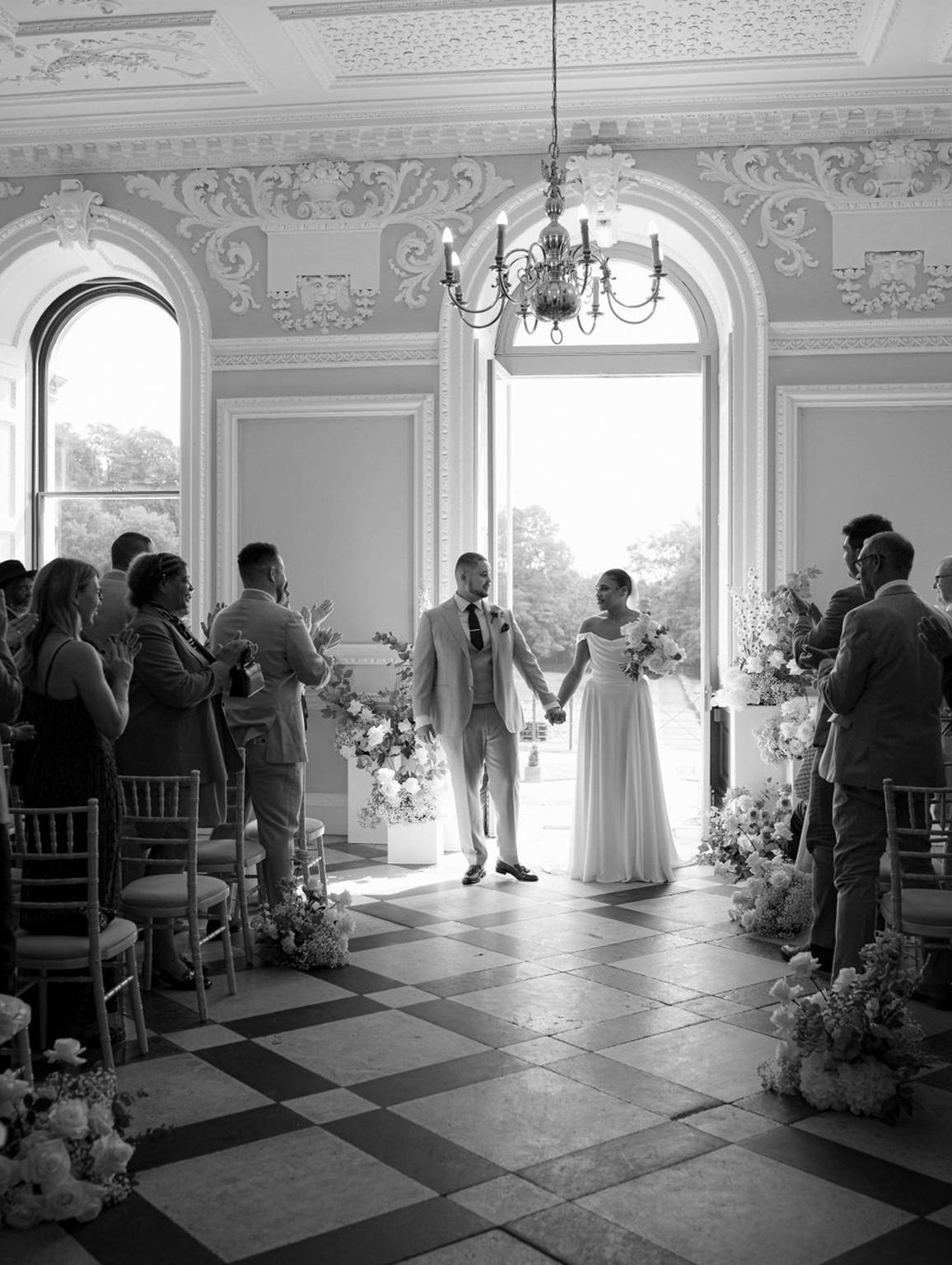 "I hadn't found a wedding shoe I loved until I came across Loeffler Randall. The Camellia heel was modern, stylish, and I could see myself wearing them again! They felt like my dress in a shoe, with the gorgeous pleated material echoing the draped silk crepe. I was obsessed, and I ordered them straight away. I wore my Camellia heels all day and night. They were so comfortable, so lightweight, and a pleasure to wear — definitely the perfect heel!"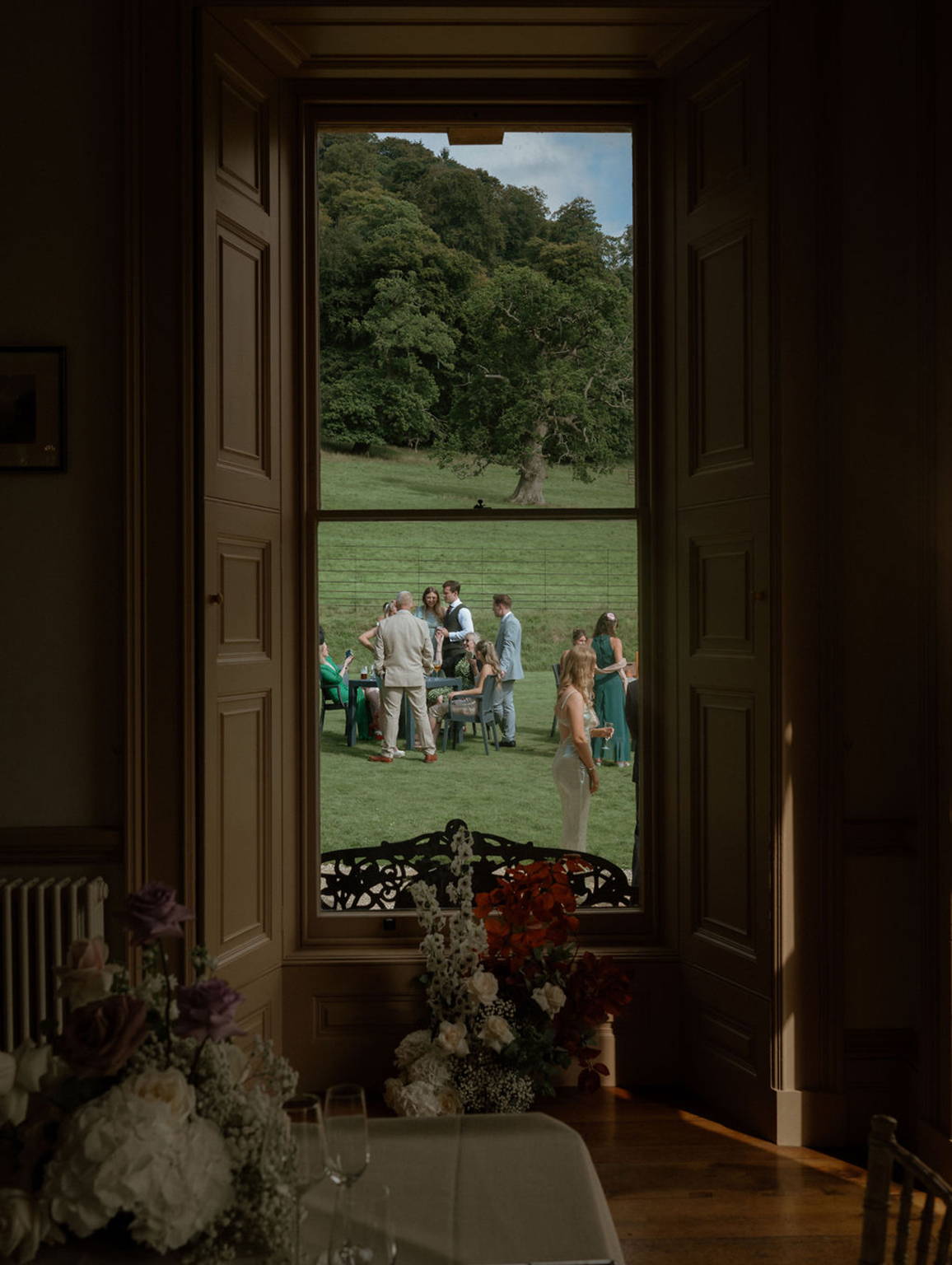 "I loved our flowers. I let our florists Nudo Blooms do whatever they wanted, just giving them a colour palette of neutrals with a pop of lilac and blue. The final result was better than I ever imagined. Paired with our bridal party's neutral ensembles, everything matched our venue so beautifully. And, if that wasn't magical enough, the music from our harpist Glenda provided the dreamiest atmosphere all day. There is something so beautiful about the harp."
"T

he feeling was overwhelmingly beautiful."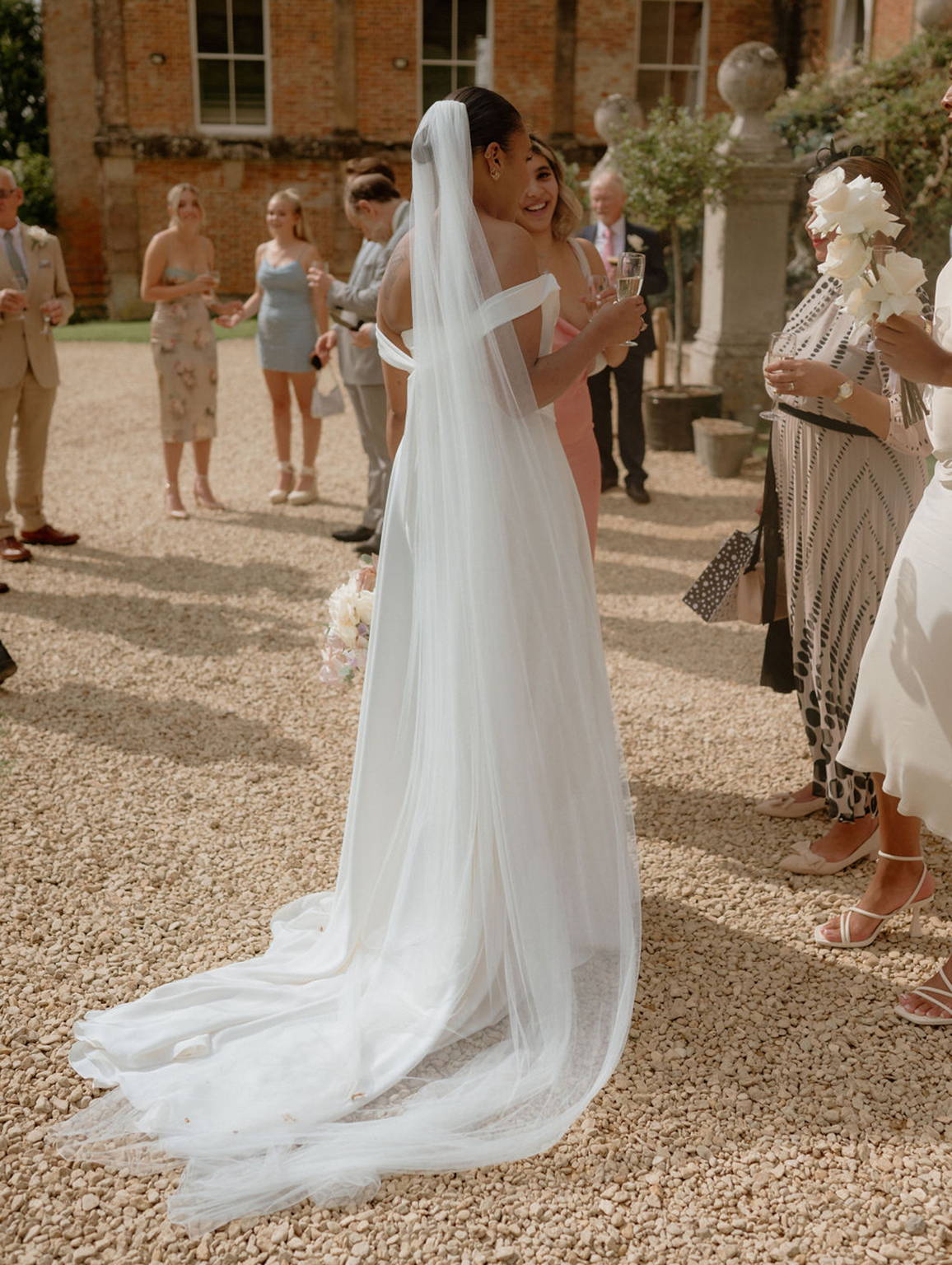 "I loved every part of the planning process, but especially enjoyed any chance to be creative! It was all about the details for me — I took great care in making sure that we had thought of everything so that the day was as personal and relaxed as possible. The secret is to remember what is important to you both whilst planning. You really can get carried away, but if you always come back to what you both love, it will be the day of your dreams as it will purely reflect you as a couple."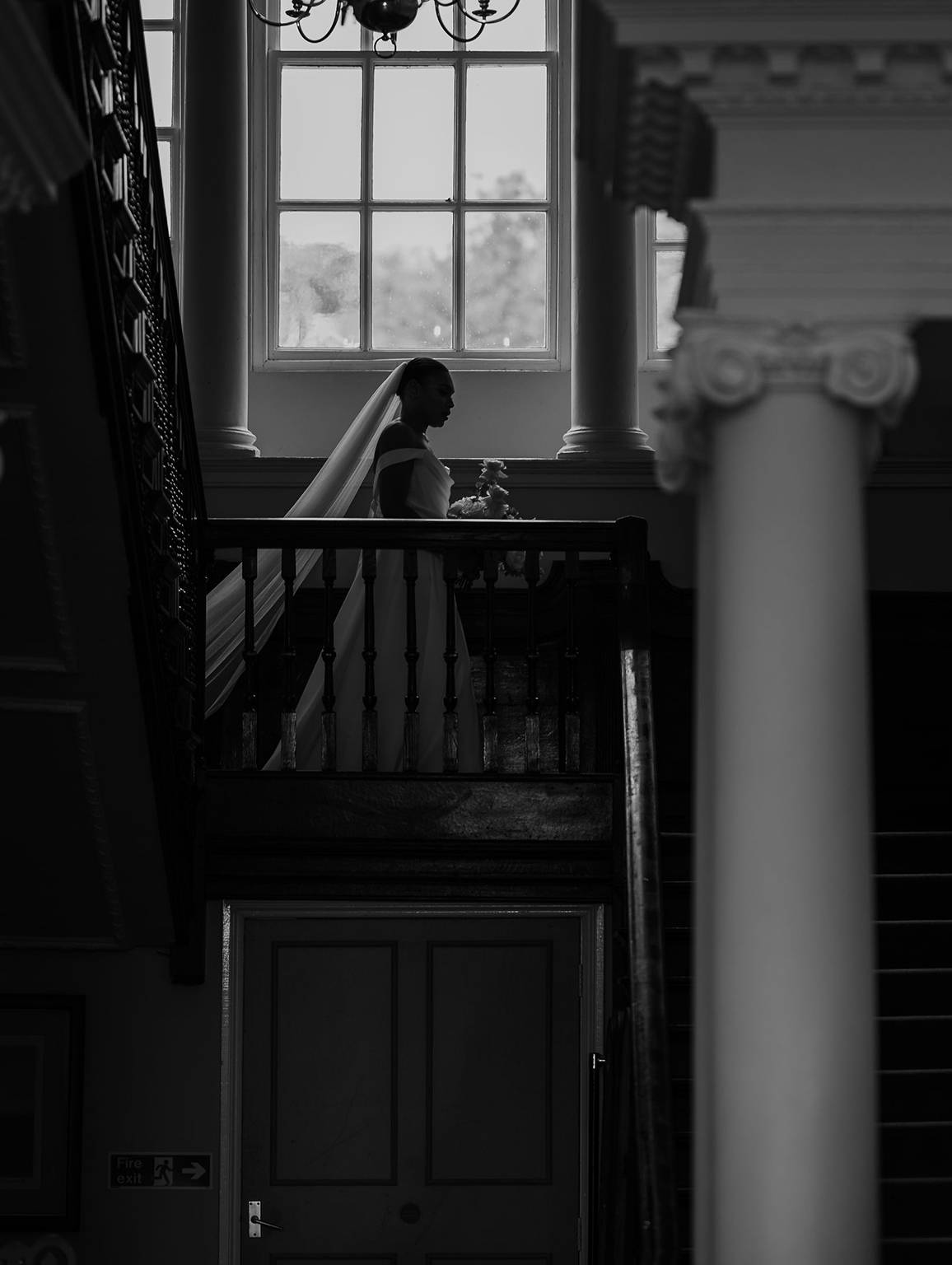 "There were so many special moments, I couldn't possibly choose! But what I will remember most is the sheer amount of emotion that could be felt throughout the day whether that was happy tears, sad tears or pure laughter; the feeling was overwhelmingly beautiful."